Kathy Griffin Gives An Update On Her Health Following Surgery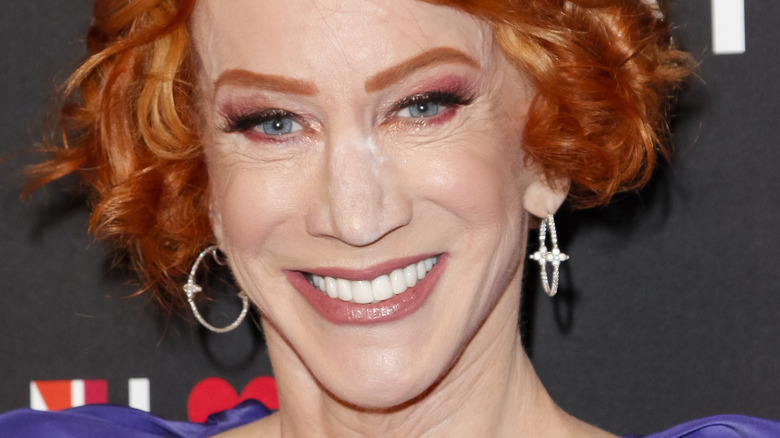 Tibrina Hobson/Getty Images
Just weeks after comedian Kathy Griffin found out she had stage 1 lung cancer, she was in a hospital, prepping for surgery. It's been a whirlwind three days since Griffin shared her diagnosis and upcoming surgery with her followers on The Gram, and opened up to ABC News about her addiction to pills, and subsequent 2020 suicide attempt. "The irony is not lost on me that, a little over a year ago, all I wanted to do was die. And now, all I wanna do is live," she told the news outlet. 
Griffin's rep has since confirmed to People that the surgery went well. Griffin — herself — is also back on social media giving updates. In one post, The Emmy Award-winning comedian admitted to being in post-operation pain, sharing a bit of dark humor in the form of a meme captioned, "I only have one lung, 50% less chance of getting COVID-19."  Griffin has previously used her lung cancer diagnosis to uplift vaccination efforts. She reflected on The Gram that had she been unvaccinated, her cancer diagnosis might have been far more serious.
 In another post, Griffin opened up about what post-operation surgery looks like for her — a recovery in which she will not be able to rely on narcotics for pain management. 
Kathy Griffin won't be taking any more narcotics after her surgery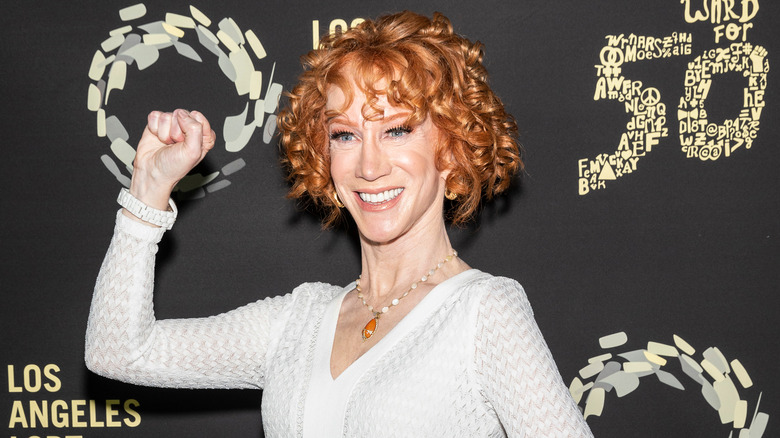 Shutterstock
"Tonight will be my first night without any narcotic pain killers," Kathy Griffin shared with her followers on Instagram. "Hello Tylenol, my new best friend!" Griffin isn't scared of the pain. "With over a year clean and drug free, I now know I can do this and anything I want without those devil pills," she reflected. "Y'know what? I fear drugs and addiction more than I fear cancer. So, I think I'll be ok." 
Earlier this summer, the comedian announced her return to TV on social media (via Instagram). The road to back to television for Griffin hasn't only implied recovery from her addiction to pain meds, Griffin has also had to overcome an obstacle that provoked her addiction in the first place. In 2019, the comedian told Los Angeles Times that she had been "totally blacklisted." (You remember the controversial 2017 photoshoot in which Griffin held up a bloody Halloween mask shaped to look like the head of Former President Donald Trump?) "No agency will touch me. No network will touch me ... I've made them all money, and I'll make them money again. I have to dig myself out of this hole." 

If you or anyone you know is struggling with addiction issues, help is available. Visit the Substance Abuse and Mental Health Services Administration website or contact SAMHSA's National Helpline at 1-800-662-HELP (4357).