Simone Biles Celebrated Her Return From The Olympics With These Sweet Treats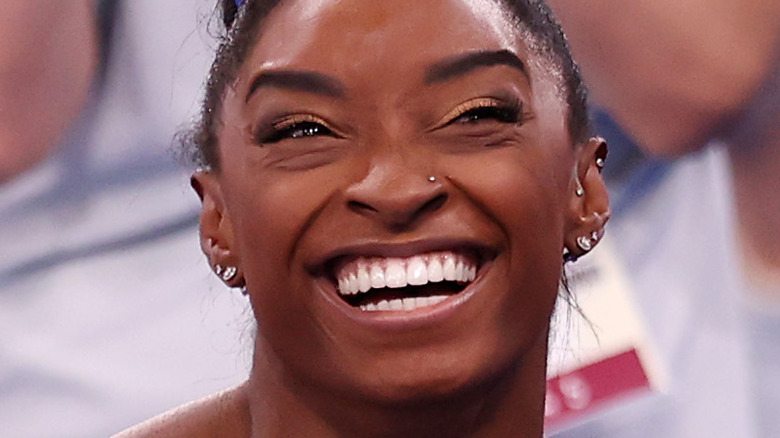 Laurence Griffiths/Getty Images
Simone Biles' Olympic run didn't go exactly how she planned. The Team USA gymnast, who is often referred to as the "GOAT," started the Tokyo Games on a rocky note and things went from bad to worse after she opted to withdraw from the team finals. "I just felt like it would be a little bit better to take a back seat, work on my mindfulness. And I knew that the girls would do an absolutely great job. And I didn't want to risk the team a medal for kind of my screwups, because they've worked way too hard for that," Biles said, per NPR. Her team went on to win the silver medal, but all eyes were on Biles. The gymnast later pulled herself from multiple individual events.
After days of exiting events, Biles announced that she would compete in the very last individual event, the balance beam. Fans were delighted to hear the news of Biles' comeback and tuned in to watch her do her best at the event after a trying two weeks in Tokyo. Biles impressed judges and fans alike during the event and ended up taking home the bronze medal (via The New York Times). "I wasn't expecting to walk away with a medal," Biles said of the victory. "I was just going out there doing this for me. To have one more opportunity to be at the Olympics meant the world to me," she added.
Now that her time in Tokyo is over, Biles is back on U.S. soil and celebrating her time at the Games.
Simone Biles celebrated with ice cream and Louis Vuitton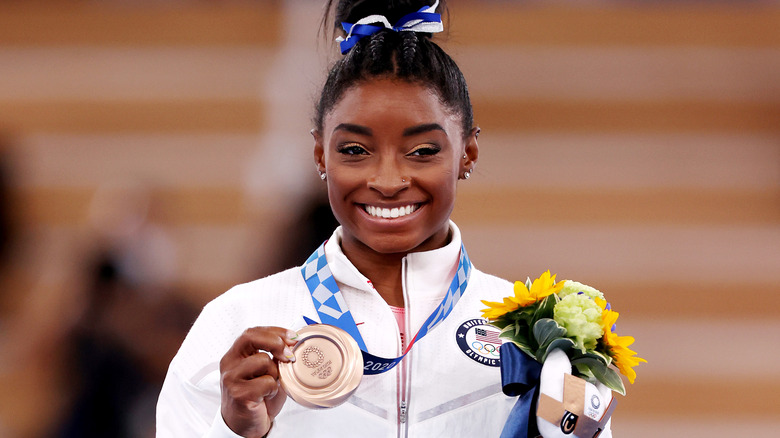 Jamie Squire/Getty Images
According to People, Simone Biles returned to the United States with two medals and a positive mindset following her time at the Tokyo Olympics. Biles shared her journey home via her Instagram story, and revealed that she was spending some time in New York before heading back to Texas. Biles hit the streets of The Big Apple and took her camera with her as she strolled along and indulged herself in some sweet treats. Biles documented herself and her Team USA teammates, Jade Carey and Jordan Chiles, as they grabbed ice cream cones together, and donned their face masks. The gymnasts also enjoyed watching some street performance dance as they spent time in Times Square together. Biles was later spotted tipping the performers before going on a shopping trip with Carey and Chiles.
The outlet revealed that Biles treated herself to more than ice cream following the Tokyo Games. She was seen rocking a gorgeous Olympic rings necklace and carrying a brand new Louis Vuitton bag. While in New York, she joined her teammates for an appearance on "The Today Show" as well, revealing that she was still feeling "overwhelmed" about her exit from the events. "But I truly believe everything is supposed to happen for a reason. Although it didn't go as planned, the cards that I played with, I think it ended up better than expected," she said.
Fans have been supportive of Biles throughout her journey and continue to hope that they see her compete on the Olympic stage again in the future.