The Trendiest Silhouette For 2021 May Not Be What You Expect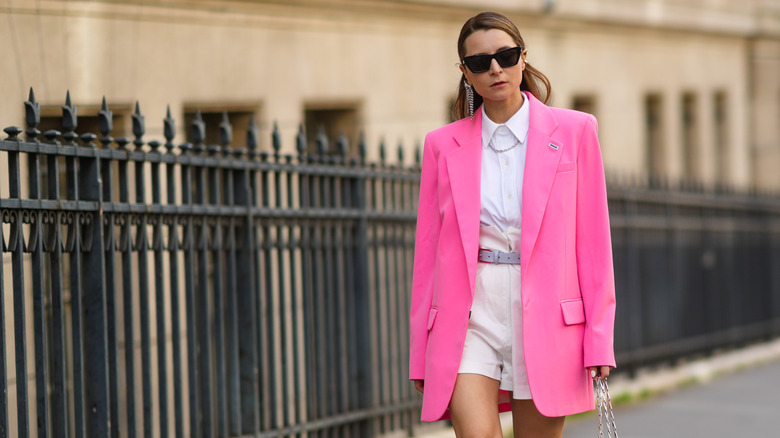 Edward Berthelot/Getty Images
Now that we're not just dressing to the nines for our morning Zoom meetings, it makes sense that the fashion trends predicted to take the rest of 2021 by storm are bright and exuberant. As Porter predicted, joyful dressing is back in style. From sweet pastel shades to feminine suit sets reminiscent of "Gossip Girl," the biggest trends of 2021 are sure to set a tone for a brighter few months ahead.
There's a reason for this shift, too. Dr. Jennifer Baumgartner, a clinical psychologist, told The Wall Street Journal that humans tend to mark significant events through fashion. Now that we are coming out of a lockdown that lasted more than a year, many people are overcompensating for the lack of opportunities that existed for them to dress up in 2020 by wearing over-the-top ensembles in 2021. 
While the past few years have been defined by minimalist silhouettes, those in the fashion industry and beyond have found that the trendiest silhouette today reflects this desire for exuberance as we come out of the lockdown.
Oversized, relaxed silhouettes will continue to dominate fashion this year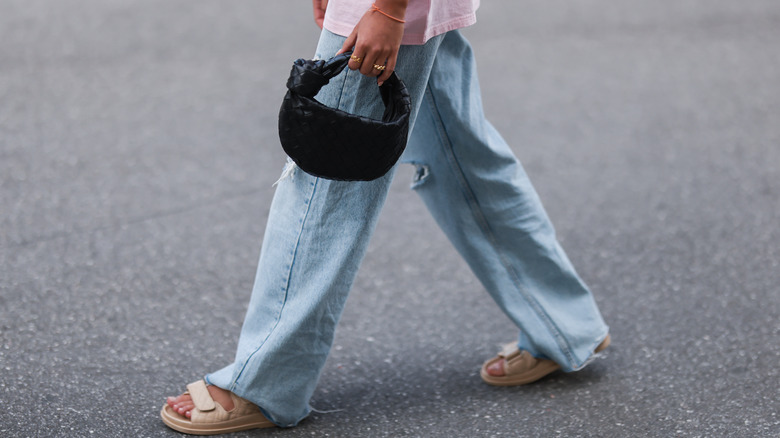 Jeremy Moeller/Getty Images
Though tighter silhouettes that showed up in mom jeans and crop tops once dominated the streets, stores, and runways, Patrick Kenger, a senior personal stylist with Pivot Image Consulting, told Insider that retailers have begun to relax silhouettes. "We're starting to see retailers move from older, tight-fitting styles to a more loose and relaxed fit," he said. Over the past few months, consumers, retailers, and designers have embraced oversized silhouettes that are both relaxed and dramatic, including oversized sweaters and shirts, boxy blouses, flowing dresses, and wide-leg jeans.
Those feeling a bit more adventurous can embrace this trend by donning dramatic balloon sleeves, skirts with exaggerated hips, and jackets with a bit of padding in the shoulders (that's right — shoulder pads are back!), per Refinery29.
Through the end of the warmer months, Who What Wear predicts that shorter hemlines, like those on mini skirts and hot pants, will be a dominating summer fashion trend. The more of your legs you show off, the better.