Donald Trump's Criticism Of Megan Rapinoe Has Social Media Fuming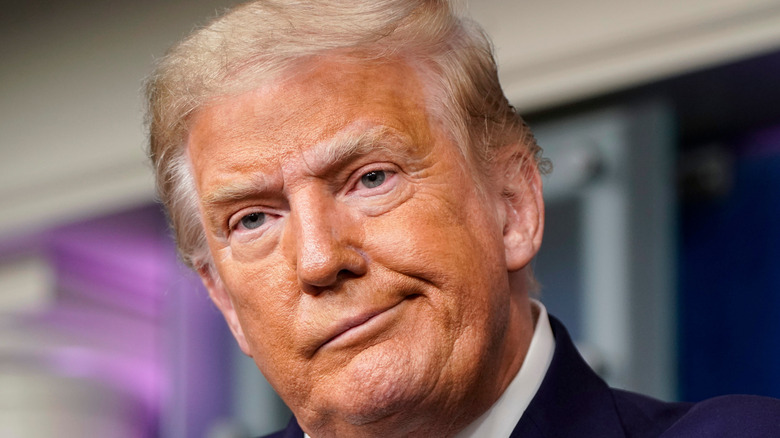 Shutterstock
Although former President Donald Trump can no longer tweet every random thought he has since Twitter banned him from the platform on January 6, 2021, he still manages to get his views into the public domain on a regular basis via emailed statements from his Save America Political Action Committee (PAC), per The Guardian. On August 5, Trump shared his views on the United States Women's Olympic soccer team taking home a bronze medal after defeating the Australian team.
"If our soccer team, headed by a radical group of Leftist Maniacs, wasn't woke, they would have won the Gold Medal instead of the Bronze," Trump said in this statement. "Woke means you lose, everything that is woke goes bad, and our soccer team certainly has. They should replace the wokesters with Patriots and start winning again. The woman with the purple hair played terribly and spends too much time thinking about Radical Left politics and not doing her job!" (via TMZ)
The "woman with the purple" hair the former president was referring to is Megan Rapinoe, who already earned Trump's ire back in 2019 when he invited the team to the White House after they won the World Cup. When asked if she was looking forward to the DC trip, Rapinoe responded with "I'm not going to the f****** White House" (via The Hill)
Donald Trump receives a quick Twitter response to his soccer team statement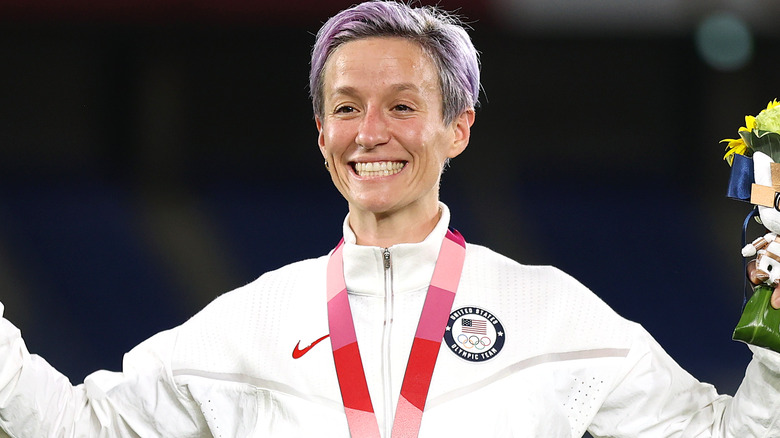 Naomi Baker/Getty Images
Donald Trump had already taken aim at the US soccer team the week before in an Arizona campaign-style speech where he called the women's soccer team a perfect example of left-leaning politics, saying, "The US Women's Soccer team is a very good example of what's going on," Trump said (via The New York Post). "Woke politics takes the life and joy out of everything. Woke-ism makes you lose, ruins your mind and ruins you as a person. You become warped. You become demented​."
When his latest statement about the soccer team became public, Twitter shot back. "Let me make sure I have this right: Trump claims to be America First but he puts out a statement attacking the US women's soccer team? I guess if Megan Rapinoe wants Trump's support, she better beat up some cops with the flag," tweeted former professional basketball player Rex Chapman.
"Presently, I am thinking about Donald Trump trashing the performance of the US Soccer Team in the Tokyo Olympics. His demeaning comments about the Star Player on the US Soccer Team were particularly Disgusting, and Inappropriate," wrote another tweeter.
Finally, another commenter just believed Trump's thoughts on the US team are irrelevant, tweeting: "Who cares what Trump thinks about women's soccer?!"