Of All Of Dua Lipa's Looks, This Stands Above The Rest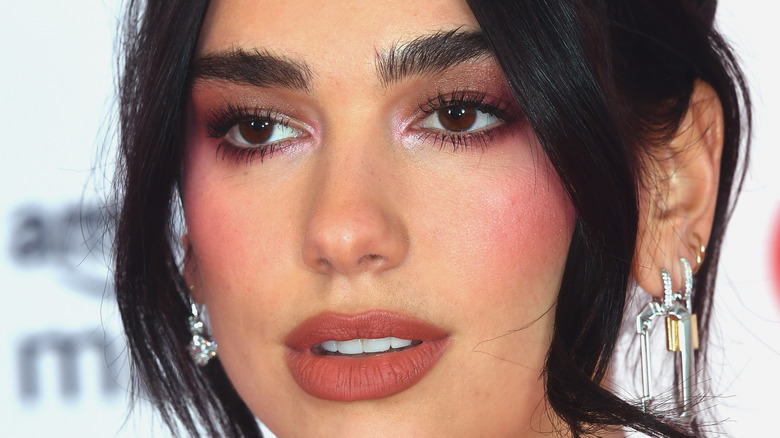 Dave J Hogan/Getty Images
In her 25 years of life, Dua Lipa has transformed in front of our eyes, and has asserted herself as a force to be reckoned with. This queen of pop has the style of a cool girl, the abs of an Olympian, and the pipes to consistently make it onto Billboard Music lists. And indeed, while she's been busy taking names and rising in popularity, she has looked so effortlessly cool doing it. While many superstars have styles that they tend to stick to, Lipa seems to put on whatever she thinks looks good. And she's usually right — it does look good. 
How would one describe Lipa's style? According to College Fashion, while she doesn't necessarily stick to one particular genre of fashion, there are certain recurring fashion themes from which she seems to take inspiration. Lipa is very clearly inspired by various decades, most notably the 1960s, 1970s, and 1990s, which manifest into bright colors, sparkling sequins, and statement pieces.
Whether it's her Instagram street fashion, her red carpet ball gowns, or her traditional Albanian ensembles, Dua Lipa literally always looks amazing.
Here's how Dua Lipa gets those rock hard abs, the perfect complement to her wardrobe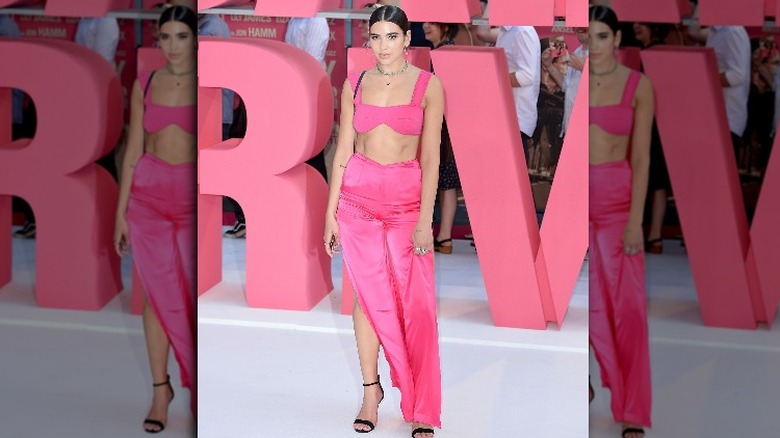 Jeff Spicer/Getty Images
The task of picking the most iconic Dua Lipa look is a challenge, perhaps akin only to choosing a favorite child — the woman simply rocks everything she puts on. But there are certainly a few looks that stand above the rest.
One of the first outfits that asserted her unique and beautiful sense of style was at the 2017 European premiere "Baby Driver," which Lipa attended. She wore a pink two-piece set by Blumarine, per Elle. She paired the feminine ensemble with a pair of black heels, a black bag, and of course, her rock hard abs, which were on display. This began an era of fashion for Lipa in which her impressive physique played a starring role in her clothes, truly putting the "fit" into "outfit." During the 2018 German Radio Awards, Lipa went for a super cool androgynous look, pairing an oversized pinstripe suit with an exposed Coco de Mer triangle bra (via the Daily Mail).
And in case you're wondering, Lipa attributes her killer abs to HIIT (high intensity interval training), a workout that she claims is "so quick, it's over before it's even started," per Vogue.
Dua Lipa's best outfit might be this three-in-one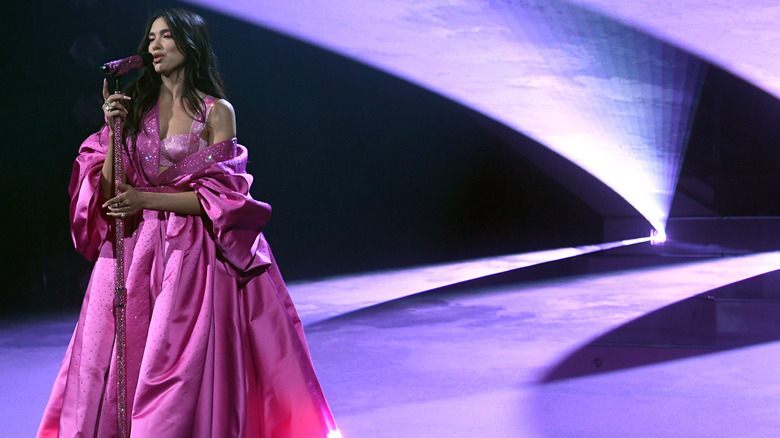 Kevin Winter/Getty Images
As for the look that we believe stands above the rest, there's one that we simply can't get out of our minds. That's right: it's Dua Lipa's outfit from the 2021 Grammy Awards, which was actually more like three outfits in one.
At the start of her performance of a "Levitating" and "Don't Start Now" medley, Lipa stood in an absolutely stunning hot-pink, crystal-laden ball gown style dress that cinched at the waist and had a low-cut neckline that hinted at a matching metallic pink bra. Her hot pink, crystal embossed microphone matched her dress, as did her sparkly pink eyeshadow. Then, as the performance continued and she was joined on stage by DaBaby, she changed into an oversized glittery pink blazer with matching pink boots. Then, for the final act of her killer performance, she dramatically removed the blazer to expose a high waisted pink bikini which she finished the performance off in (via Insider). The whole look was stunning, dramatic, and very on-brand for the singer. According to PopSugar, the entire ensemble was actually a custom made outfit, courtesy of Versace.
And yes, we're totally counting this as one single look.