The Hair Care Brand Created By Karlie Kloss' Stylists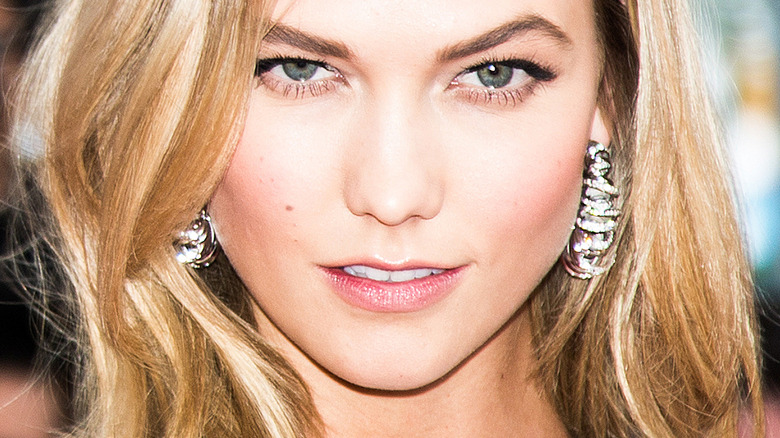 Shutterstock
The amount of hair care products available to us is bountiful to say the least. With each brand promising their own miracle cures and selling their products in shiny and enticing bottles, it can be overwhelming to find the ones whose promises are true. That is why a lot of us turn to the products used by celebrities. Especially ones that have an admirable mane like that of Karlie Kloss. This isn't the first time we've been trying to copy her hair care and haircuts. Back in 2013, the tech-entrepreneur set the internet ablaze with a hair style so envied it became known as "the Karlie." "I'm incredibly flattered, and humbled — and also kind of terrified to have a bad hair day now," said Kloss at the time, adding, "I feel like, I don't know — I have to, I guess, pay attention before I walk out the door" (via Vanity Fair).
We're sure she is used to the extra attention over her hair by now. The towering blond supermodel has gone from brunette to platinum, from loose updo's to blunt bobs. But whatever style Kloss may be working, her hair always looks healthy. Which has us wondering, what hair care brand is behind those lustrous locks?
Kloss' preferred brand favors formula upgrades
As it turns out, "Project Runway" host Karlie Kloss is a fan of R+Co. The brand's creators are hare care professionals Garren, Thom Priano, and Howard McLaren. The products are known for their colorful packaging and quirky names. And all of their items are vegetarian, cruelty-free, gluten-free, and color-safe (via TZR).
The three creators have been professionals in the hair industry for decades. And McLaren has recently shared how with R+Co, they are in the position to instantly update their products if they find a better ingredient or formula. "If we find better ingredients or there are adjustments we want to make, rather than make a new product, we'll upgrade the existing one," shared McLaren (via Fashion and Beauty Monitor).
So where did these professionals get their inspiration when designing their products? "We based a lot of the products on photographs of work that we've done and want customers to be able to achieve themselves," McLaren explained (via Vogue). And just like Kloss herself, this hair care brand has jumped into the tech world and even has its own beauty podcast (via Spotify). Who knows if R+Co will be the hair care brand of your dreams, but we're intrigued by these ever-evolving formulas and of course, the hair care products used by the ever-evolving Kloss.