The Truth About Sonia Sotomayor's Relationship With Ruth Bader Ginsburg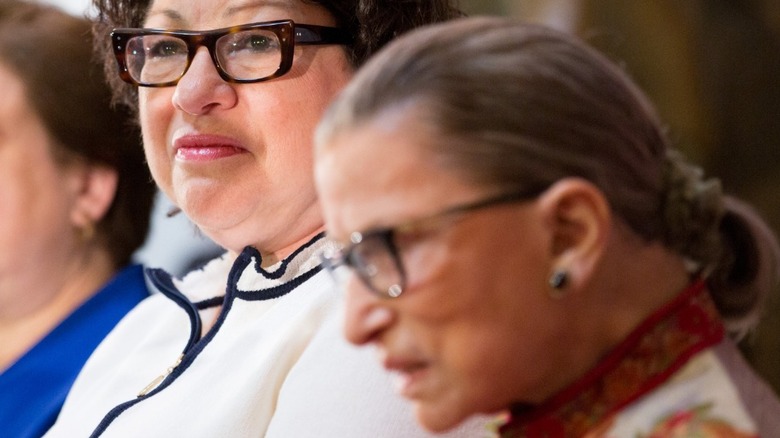 Allison Shelley/Getty Images
If you know a thing or two about the Supreme Court of the United States (SCOTUS), then you probably know who Justice Ruth Bader Ginsburg was. The late Ginsburg (born Joan Ruth Bader Ginsburg in Brooklyn, New York, on March 15, 1933) died on September 18, 2020, after a long battle with cancer. She served SCOTUS for nearly three decades and has long been considered a champion for women's rights and gender equality for her work as an associate justice, and even before that as an attorney and legal advocate. 
On top of being a path-marking woman, Ginsburg was also an extraordinary person and friend, at least according to her fellow colleagues on the Supreme Court. One justice in particular was especially fond of Ginsburg while she was alive: Sonia Sotomayor. Sotomayor, who is presently one of three female associate justices serving the court, along with Elena Kagen and Amy Coney Barrett, considered Ginsburg a "dear friend" whom she will "miss dearly," according to a statement she made following Ginsburg's death (via NBC). So how deep did their friendship really run?
Sonia Sotomayor had an adorable nickname for RBG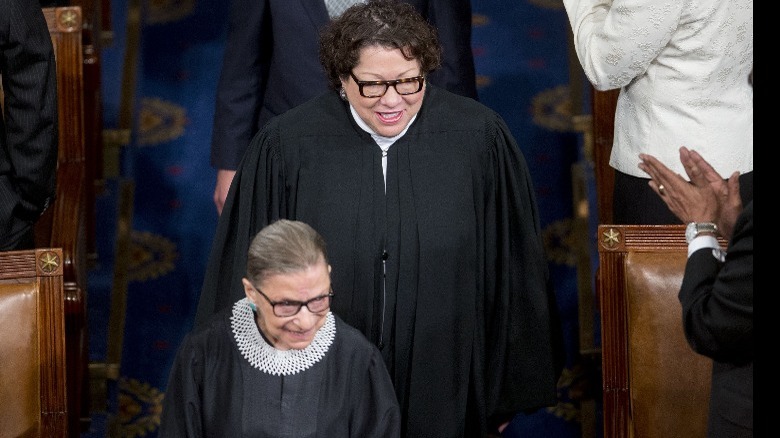 Bloomberg/Getty Images
Justice Sonia Sotomayor was appointed to the Supreme Court in 2009 after being nominated by President Barack Obama. From the moment of her appointment, Sotomayor suggested in an interview with Seth Meyers (via YouTube) that Justice Ginsburg was someone she could rely on, who not only helped her to acclimate, but also made her feel welcomed.
"Every step of the way, for me, that I've been on the court, Justice Ginsburg has been there to welcome me," Sotomayor told Meyers, "from my very first day there, where she lent me, or gave me, a copy of her bench manual that tells you how she runs her chambers, so I didn't have to start from scratch, to the time I issued my first opinion and she sent me a note telling me what a fine opinion it was, to everything else that she does to help my life there on the court." 
Sotomayor continued to express her admiration for Justice Ginsburg, calling her a very amazing and brave woman. She then revealed to the talk-show host that her nickname for the late justice is "Steel Magnolia" because she is "delicate on the outside but she has an iron rod behind her." In another official statement, Sotomayor said of Ginsburg, "I came to feel a special kinship with her. She was someone whose wisdom, kindness, and unwavering support I could always rely on. I will forever cherish the moments we shared" (via NBC).