The Heartbreaking Death Of Night Court Star Markie Post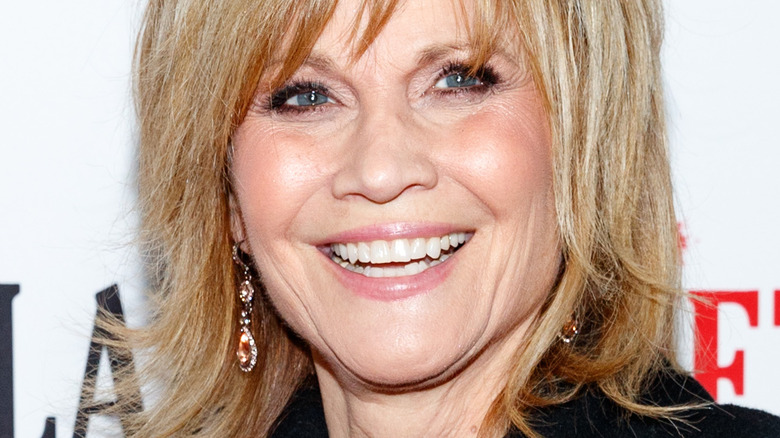 Christopher Polk/Getty Images
Fans of classic TV are mourning the death of Markie Post. As reported by The Hollywood Reporter and other outlets, the veteran actor's manager confirmed on August 7 that Post died at age 70, after a nearly four-year battle with cancer. She is survived by her husband, writer/producer Michael Ross, daughters Kate Armstrong Ross and Daisy Schoenborn, and a five-month-old granddaughter. 
The actor was known for her roles on numerous '80s TV shows and movies, most notably 1998's "There's Something About Mary," where she appeared as Cameron Diaz's mother. In 1984, she came on board the sitcom "Night Court" in its 2nd season as public defender Christine Sullivan (following the departure of Ellen Foley), and stayed for the remaining seven seasons (per IMDb). Post's passing follows the loss of several other cast members, including Richard Anderson, Florence Halop, Selma Diamond, and, just a month ago, Charlie Robinson.
Post's active career also included a recurring part in "The Fall Guy," as well as appearances on "The Love Boat," "Fantasy Island," "The A-Team," "Cheers," and "Hearts Afire," among many others. Her most recent projects included "Chicago P.D.," "The Kids Are Alright," and the Netflix series "Santa Clarita Diet." But as her family noted, Markie Post was more than just the sum of her roles.
Markie Post was beloved by family and friends alike
Markie Post was just as beloved away from the camera as she was in front of it. Her devastated family said in a statement (via The Sun), "But for us, our pride is in who she was in addition to acting; a person who made elaborate cakes for friends, sewed curtains for first apartments and showed us how to be kind, loving and forgiving in an often harsh world."
Her two adult daughters looked up to her as a role model. For Post's birthday two years ago, Kate Armstrong Ross posted a tribute on Instagram that said in part: "I have the privilege of witnessing this woman behind the scenes not only on sets but at home, and there too she inspires me daily in indescribable ways. Daisy and I are so fortunate to call her and her mother before her our Ancestors."
Post's friend Melissa Joan Hart (seen here) wrote a tribute on her own Instagram feed, describing her as a "dear friend and TV mother." She went on: "Her example to me of how to be gracious, professional, find the fun in life and be a great mother at the same time will always live in me. I am heartbroken but I know she is at peace. Now this angel on earth gets to spread her wings and be an angel to us all from above."