What Is A Pochette And How To Wear One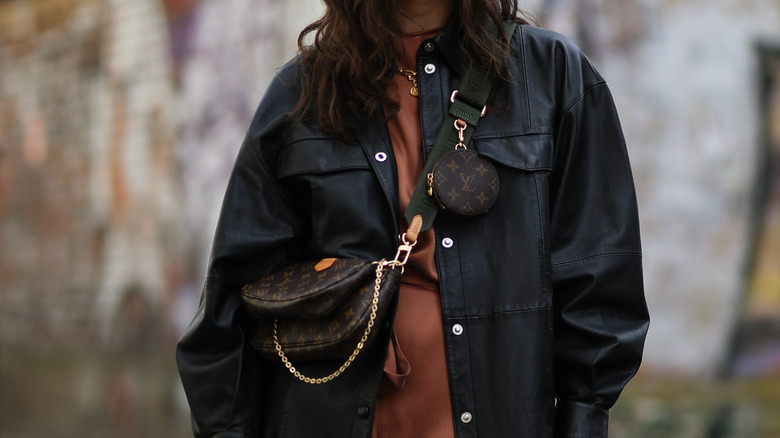 Jeremy Moeller/Getty Images
It seems like these days as phones get bigger, purses get smaller.
Ever since Lizzo's iconic 2019 Valentino tiny purse at the American Music Awards, the fashion world has agreed that less is more. With '90s and Y2K styles coming back it's no surprise that the ultimate "it" bag of the 90s is back — the pochette.
A pochette, which translates from French quite literally to pouch or envelope, is the small and slender shoulder purse that seems to be dominating influencers and runways alike (via Word Reference).
However the word is now synonymous with luxury brand Louis Vuitton's pochette bag, the epitome of short shoulder bag. Styled casually with mom jeans and oversized jean jackets, or more formal with a silk slip dress, the pochette is not only beautiful, but versatile (via Styleanthropy).
One of the bag's biggest bonuses is its ability to be worn together or in different parts — it's deconstructable without sacrificing style, and each piece looks good both together as a whole and alone (via PurseBlog).
Tiny bag on tiny bag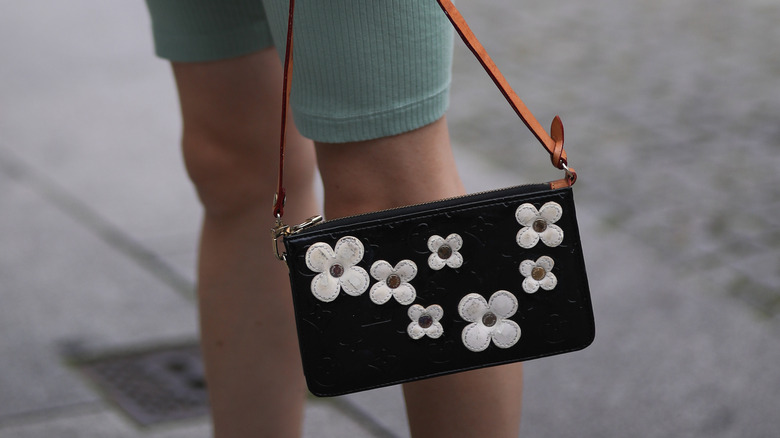 Jeremy Moeller/Getty Images
The Louis Vuitton's Multi Pochette Accessories bag, perhaps the most popular in the pochette style, features a three-in-one design of tiny bags. Made in their signature monogrammed print, the bag comes with a thick olive green strap, gold hard-ware, and a cowhide-leather trim. The 2000s style was even popular with Sarah Jessica Parker, who played everyone's favorite fictional New York Writer Carrie Bradshaw (via The Guardian).
Not to be outdone, Prada's take on the pochette trend is made in nylon, for the brand's iconic Bandoliera Tessuto Saffiano bag (via Preview). But Prada has also taken the pochette trend further, incorporating a tiny bag onto their Monolith boots, both in the shorter and longer style. Never did we think we'd need pockets in our shoes, but they're just as useful as they are stylish.
For other armpit-height bags, Zara and Urban Outfitters have been flooding the market with both colorful and neutral iterations. UO released a cream chain-accented, faux-croc version, and Zara released a vinyl daisy-printed shoulder bag reminiscent of the trendy nylon Pradas.
Dress it up or dress it down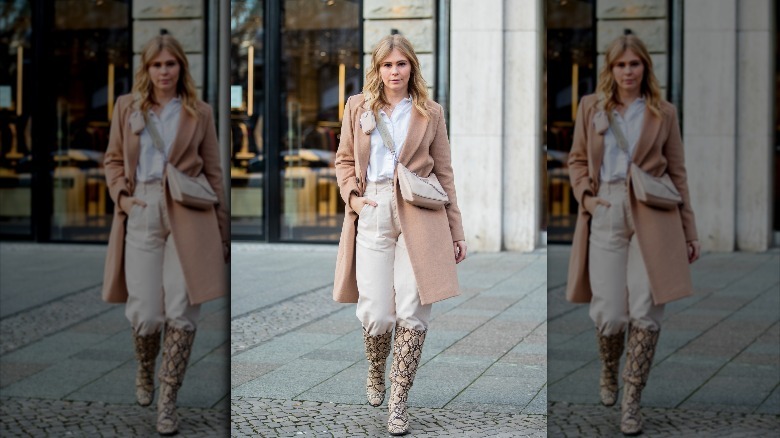 Christian Vierig/Getty Images
Because of their smaller size and shorter arm band, these bags are quite versatile. The thicker and adjustable straps give the bag an almost fanny-pack-like design, allowing for a more casual look (via Preview).
If you're sticking with the Louis Vuitton staple, the thicker strap is perfect for a sporty-chic look. Opt for only the mini or regular pochette with the gold chain for either a shoulder or hand-held purse look. Influencer Anna Cay made the bag the star of her outfit as she paired it with an all-white look. The hint of gold added just the hint of elegance to Kay's basics.
The multi pochettes have also proved to be perfect for all types of weather. Though they're most commonly seen in street fashion, paired with either utilitarian or classic wear, the pochettes are just as fashionable at the beach. Influencer Laureen Uy paired her Prada bag with a red bikini, red bermuda shorts, and a matching black Prada bucket hat. Prada's range of colors in their nylon style makes it the perfect accessory for a monochromatic look. Opt for the classic all-black, or play with neutral tones with their beige bag.