La Roche-Posay Products That Are Worth The Hype
Shutterstock
We may receive a commission on purchases made from links.
When it comes to beauty products, some brands carry a legacy and reputation with them that is hard to dispute. These brands have typically been around for a long time, and as such have been able to build a loyal user following that's helped them sustain their presence in the industry. Such is the case for La Roche-Posay, a L'Oréal brand that's rated the "number 1 dermocosmetic brand worldwide," according to L'Oréal's website.
La Roche-Posay's products, such as their tinted sunscreen, have been touted by celebrity makeup artists as must-haves in their makeup kits, and celebrities like Sarah Jessica Parker and Kelly Ripa swear by them, too. Their products are even said to be able to help remove under eye circles. All of this hype, though, might cause concern. Are these products worth the praise they receive, or do they fizzle under the pressure put on them by so many celebrities?
These products are why La Roche-Posay is a mainstay in the beauty industry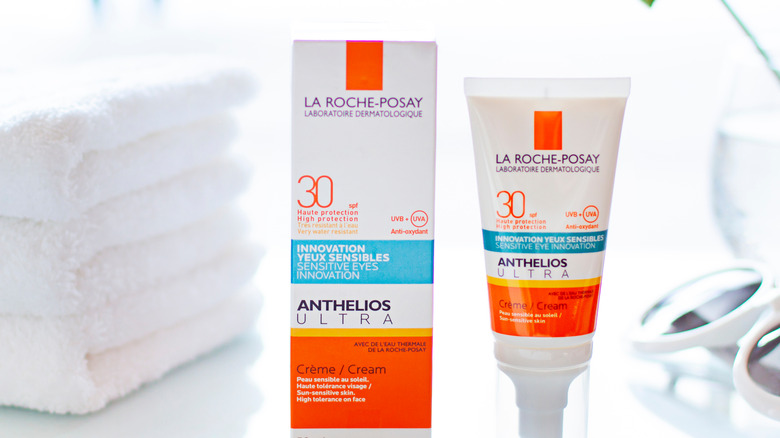 Shutterstock
La-Roche Posay has been sold since 1975, per Bustle, and because of this, they've created a wide variety of products to help people's skin. This is why we need to get to the bottom of which La Roche-Posay products are worth the hype.
Some of their best products, according to Bustle, include their Toleriane Double Repair Face Moisturizer and their Anthelios Cooling Water Lotion Sunscreen. These products are hydrating without leaving the skin oily, and they help protect the skin from the sun — something you should always be wary of, even if it's cloudy outside (via Yale Medicine).
In addition to these products, La Roche-Posay's beauty hits extend to all realms of face care. Their Thermal Spring Water is an instant skin revitalizer if you need a little pick me up, and their Effaclar Purifying Cleansing Gel cleans the skin both gently and effectively at the end of the day (via Beauty Expert). They even offer an excellent Serozinc Face Toner for humid weather, which keeps the skin from getting oily, per Beauty Expert. On the other end of things, La Roche-Posay even offers a hyaluronic acid serum that includes vitamin B5 to keep you moisturized and glowing all day every day.
With products like these, La Roche-Posay has cemented themselves in the beauty industry, and it's clear that they're a staple that's going to remain a mainstay in people's routines for many years to come.