Why Fans Are Praising Halsey's Honest Postpartum Photo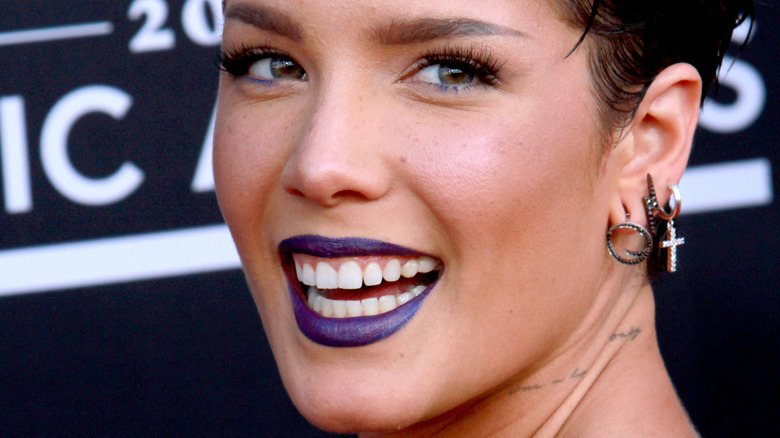 Shutterstock
Halsey is giving fans a sneak peek into their life as a new mom via Instagram. The singer, who welcomed a child named Ender last month and also announced their pronouns were she/they in December, shared a reel of images showing off the baby's nursery — which features framed drawings and a mushroom stool — along with a sweet shot of the little tot wearing matching tie-dye outfits with dad, Alev Aydin (via Cosmopolitan and Them).
The star also included an honest image of their stomach postpartum, stretch marks and all. As Page Six points out, you can see a tattoo that says "Baby" in the image as well. It's this last picture, which was captioned, "Well....this is what it look like" that is winning praise from fans (via Us Weekly).
"Wear those tiger stripes proud mama!! Love to see it," commented one of Halsey's Instagram followers. "THANK YOU FOR POSTING YOUR STRETCH MARKS!!!!!" enthused another fan of the unfiltered share.
And another follower commented, "I love love love that you posted ur cute little stretch marks. I'm 31 weeks pregnant and I keep getting paranoid I'll get them and having to remind myself it doesn't matter."
Fans want to see what real motherhood looks like
More appreciation for Halsey's intimate Instagram share flooded into the comments section of her post, with a grateful fan writing, "Finally a celebrity who shows imperfections after childbirth instead of a perfect toned body right after."
Celebrities who bare their real bodies are winning big with fans lately, with mom of three Kourtney Kardashian recently sharing a bikini pic of her rear end, cellulite and all. The star was widely praised by fans, with one noting on Instagram, "Way to empower the natural women body!!"
Meanwhile, Halsey also recently shared a breastfeeding photo on social media, which was likewise very well-received by fans. "Absolutely love seeing people with huge platforms like yours normalizing breastfeeding as a breastfeeding mother myself, not enough representation at all and it really is an incredibly hard yet beautiful journey," one fan in particular wrote in response to the Instagram share.