How To Replicate Madison Beer's Makeup Routine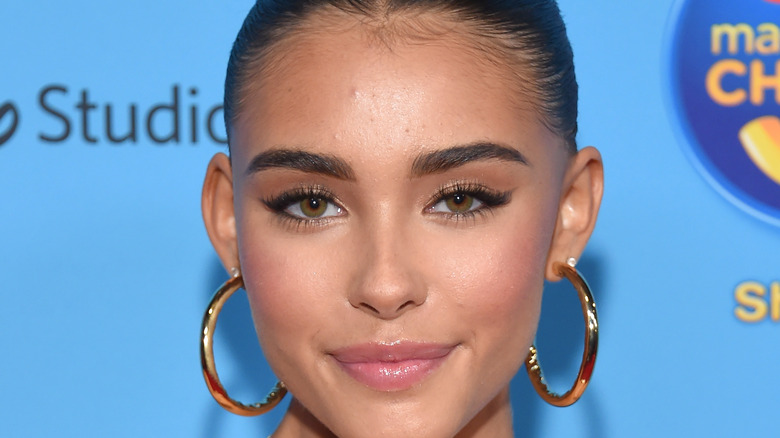 Shutterstock
Pop star Madison Beer is at the top of her game. The "Reckless" singer released her highly-anticipated debut album "Life Support" in February 2021 and peaked at No. 65 on the Billboard 200 chart. Beer is currently gearing up for "The Life Support" tour (via Madison Beer) and still releasing new hit tracks for her fans to devour (via Spotify). Aside from creating melodic pop music, Beer is one of the most popular women on social media. The 22-year-old entertainer has a following of 26.4 million on Instagram as of publication, and frequently garners millions of likes on her posts.
Many of Beer's followers admire the star's impeccable makeup in her posts. Thankfully for her fans, she participated in the Vogue Beauty Secrets series (via YouTube). In "Madison Beer's Guide to Soap Brows and Easy Blush," she shared her favorite skincare product and her exact makeup routine.
Glossier and Charlotte Tilbury are makeup musts for Madison Beer
To kick off her makeup routine, Madison Beer used the eyebrow soap kit, which is essentially a block of soap and a spoolie brush, to shape her thick brows. She followed her brow routine with the Glossier Perfecting Skin Tint because it offers light coverage but evens out her skin tone. Next, she turned to the classic NARS Radiant Creamy Concealer to brighten her under eye area and t-zone. Beer loves to glow, so she used the Charlotte Tilbury cream-based contour wand and highlighter wand to carve out her cheekbones.
Next, she used the Charlotte Tilbury Airbrush Flawless Finish Setting Powder to set her concealer before using the Fenty Beauty Sun Stalk'r Instant Warmth Bronze and Killawatt Freestyle Highlighter to go over her cream blush and contour. For her eyes, Beer used her Morphe x Madison Beer Channel Surfing Artistry Palette to define her almond eyes and brighten her inner corner. Beer then used the Glossier Lash Slick to lengthen her eyelashes. Lastly, she used the Charlotte Tilbury Lip Cheat Lip Liner to slightly over line her lips and Ulta Juice Infused Lip Oil to make them shine.