Here's The Real Reason Why Steven Seagal Is Banned From SNL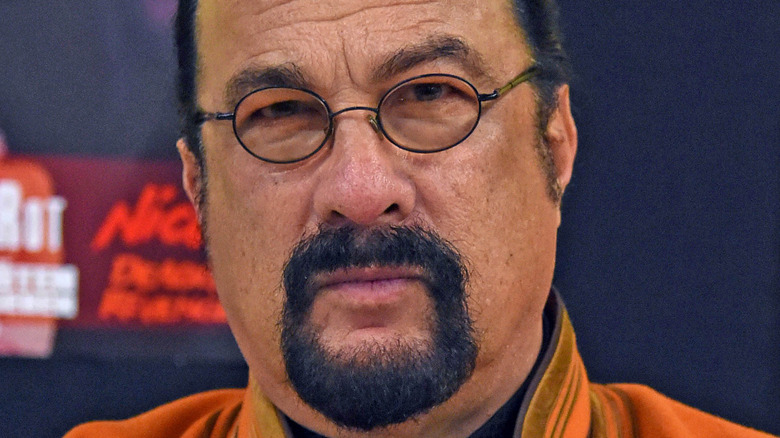 Tristar Media/Getty Images
In the early 1990s, martial arts expert Steven Seagal had just become a movie star after years of behind-the-scenes work choreographing fight scenes for action stars like Sean Connery. 
Seagal was born on April 10, 1952 in Lansing, MI where he became interested in martial arts as a young boy. By the time he was 17, he traveled to Japan to teach English and master his craft, studying Eastern philosophy and earning black belts in aikido, karate, judo and kendo. When he returned to the US 15 years later, he opened his own martial arts school and became a bodyguard for Hollywood celebrities like Kelly LeBrock before becoming a celebrity himself (via Biography), but maybe one who was not easy to work with.
With his own action movies becoming box office hits, including "Above the Law" in 1988, "Hard To Kill" in 1989, and "Under Seige" scheduled to be released in 1992 (via IMDb), Seagal was ripe for a 1991 guest-hosting gig on "Saturday Night Live." Sadly, his "SNL" stint didn't go well.
Steven surprised the crew at SNL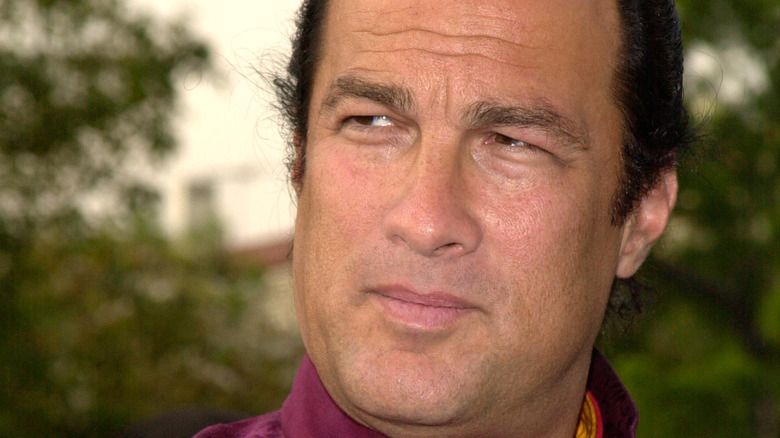 Shutterstock
In 1991, Steven Seagal was asked to host "Saturday Night Live," so he traveled to New York City, where the show was performed live in front of a studio audience each week. He began running into trouble during rehearsals before anyone ever saw him on camera in his guest-hosting duties. In fact, his hosting gig went so bad that Time magazine eventually included him on a list as one of the "Top Ten Dubious SNL Hosts".
So, what went wrong? Well, first, the show's stars claim he just wasn't funny, something that doesn't quite work if you're on a comedy show. Former "SNL" star Julia Sweeney explained how the week went.
"When we pitched our ideas for Seagal at our Monday meeting, he gave us some of his own sketch ideas," she said (via Reel Rundown). "And some of his sketch ideas were so heinous but so hilariously awful, it was like we were on "Candid Camer."
SNL stars describe Steven's "heinous" ideas
Shutterstock
Julia Sweeney couldn't believe some of the things that Steven Seagal came up with as they created "SNL" skits for that week's 90-minute sketch comedy show.
"He had this idea that he's a therapist and he wanted Victoria Jackson to be his patient who's just been raped. And the therapist says, 'You're going to have to come to me twice a week for like three years," because, he said, 'That's how therapists freaking are. They're just trying to get your money.' And then he says that the psychiatrist tries to have sex with her."
Tim Meadows, another former "SNL" star, pretty much echoed Sweeney's sentiments. "The biggest problem with Steven Seagal was that he would complain about jokes that he didn't get, so it was like – you can't explain something to somebody in German if they don't speak German," Meadows said (via Reel Rundown) "He just wasn't funny and he was very critical of the cast and the writing staff. He didn't realize that you can't tell somebody they're stupid on Wednesday and expect them to continue writing for you on Saturday."
So, Seagal's humor didn't work for "Saturday Night Live" and neither did his attitude, according to the people who worked with him. That was enough to get him banned from "SNL" and he was never asked to host again.