How Liz Cheney Really Feels About Her Sister Mary Cheney's Sexual Orientation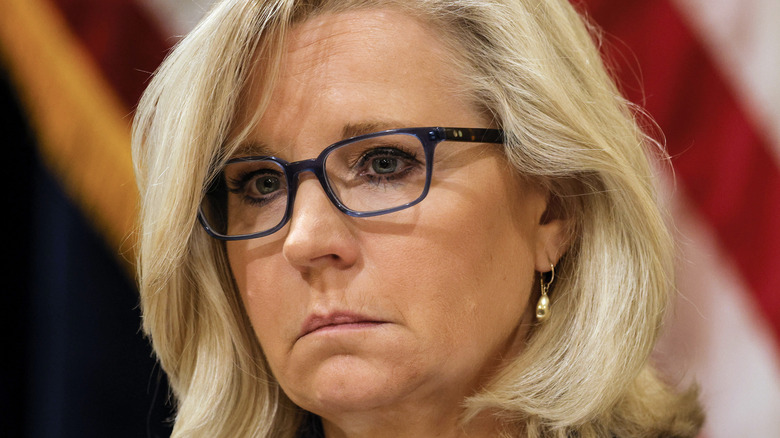 Pool/Getty Images
In 2021, Liz Cheney is known as the Republican congresswoman from Wyoming who bucked her party in favor of her country by voting to impeach former president Donald Trump the second time. She is also determined to get to the bottom of what happened on January 6, 2021 when the Capitol was attacked, and is sitting on the House Select Committee investigating the riot. However, when she first ran for office nearly a decade prior, she was known as being a candidate who had a hard time accepting her sister, Mary Cheney, and her sexuality.
Liz and Mary are both the daughters of former vice president Dick Cheney, who served for eight years as the second-in-command to former president George W. Bush. In 2013, Liz was not yet a member of the House of Representatives and was instead running for a Wyoming Senate seat. When Liz was first making the bid for the seat she would eventually lose, she spoke out against gay marriage despite the fact that her younger sister, Mary, was gay and married to long-time partner, Heather Poe, according to the Los Angeles Times.
Liz and Mary Cheney took their feud to social media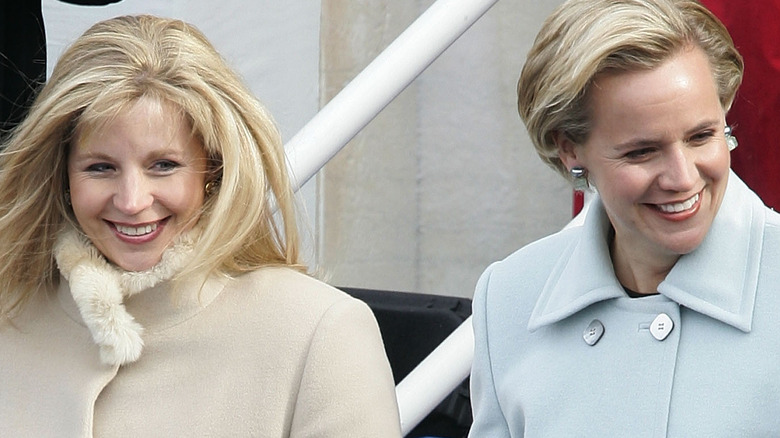 Alex Wong/Getty Images
The feud between Liz Cheney and Mary Cheney began in 2013 when Liz appeared on Fox News and discussed her sister's marriage. "I love Mary very much. I love her family very much. This is just an issue on which we disagree," Liz said, according to The Washington Post. The issue she was referring to being the question of gay marriage, which was not legalized in all 50 states until 2015.
Mary's wife, Heather Poe, responded to that comment via Facebook, posting, "Liz has been a guest in our home, has spent time and shared holidays with our children, and when Mary and I got married in 2012 — she didn't hesitate to tell us how happy she was for us. To have her now say she doesn't support our right to marry is offensive to say the least."
Mary soon took to Facebook and posted similar sentiments, aimed directly at her older sister. "Liz — this isn't just an issue on which we disagree — you're just wrong — and on the wrong side of history," (via The Washington Post). 
That's when their parents, Dick and Lynne Cheney, had to step in with their own statement. "She has ... always treated her sister and her sister's family with love and respect, exactly as she should have done," the senior Cheneys commented. "Compassion is called for, even when there is disagreement about such a fundamental matter, and Liz's many kindnesses shouldn't be used to distort her position."
Liz Cheney's stance on gay marriage has changed, but ever so slightly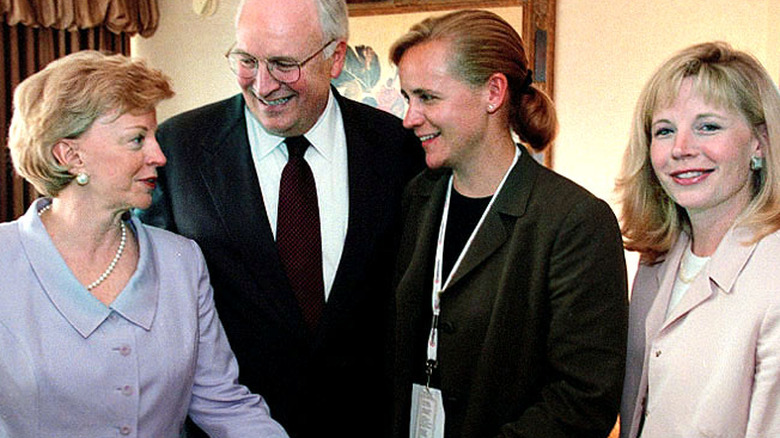 David Hume Kennerly/Getty Images
Liz Cheney lost her Senate race, but still made it to the House of Representatives in 2017 and moved her way up the ranks quickly to become chair of the GOP conference in the House, until she spoke out against Donald Trump in 2021. She was soon ousted from her position, according to CBS News, as it's become taboo to say anything negative about the former president if you are a Republican in 2021. And just as her views on Trump have changed, so have her views on gay marriage.
According to People, Mary Cheney had come out to her family regarding her sexuality when she was still in her teen years and it was quietly accepted, with her father walking a fine line about the issue of gay marriage during his years as vice president, helping lead a party that was against it. When the Supreme Court declared gay marriage legal across the land in 2015 (via NPR), both the Republican stance and Liz's stance began to evolve.
In 2020, Politico reported that sources close to the congresswoman said her views on gay marriage had changed over the years and that in an obscure 2019 interview, Liz said she considered gay marriage "the law of the land."