The Truth About The Girls Next Door Feud Between Holly Madison And Kendra Wilkinson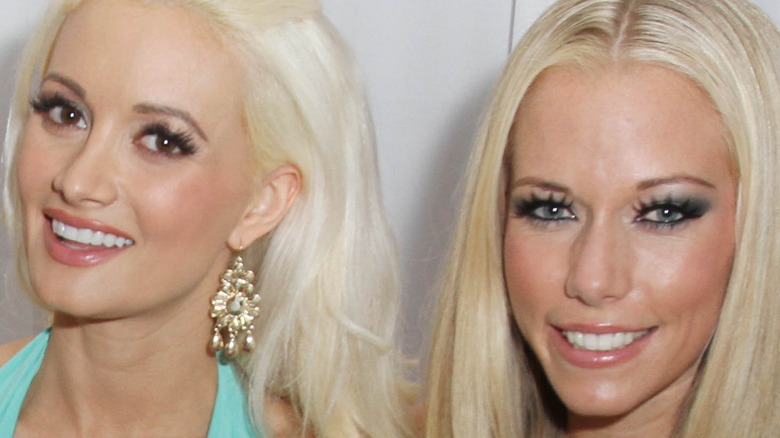 Tasos Katopodis/Getty Images
With the 2005 debut of the show "The Girls Next Door," the world got to peek inside the Playboy mansion and find out more about the lives of Hugh Hefner's girlfriends at the time – Holly Madison, Bridget Marquardt, and Kendra Wilkinson (via IMDb). 
The three beautiful blondes were featured in five seasons of the show, while the sixth season showcased a different set of girlfriends (via E! News). On-screen, Madison, Marquardt, and Wilkinson all seemed to get along pretty well, but that doesn't seem to be the full story.
They were close enough for Wilkinson to ask Madison and Marquardt to be her bridesmaids to her marriage to NFL player Hank Baskett in 2009 at the Playboy mansion (via US Weekly). But then in Wilkinson's memoir "Sliding Home," she gave some insight into the girlfriend trio's relationship as much different than what we saw. "During that first season, Bridget, Holly, and I continued to keep our distance, except when we were filming," she wrote. "We did our thing off camera, and there was an unspoken competition for camera time when the cameras were around," according to People.
Kendra's memoir didn't sit too well with Holly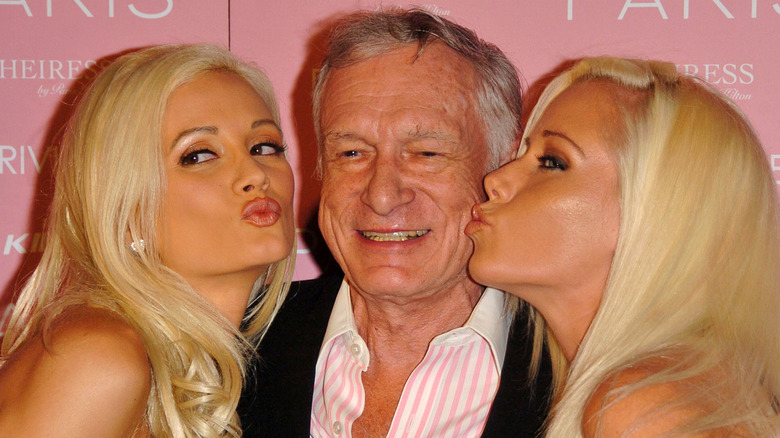 Shutterstock
In a 2012 interview, Kendra Wilkinson said the three weren't ever friends (from US Weekly). Holly Madison didn't take that well and in her 2015 memoir "Down the Rabbit Hole: Curious Adventures and Cautionary Tales of a Former Playboy Bunny," she wrote about what she did next. 
It read, "Of course I wasn't going to stoop to her level and address this only on social media, so I decided to text her how I truly felt: that she was a coward and that she tried to act like the 'real' girl on TV, but she's the fakest person I've ever met—and that if she had a problem with me, she should have confronted me like an adult instead of just going silent" (via E! News).
Wilkinson saw Madison as rewriting the past with her book, and in 2015 on her reality show "Kendra on Top," Wilkinson talked about confronting Madison at a book signing – though this never went down (from People). She also doubled down that they were never friends, saying, "At the end of the day, what we did was we just f–ked the same man. That's not friends" (via E!).
In 2016, Wilkinson took to Twitter with a graphic rant about Madison (from E! News). Shortly afterward though, she deleted them and tweeted, "I know my recent posts were a little over the top and I apologize for that. Sticking up for me n my beliefs is hard for me at times. Sorry."
Kendra seems to want to move on (but Holly still has words)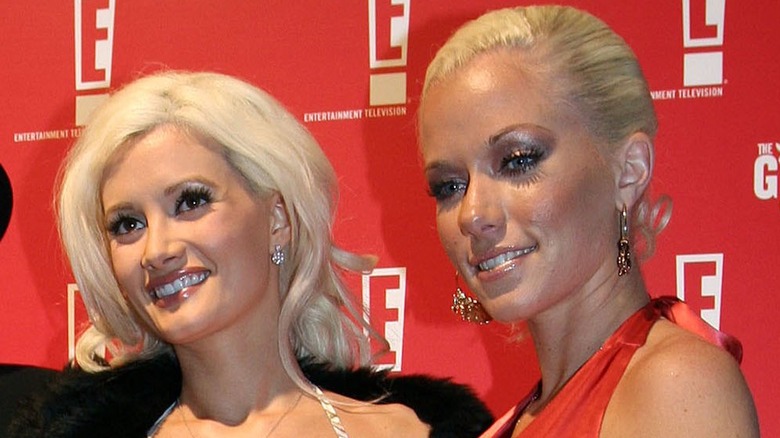 Elisabetta Villa/Getty Images
Also in 2016, Holly Madison said she wanted to move on from dealing with Kendra Wilkinson, telling People, "I wish her the best, but I'm done with that portion of my life. I've moved on. I'm happier now." Though she did seem to bring it up again more recently.
In an April 2021 episode of the podcast "Call Her Daddy," Madison said "I'm not trying to slut-shame anybody or anything but nobody ever got asked to move in unless they had slept with him." This was apparently in response to Wilkinson having previously said she was asked to move in before she slept with [Hugh] Hefner. Wilkinson replied to an Instagram post with Madison's quote about sleeping with Hugh Hefner: "Dude... it's 2021. Times have changed. I forgive and have kids to love and focus on."
Bridget Marquardt was asked about the Wilkinson-Madison feud and she said, "It's kind of sad. Like I feel like we have a bond, the three of us. It's kind of like, it's not like a sisterhood, it's not like friends, I mean it is friends, but it's something totally different than any other relationship you could possibly imagine," (via In Touch Weekly).