Why This Legal Expert Thinks Andrew Cuomo's Resignation Should Be Immediate - Exclusive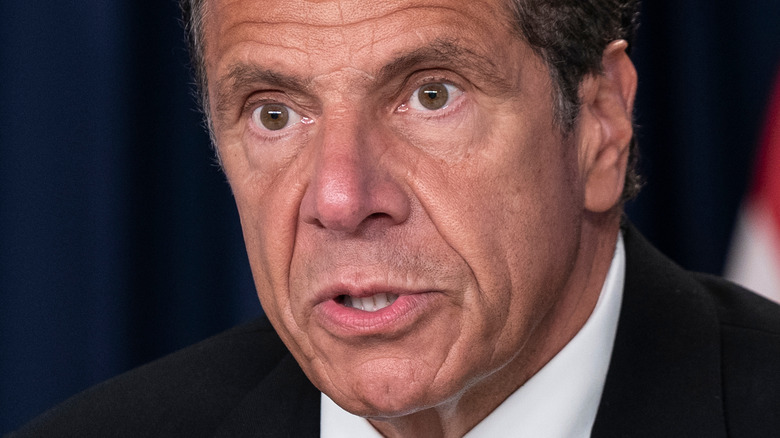 Shutterstock
In case you've missed the most recent news cycle, here is what's happening in New York. Three-term governor of New York state Andrew Cuomo will resign his position, effective in 14 days, following allegations of sexual harassment (via ABC News). This resignation is significant in a time where some prominent public figures such as former President Trump carry on despite controversy (via ABC News) and others such as Congressmen John Conyers and Tim Murphy have been confronted by the stark revelations of movements such as #MeToo (via Vice). While a resignation at this level is not unprecedented, it is definitely uncommon.
Says Gov. Cuomo on the matter, "The best way I can help now is if I step aside." It should be noted that while the governor denies the findings in the recent attorney general's report on this matter, he does say, "Don't get me wrong — this is not to say that there are not 11 women who I truly offended. There are. And for that, I deeply, deeply apologize."
This resignation comes in lieu of a potential impeachment on this matter. The responsibilities and the office will be taken over by New York's first female governor, currently New York Lt. Gov. Kathy Hochul. Says Hochul, "I agree with Governor Cuomo's decision to step down. It is the right thing to do and in the best interest of New Yorkers" (via Twitter).
But is his resignation coming soon enough?
Gov. Andrew Cuomo is on his way out of office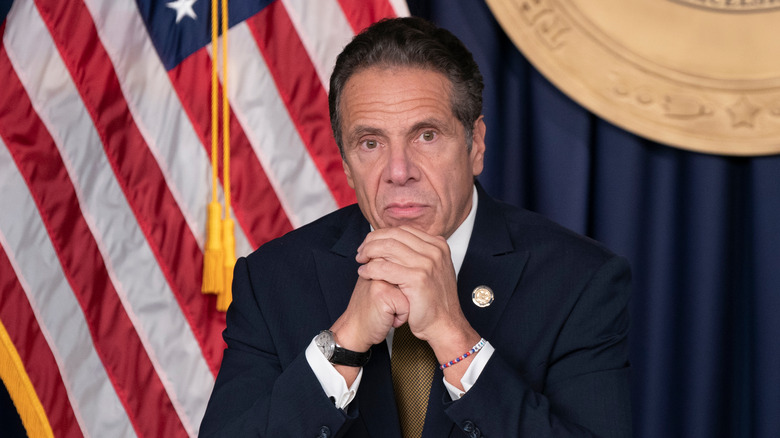 Shutterstock
Christopher Melcher, a partner of Walzer Melcher and a family lawyer of high-profile clients who handles crisis communications on their behalf, spoke exclusively with The List of Andrew Cuomo's resignation. "The two-week period is appropriate given Gov. Cuomo's reasoning that he wants to bring Lt. Gov. Hochul up to speed," Melcher said. This reference, however, applies to a typically two-week notice at almost any job. The governorship of New York is hardly typical. Referring to next-in-line Lt. Gov. Hochul, Melcher elaborates, "But frankly, she doesn't need his help. That's what staffers are for — at least the ones still around. A more immediate resignation would have been better."
Attorney Mariann Wang, who is representing accusers Alyssa McGrath and Virginia Limmiatis, says of the resignation that her clients "feel both vindicated and relieved that Cuomo will no longer be in a position of power over anyone" (via ABC). For those who have accused the soon-to-be-former governor of inappropriate behavior, it seems that Melcher's feedback takes on an even larger significance, demonstrating consequences for poor and damaging actions — and that means leaving immediately.