The Truth About Bella Thorne's Scandals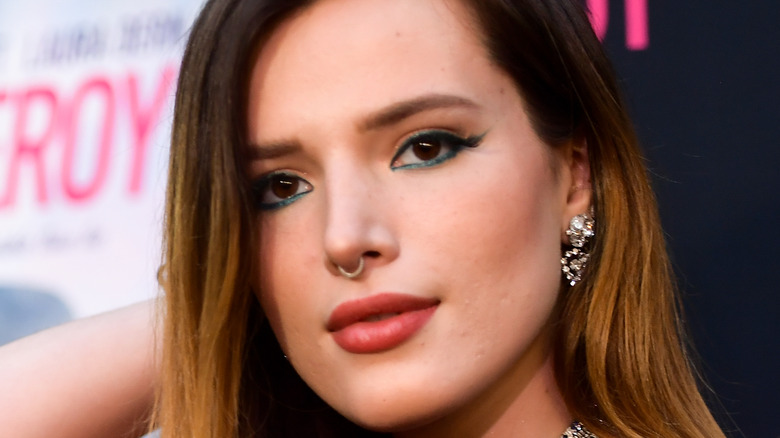 Matt Winkelmeyer/Getty Images
Bella Thorne has enjoyed a rather interesting trajectory. Initially finding fame on Disney's "Shake It Up," alongside none other than Zendaya (via IMDb), Thorne has since re-established herself as a loud, proudly queer, and frequently attention-grabbing tabloid staple. A 2020 profile in the Independent, in fact, describes her as a "Disney kid turned author, singer, cannabis mogul, erotic filmmaker, and movie star." Thorne is busy writing, directing, producing, and plenty more.
Despite her somewhat wild public profile, however, Thorne is adamant that nobody really knows who she is underneath it all. "People have this idea in their head that I'm this crazy bad party girl, or this bitchy, crazy druggie," she noted. "I don't get it." Her incredibly lucrative Instagram account — Thorne reportedly earns $65,000 per post — is frequently explicit. And, although she might feel misunderstood, Bella Thorne is certainly no stranger to scandal either. 
Bella Thorne isn't one to keep her mouth shut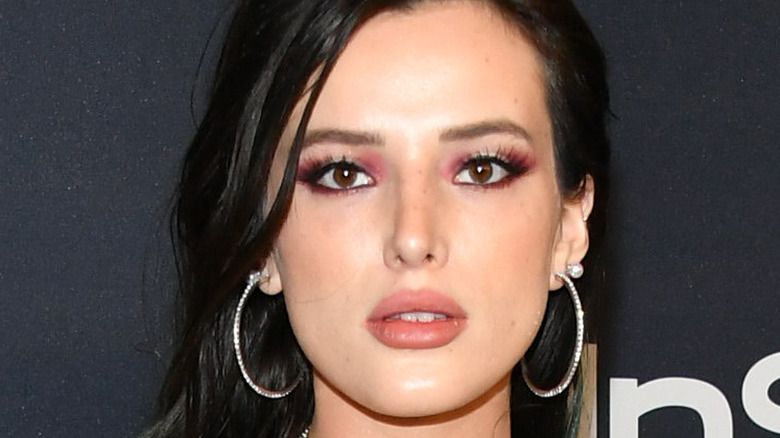 Amy Sussman/Getty Images
As Bella Thorne made it clear to the Independent, she's unflinchingly honest, almost to a fault at times, which frequently gets her into trouble. When a hacker threatened to release nude photos of her, the former Disney star released them herself, taking back the power in a very public manner (via Twitter). Opinion was split on whether it was the right move, but plenty of fans heralded her bravery. 
Elsewhere, Thorne courted controversy (or, more accurately, confusion) when she claimed during an appearance on "The Jenny McCarthy Show" that ex-boyfriend Mod Sun wouldn't return her passport, wallet, or computer. The rapper admitted to TMZ that he did have some of Thorne's stuff but argued he'd tried to give it back without success. Mod Sun also claimed his ex broke into his house and retrieved her laptop at that stage. 
Thorne got in trouble again for speaking out after telling the Los Angeles Times that Freeform, the network behind her short-lived show "Famous In Love," considered her "uncontrollable and crazy" and treated her badly on set — to the extent that other cast members were consoling her. Things were seemingly supposed to change for the second season but didn't. The show was subsequently canceled, as per Variety.
Sometimes Bella Thorne puts her foot in her mouth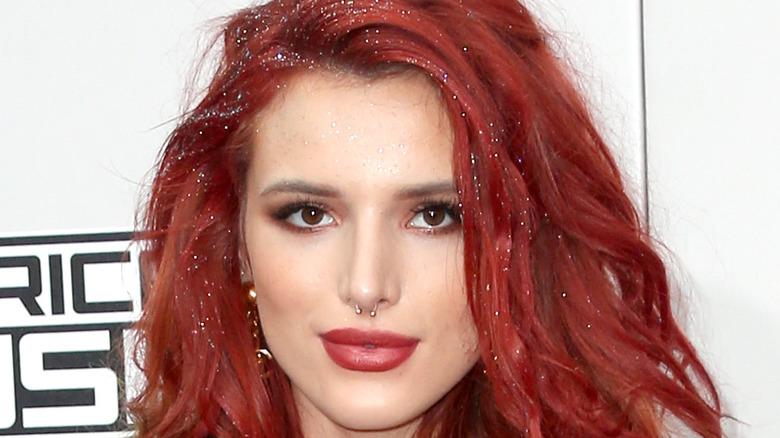 Frederick M. Brown/Getty Images
Bella Thorne took a major step forward for body positivity in 2017, when she posed nude for GQ Mexico and requested absolutely no retouching on the photos. Sharing a shot on Instagram, the actress admitted it was tough but felt necessary. However, the final line of her caption, "So hip hop your asses over the fence and GET OVER IT," was taken by many as a dodgy joke about immigrants, as per Insider, and particularly the wall separating Mexico from the U.S., a hot topic. 
She was similarly accused of being ignorant after tweeting to complain about L.A. traffic during devastating mudslides in the area, leading actor Rob Lowe to call her out on Instagram, quipping, "Bella, I'm sorry you were inconvenienced. We will try to move out our dead quicker." Thorne later tweeted she had "no idea" what was going on in relation to the delays. 
Elsewhere, the "DUFF" star was accused of ripping off independent beauty brand Juvia's Place when she released eyeshadow palettes through her record label, Filthy Fangs. Juvia's Place creator ChiChi Eburu acknowledged the similarities between their products in a statement to Insider, saying that Thorne's team clearly didn't do their due diligence during product development. Thorne later claimed in an Instagram Story that you'd have to be "dumb" to assume all palettes look alike. 
Despite everything, Thorne remains hugely popular, with 24.5 million followers on Instagram at the time of this writing. In her bio, she proudly boasts of breaking the internet on several occasions.