What We Know About Bella Thorne's Sisters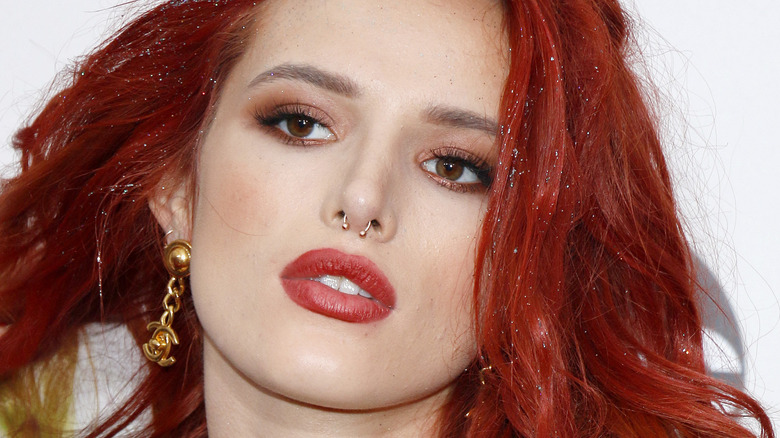 Shutterstock
As longtime fans know, reality titans the Kardashians have their show coming to an end. But Ryan Seacrest is allegedly courting another Hollywood sister group: Bella Thorne and her sisters. While some sources of his deny the rumors, fans are super keen on the idea (via Page Six). The Thorne family, especially Bella, are no strangers to dysfunction and controversy. Bella is the youngest at 23, while her sister Dani Thorne is 28 and half-sister Kaili is 29.
People know Bella quite well as a Disney starlet-turned-porn-director. Bella has gone down a lot of different ventures, including starring in mainstream films, publishing YA novels, working on music, appearing on OnlyFans, and even creating her own cannabis company, Forbidden Flowers (via Forbes and Vulture). Along with that, she's been in some headline heavy relationships with YouTuber Tana Mongeau and rapper Mod Sun, both of which ended in flames (via The Famous People). But it looks as though she's happily engaged to her new beau, per her Instagram page.
So you know Bella, but do you know her sisters?
Dani is a talented DJ and music producer
Shutterstock
Dani Thorne is Bella Thorne's older, animal-loving, and colorfully haired sister. Like Bella, Dani got into modeling and acting at a very young age, at only four years old to be exact (via The Things). But within recent years, she's transitioned to music like her younger sister. Unlike Bella, music is her primary profession. Dani, also known as COM3T, is a DJ and producer who's just recently made waves in the industry. Per her Instagram, she's teasing that her EP may be out sooner than her fans expect. Along with that, she's super close with Bella.
In an interview with PAPER, Dani told them how grateful she is for her sister. "Not only have we been through everything together but now we're taking on something that if you're alone in this industry could really affect you." Dani continued saying, "It's awesome that we can do that for each other."
Kaili keeps her life more low-key than her siblings
Kaili Thorne is Bella and Dani's older half-sister, and she also has deep roots in entertainment. Kaili, pronounced like Kylie, started acting in 2006, mainly doing guest appearances in shows and TV movies. Her most popular roles to date have been the show "Children of the Machine" and "Chillerama" (via IMDb). Now, she's mainly modeling, utilizing her social media accounts and OnlyFans page. As of May 2021, she runs a very successful OnlyFans account and posts almost daily on it. She also posts some fun, gorgeous, and incredibly risqué photoshoots on her social media accounts, mainly her Instagram page. She even started posting a few videos on a small YouTube channel in early 2021. 
However, she's kept her personal life quite private from her fans. Who knows though — will a reality show change that?