The Best Tips For Creating An Amazing Online Dating Profile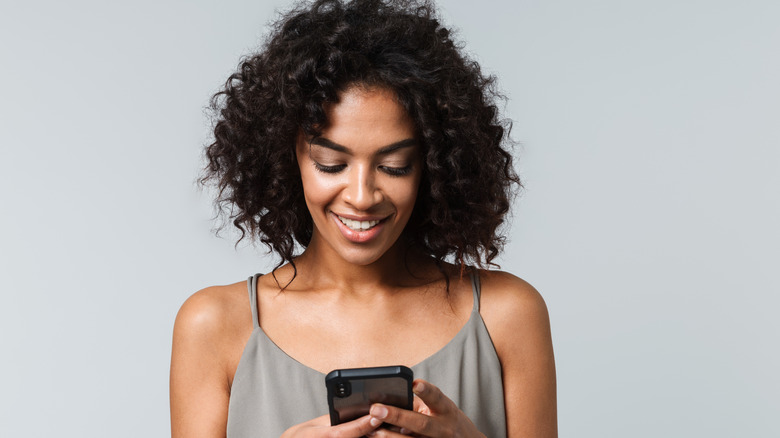 Shutterstock
In today's day and age, dating has changed for the foreseeable future. Long gone are the days where people would roll up to a bar, looking for a potential partner over a few casual drinks with a stranger. Instead, in a world where we are glued to our smartphones, it's no surprise that dating has become digital, as well. With online dating becoming a normality in our culture, people are more likely to meet through dating apps than in-person (via Statista).
When people muster up the courage to sign up for the apps, it can be kind of overwhelming when you're bombarded with prompts, information boxes, and photo requests. Not everyone wants to put all of their info on a dating app and, many don't know what types of photos to even use. Creating a dating profile that is not only genuine and true to self, while also being intriguing to potential partners, is a lot of work. 
However, there are some ways to make sure you're doing it just right. 
Make sure you're mindful of your photos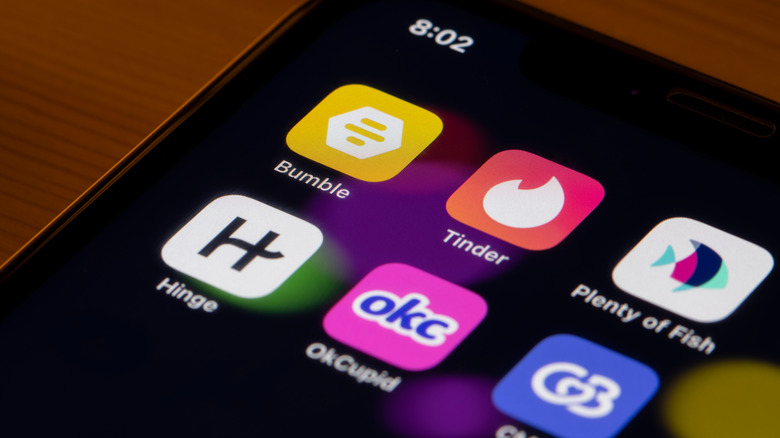 Shutterstock
Most, if not all, dating profiles require you to upload photos of yourself. This can be one of the hardest parts of creating a profile for many. Experts suggest using only one selfie, and the other photos used should showcase the lifestyle that you lead (via Self). For example, if you're a travel lover, adding photos from your travels is smart. Or, if you are someone who loves nature and hiking, you might want to post photos of you doing these kind of activities. Not only are these kind of photos telling to the person on the other end, they are also a great conversation starter. 
Many argue that putting up photos with friends and family is a great idea, but you don't want the focus to be too much on them. Instead, make sure you're standing out in the photos. Some people also suggest avoiding photos where your friends may "look better than you do," as you don't want anyone to message you asking for your friends number!
And, when all else fails, always post your pets, suggests Elite Daily. People love animals, let's face it. There's nothing better than a cute picture with your puppy or your cat. Who doesn't want to know their name and story?
Always consider what you write, too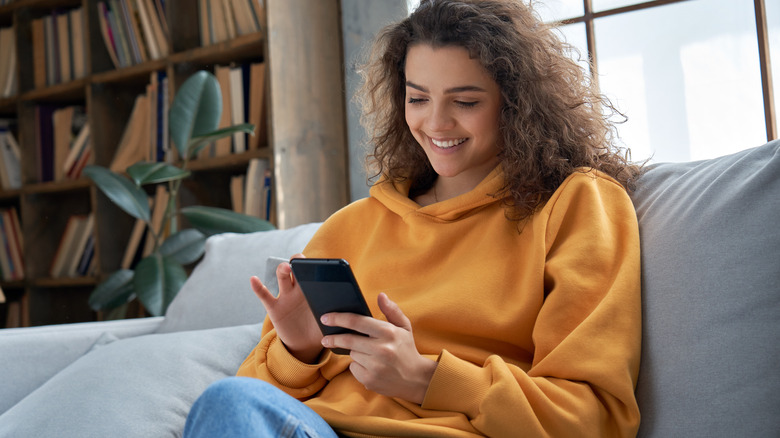 Shutterstock
Aside from photos, what you write and how you present yourself matters. 
When answering the prompts on apps, avoid using clichés and cheesy pick up lines. Many argue that it's a definite turn-off when people see the same, boring, retired one-liners on people's profiles (via Marie Claire). Write things that reflect who you truly are and what you're all about. Focus on positive things, like your favorite foods, shows, movies, and activities. Also, try to always spell-check and grammar check your writing, and avoid "faking" it just to be desirable.
Something else to consider with your profile is to be specific about what you want and what you're looking for. The last thing anyone wants is to match with someone, strike up a connection, and then find out they want totally different things. Many apps and sites allow you to put out what you're looking for, whether it's casual or serious, and you should be as up front as possible (via Good Morning America).
The best thing to do is to stay true to who you are and keep a positive mindset about love while navigating the "digital bar."