Inside Ted Cruz's Marriage To His Wife Heidi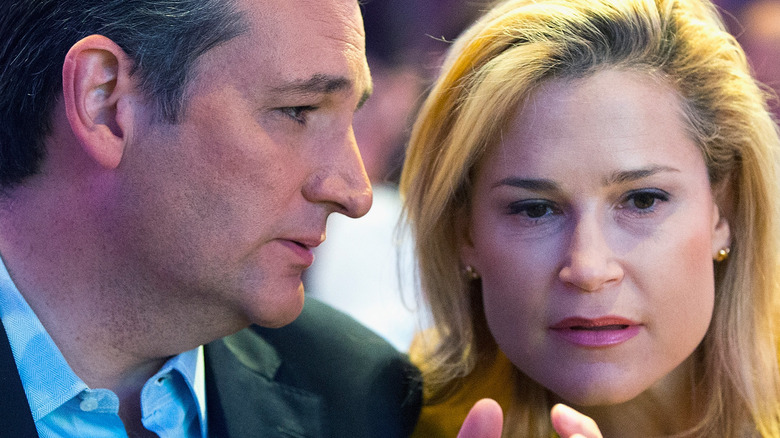 Scott Olson/Getty Images
Heidi Cruz doesn't normally make the news cycle, except, for example, when her Cancun-related text messages are leaked proving that hubby Ted really had planned on leaving Texas in the middle of a state emergency (via New York Post). In other words, his kids didn't make him do it. Or there was that time when Ted Cruz was running against Donald Trump, and Trump went after Heidi's looks. Heidi Cruz made gossip column headlines, then, too (via Daily Beast). Other than that, Heidi, and her marriage to senator Ted Cruz, stay relatively under the radar. Her official Instagram, for example, hasn't been updated since 2016 — when Heidi presumably maintained an online presence for the sake of her husband's presidential campaign. 
The Republican senator, you're familiar with. Perhaps you didn't know, however, that Donald Trump once interviewed Heidi for the job of World Bank president — at least according to Business Standard. Heidi's kind of a big deal in the world of finance. Having once worked for Condoleezza Rice on the National Security Council (via The Atlantic), the Harvard Business School alum is a Managing Director at Goldman Sachs (via Independent). But who are Ted and Heidi as a couple?  
How Ted and Heidi Cruz met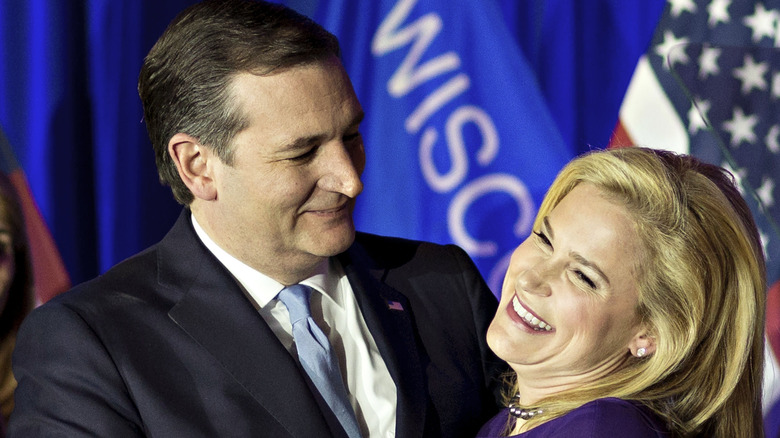 Bloomberg/Getty Images
For what it's worth — not much, probably — Ted asked Heidi out and not vice versa. They've been together for over two decades, having met in 2000 as policy aides in George W. Bush's presidential campaign (via The New York Times). Yes, they're both republicans. Heidi told The Atlantic that she thought Ted was "super-smart" and like a "1950s movie star." 
Ted — you might have gotten this idea already — is more of a Johnny English than a James Bond. For their first dinner date, the two went to a bar maybe not-so-aptly named "Bitter End." Ted got straight to it. He "asked me a lot of questions about my background, my goals in life, my 10-year plan, my 20-year plan," Heidi remembered to The New York Times. For what it's worth — and this is worth something — it was Ted's idea to play Disney's "A Whole New World" during their wedding the following year, not Heidi's (via The Atlantic).
Also Ted's idea? To move to Texas. Heidi grew up loving Washington D.C.. To The Atlantic, she reminisced, and then reminisced some more, about New York. 
No marriage is prefect, and neither is Heidi and Ted Cruz's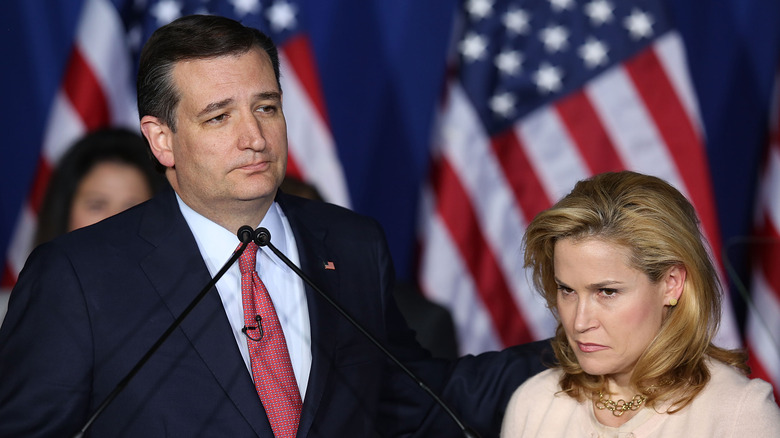 Joe Raedle/Getty Images
Ted and Heidi Cruz aren't, of course, financially prevented from spending time out-of-state (as their much-talked-about trip to Cancun illustrates). Actually, as of 2018, Quartz estimated that the couple was bringing in at least around a half a million a year in wages, and counted million-dollar assets including stocks, mutual funds, and retirement plans to their names. In 2013, when their children were small, they had a live-in Nanny, according to The New York Times. The New York Post says their Houston house is worth over $2 million. Finally, in 2016, Heidi — at least according to Ted — didn't think twice before agreeing to invest their $1.2 million in liquid net worth into Ted's presidential campaign (via The New York Times). No big deal, apparently.
 And yet, money hasn't always led to happiness for Ted and Heidi. Early in their marriage, Heid, faced with starting over in a state she probably would never have moved to on her own, "dipped." That's how she described the incident to The Atlantic. She left their house late one night and wound up on the side of an on-ramp, head in hands. Ted picked her up at a police station later. An officer had taken her in, thinking that Heidi might be a "danger to herself."
Funny enough, it was that incident, a low among lows, which led to a high. Heidi later told The Atlantic that the aftermath of "dipping" made her realize just how much her husband cared.