The Top 5 Designer Jelly Shoes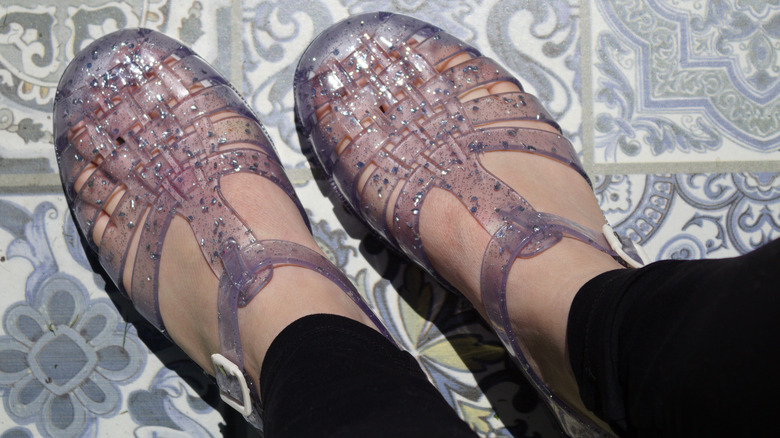 Shutterstock
Out of all the late 90s and early 2000s styles that are making a comeback – such as low-rise jeans, butterfly clips, and cargo pants — there is one proverbial fashion piece that stands out above them all: jelly shoes. Stars such as Alexa Chung, Mary Kate and Ashley Olsen, and even Blake Lively have been unapologetically showing off the jelly shoe as their foot accessory of choice (via InStyle).
Made of PCV plastic and often transparent or glittery, these quirky shoes have a youthful flair to them and are perfect for spring and summer. Technically started during WWII due to a leather shortage in Europe, Bloomingdales began stocking the jelly shoe in the early 80s (via The Guardian). However, it wasn't until the 90s that they became all the rage, partially because of their cheap price.
Despite this, many designer brands have begun to pick up on the revamped trend, adapting their own high-quality versions of jelly shoes themselves. Many brands have gotten creative, adding their own signature trademark twist to their designs that you'll surely want to check out.
These brands are honoring the classic jelly shoe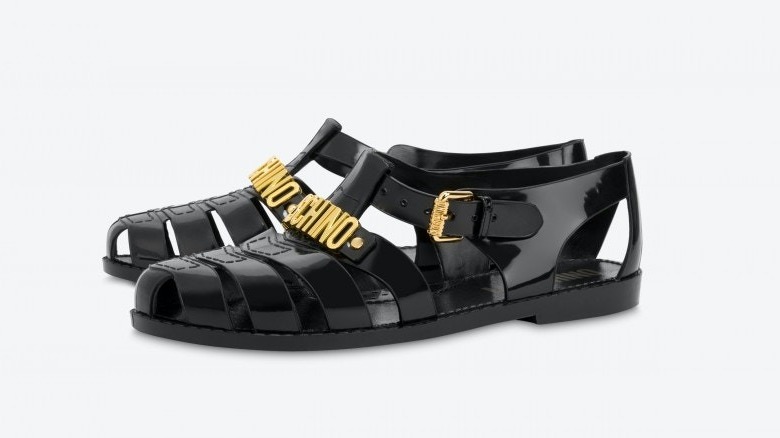 Moschino
If you want your nostalgia button to be pushed, the Moschino Logo-Lettering Jelly Sandals offer the perfect balance of reminiscent youthfulness with a more mature vibe. These sandals come with a giant "Moschino" logo blatantly laid across the top, in case you would like to be spared from people asking where you got them from. Although the original black color can be found on the website, other websites such as Farfetch and Saks Fifth Avenue have the sandals in a girly pink and a classic white, which both come in the signature transparent style that made jelly shoes so unique.
If you're still looking for something that closely resembles the original trend, the Roger Vivier Slidy Viv Strass Jelly Slides have got you covered. These shoes are cushioned, comfortable, and perfect for slipping on quickly and going about your day. They come with two conveniently placed, shiny silver buckles that offer a bit of bling while still looking chic.
Hopping on the transparent concept is the Women's Slide Sandal with Gucci Logo. Made with rubber, this shoe takes on the chunky trend that was also super popular in the 90s and 2000s. In addition to its original clear silver, the shoe comes in a warm-toned cream as well as a loud blue and red if you really want to make a statement.
These brands are doing jelly shoes with a twist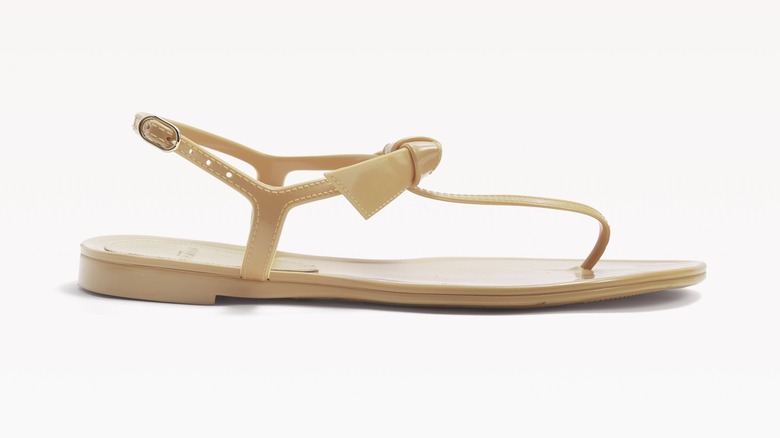 Alexandre Birman
Meanwhile, some luxury brands have taken the original concept of the jelly shoe and have deviated further from it, while still maintaining their inspiration from the classic 90s trend. According to Marie Claire, the Alexandre Birman Clarita Jelly Sandals "will add a feminine touch to any look." They're a simple and sleek option that pairs well with practically anything you own, but especially a maxi dress. 
If you're looking for something truly out of the box, Brazilian-based label Melissa, a signature jelly shoe brand in the early 2000s, teamed up with environmentally friendly shoe designer Rombaut for something truly innovative: a jelly sneaker called the Rombaut x Melissa Melting Boccaccio (via Vogue). This way, you can still channel your inner Y2K child while going for a jog. These unique genre-bending shoes scream edgy and ironic (if that's what you're going for). Go relive your glory days in style!