Does Donald Trump's Recent Court Loss Mean He Has To Turn Over His Tax Records?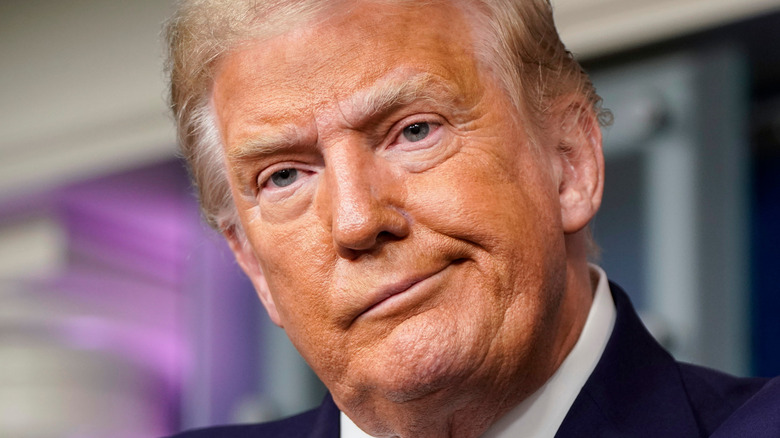 Shutterstock
Congress just gained some ground in the battle to get hold of former President Donald Trump's tax records, after a Washington, D.C. federal judge said lawmakers could get Trump's law firm, Mazars USA, to reveal some of his financial records. The ruling, which was issued by U.S. District Judge Amit Mehta, said Congress could subpoena and have access to the Trump's financial records to review the lease agreement involving the Trump International Hotel in Washington, D.C., which occupies an old federal building (via New York Times). Mehta also said Congress could scrutinize Trump's records to determine whether the former president — or his businesses — might have made money illegally during his time in office (via The Wall Street Journal).
Mehta ruled that the House committees had "presented detailed and substantial evidence ... that President Trump, at least through his business interests, likely received foreign payments during the term of his presidency. The Committee therefore is not engaged in a baseless fishing expedition. It has presented the requisite degree of evidence to substantiate the Committee's legislative purpose." What Congress will not be able to do, get its hands on, are Trump's personal records so it can create new laws that would strengthen future financial disclosures that need to be made by the commander-in-chief.
House Democrats don't think the ruling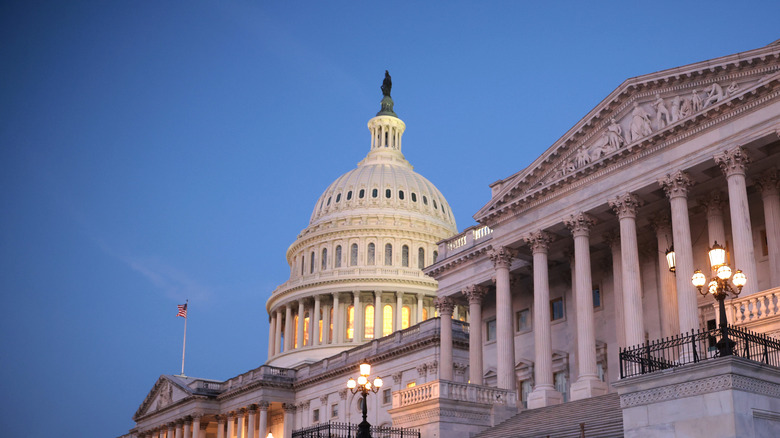 Win Mcnamee/Getty Images
House Democrats weren't entirely happy with the outcomes, but they appeared willing to take what they could get, at least for now. Virginia Democrat Gerald Connolly, who heads up the House Oversight Subcommittee on Government Operations, said in a statement that: "We'll see some of Donald Trump's tax returns, and that's a good thing," Connolly said in a statement. "But let's be clear: We issued this subpoena two years ago. That he was able to run out the clock and avoid accountability until he left office is not a victory for the rule of law. It is an abject failure" (via Bloomberg). The House Oversight Committee's Chairwoman Carolyn Maloney says that "entitled to a broad set of President Trump's financial records." She said that "while it is disappointing that the Court, despite finding that the entire subpoena served valid legislative purposes, narrowed the subpoena in some respects, the committee is actively considering next steps" (via The Wall Street Journal).
In case you think this ruling means the end of this particular saga, it doesn't, because an aide to the former President has already indicated to the WSJ that he is expected to appeal.
Trump has potential trouble brewing in Scotland, too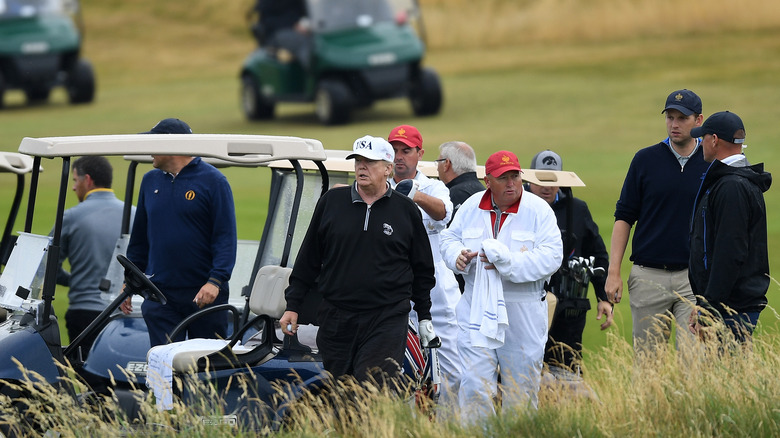 Leon Neal/Getty Images
But Trump's legal problems don't stop at the U.S. border. Over in Scotland, a judge has paved the way for some members of parliament to push the government to find out where the former president got the money to buy his two golf resorts there. The investigation, which will be conducted under what is called the "McMafia order," allows Scottish prosecutors to investigate how certain people might have obtained the cash to acquire assets such as luxury cars and property (via The Guardian). While there is no proof that the money used to acquire the properties came from illegal sources, questions are still being raised about where the money to buy the properties came from, particularly since, as The New York Times reports, both golf courses were purchased at a time when Trump's tax returns showed that he was losing money.
While Eric Trump has said that the company's deals were financed by Russia during that time, he later backtracked and said that the golf courses had been paid for with Trump Organization funds. The former president has also denied that the Aberdeen and Tunberry properties were paid for with Russian cash. After the January 6 riot, British Open organizers went on the record to say they had no intention of hosting any events in Tunburry, and neither would they do so "in the forseeable future."