The Most Expensive Outfits The Royals Have Ever Worn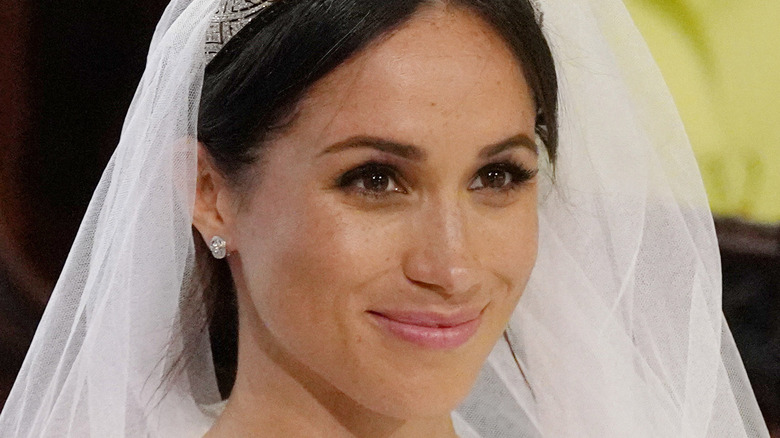 Wpa Pool/Getty Images
Let's admit it, we all have longed for a budget-free wardrobe. Imagine how many designer items we could have if money wasn't an issue. Well, as it turns out, the members of the royal family don't seem to shy away from designer options and, while they're sometimes seen in affordable jeans and tees, they also don't deny themselves gorgeous ensembles worth a small fortune.
Of course, the members of the royal family also have to dress for the part. When attending lavish balls, award ceremonies, or weddings, they really have to show up. And, while we're just a tad jealous of the amazing designers that we're pretty sure they have on speed-dial, we can also revel in living vicariously through their outfit options. From Diana Spencer's head-turning looks in the 1980s to Kate Middleton's couture style to Meghan Markle's sleek array of suits and heels, the royals certainly know how to dress, just as they know that their fashion choices can impact trends to come.
While some of us won't be able to afford a number of their looks, it's always fun to see the items on which the royals have dropped the most money. Here are the most expensive outfits the royals have ever worn.
Diana Spencer's wedding ensemble was estimated to cost this much in present day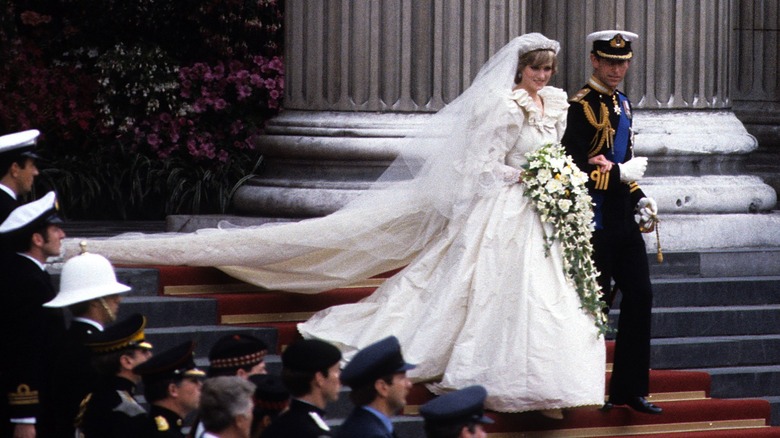 Anwar Hussein/Getty Images
In the wedding of the century, Diana Spencer married Britain's most eligible bachelor, Prince Charles, in a lavish ceremony watched by millions. The young, soon-to-be princess stunned in a wedding dress that would impact the bridal world for the years to come, and the ensemble still stands as a visual reminder of that celebratory day. While the reality of Charles and Diana's marriage was certainly not a fairytale, the wedding dress was what dreams (at least 1980s dreams) were made of. 
So, here are the details: As noted by Hello!, the dress was made from ivory silk and was detailed with sequins, antique lace, and pearls. It was designed by David and Elizabeth Emmanuel, Welsh designers, and was donned with 10,000 pieces of gorgeous embellishments. To top off the head-turning look, Diana's dress featured a 25-foot-long train that was also detailed with pieces of antique lace that reportedly once belonged to Queen Mary (via Brides). The train was the longest in royal wedding history, so the price of the dress shouldn't come as a huge surprise. In today's money, Diana's dress cost almost $214,000.
The dress that Meghan Markle wore during her sit-down with Oprah Winfrey has a hefty price tag
It was the interview that rocked the world — of course, we're talking about the interview that Prince Harry and Meghan Markle had with the famed Oprah Winfrey. While many of us were too distracted by the bombshells dropped to notice anything else on-screen, some beady-eyed viewers did notice just how gorgeous the dress was that Meghan chose to wear for the occasion. Before you say anything, yes, Harry and Meghan are still royals even though they don't use their HRH titles anymore. 
Now, on to the dress. Meghan chose to wear the long triple silk georgette dress from designer Giorgio Armani, which featured a V neck-styled neckline and a gorgeous white flower detailing over the shoulder. It was made of 100% silk, featured a multi-tiered hemline, and was made to feature the waist, thanks to a matching belt. She paired the look with a soft up-do, black pumps and, of course, her gorgeous baby bump. If you're going to accuse some of your in-laws of racism, you might as well do it in style. The dress set her back a cool $4,700.
This option worn by Meghan Markle set her back a pretty penny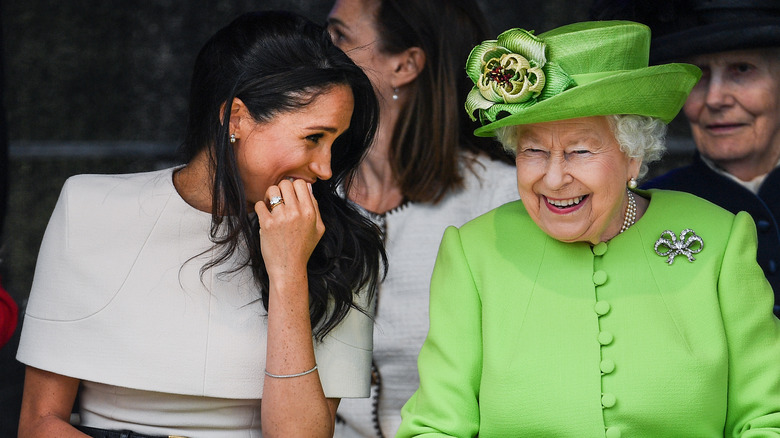 Jeff J Mitchell/Getty Images
Before Prince Harry and Meghan Markle stepped back from their roles as senior royals, they, too, were on the mainstage of the family and often accompanied the queen on outings. When Meghan first arrived on the scene and joined Queen Elizabeth for a solo appearance, she really did so in style, and opted for a gorgeous Givenchy dress. Let's start with the occasion. As reported by CNN, the queen and Meghan traveled by train to the Mersey Gateway Bridge and Storyhouse in Cheshire, a performing arts theater, to mark its official opening. There were a number of events held for the royals, including performances from artists and actors, as well as numerous plaque unveilings. 
The monarch and the newly-minted royal member (she and Harry had just gotten married at the time) then traveled to the Chester Town Hall for lunch. Now, on to Meghan's outfit. The Givenchy dress in question was stunning, featuring a column silhouette, a simple black belt, and caped shoulder detailing. Meghan paired it with her long locks skimming her shoulders, a simple black clutch, and black heels. As noted by Vanity Fair, the outfit was a scene stealer, and cost her $18,000.
Kate Middleton's ensemble for her sister's wedding day was gorgeous and expensive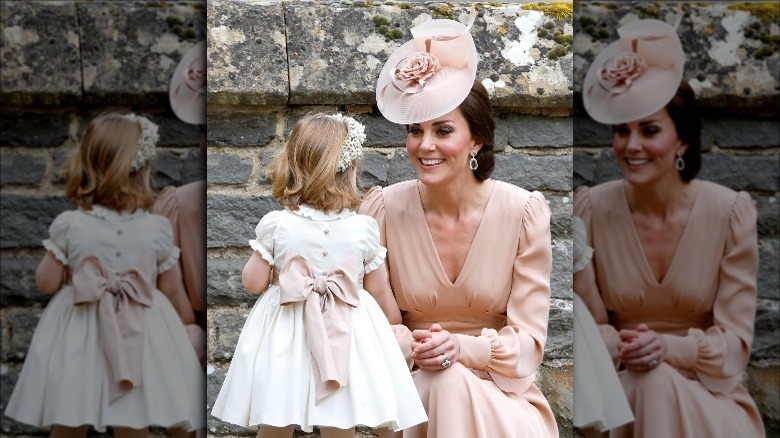 Max Mumby/indigo/Getty Images
Royal weddings can feel like events of the century, but the nuptials of royal relatives can be just as revered. When Kate Middleton's sister, Pippa Middleton, got married, Kate opted for a gorgeous dress from one of her favorite designers. As noted by Harper's Bazaar, Kate chose a beautiful, light-pink Alexander McQueen dress that featured bell sleeves, a corseted waistline, and soft pleated detailing. She paired the dress with Kiki McDonough earrings and a hat from designer Jane Taylor. But be prepared for the cost — the outfit set her back a whopping $14,014. 
Of course, the woman who really shone on the day was Pippa, who chose a custom wedding gown by designer Giles Deacon for her big day. It was a stunning cream-colored lace dress, which featured a high neckline, gorgeous cap-sleeve detailing, and beautiful lace, as noted by Town & Country. The couple got married in Englefield, Berkshire, at St. Mark's Church. The location is just a stone's throw away from where Pippa and Kate grew up, and the entire affair was attended by Britain's royalty and nobility. And, of course, Kate shone bright on the day, as well.
Prince Harry's wedding day look was very expensive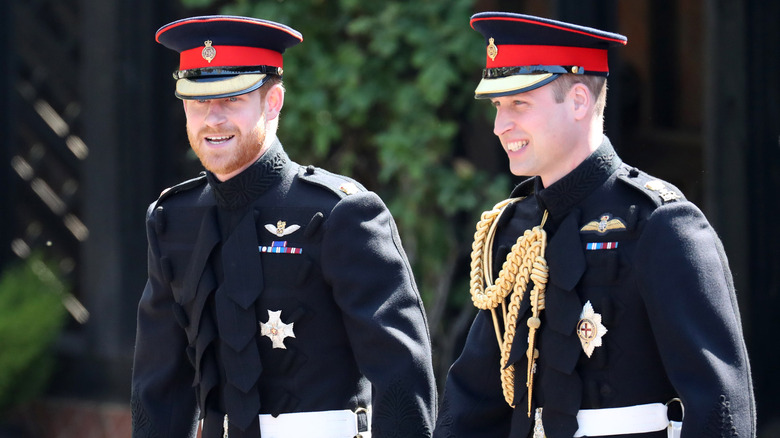 Wpa Pool/Getty Images
While there is typically emphasis on the outfits worn by the female members of the royal family, the men don't disappoint. In fact, Prince Harry's ensemble that he wore on his wedding day cost a pretty penny, and it was custom-made for him by designers located on the historic Savile Row. As noted by GQ, Dege & Skinner were responsible for Harry's look, and the company's managing director, William Skinner, spilled all the details about the military uniform. 
Skinner revealed that Dege & Skinner had made custom uniforms for Harry before, so they had a pattern from which to base his wedding look. After an appointment with the prince, the uniform was adjusted here and there to make sure that it fit to a tee. After a final fitting, the uniform was delivered to the groom. All in all, it took a total of six weeks to create Harry's uniform, and the uniforms for the wedding's page boys were also made in the same duration. What would it cost to make such a suit? Skinner revealed that just the jacket would cost about $9,023, and the pants would set you back about $1,875 — a solid total of $10,898.
Kate Middleton's St. Patrick's Day emerald-green coat cost thousands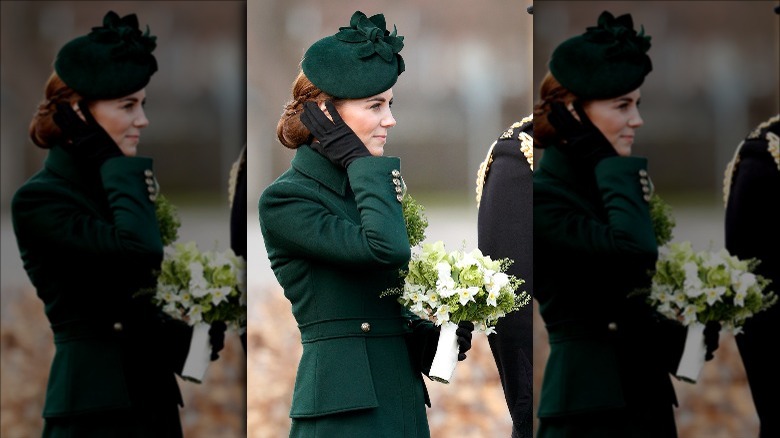 Max Mumby/indigo/Getty Images
When St. Patrick's Day rolls around, many of us sport green beaded necklaces and go all in on the beer. Kate Middleton clearly wanted to avoid being pinched (as the tradition goes, wearing green on Saint Patrick's Day is supposed to make you invisible to leprechauns, who will pinch you if they can see you), and she stunned in an emerald-green coat from designer Alexander McQueen in 2019 — looking fabulous and glamorous. As noted by Insider, Kate added a shamrock brooch, sourced from the royal family's collection, to the green coat to really harness the St. Patrick's Day theme. The duchess opted for a pair of heels from Gianvito Rossi, black gloves, and simple drop-down earrings. With a gorgeous fascinator from the famed brand Lock & Co, her look really did not disappoint. 
Here's where we get into the details. The fascinator set the duchess back $676 on its own, and a pair of Gianvito Rossi heels go for about $700. The Alexander McQueen coat cost Kate $4,000 and, yes, our jaw dropped at the price tag, too. As noted by The Richest, the expensive look didn't stop Kate from having a good time at the St. Patrick's Day celebration, and she even played with a dog (which broke protocol).
Princess Beatrice's outfit from this royal wedding cost (and sold for) thousands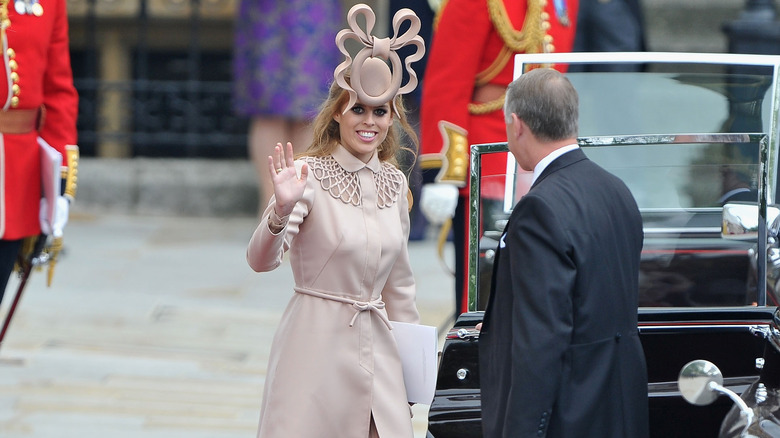 Pascal Le Segretain/Getty Images
When Kate Middleton and Prince William got married, all eyes were on the outfits. Out of all the gorgeous ensembles that made their way onto the scene, the choices of Princess Beatrice and Princess Eugenie caught the attention of many — and not in the best way. Both outfits were a bit garish, and the internet went wild turning the looks into different memes and comparisons. But, in an amazing turn of events, Beatrice used the spotlight to turn an outfit into a charitable gift. 
As reported by People, Beatrice's fascinator — which caught a lot of flack for its odd shape — set her back around $3,300. It was made by London milliner Philip Treacy, who is very well known for creating amazing designs, but it simply didn't meet the expectations of the public looking on. The hat alone increased the price of Beatrice's outfit significantly. But, in order to make something good out of the negative reaction to her ensemble, Beatrice put the hat on eBay and sold it to the highest bidder. It went for about $130,000, as noted by CNN, and she donated all of the money to children's charities. Love to see it.
Kate Middleton's wedding dress cost more than most houses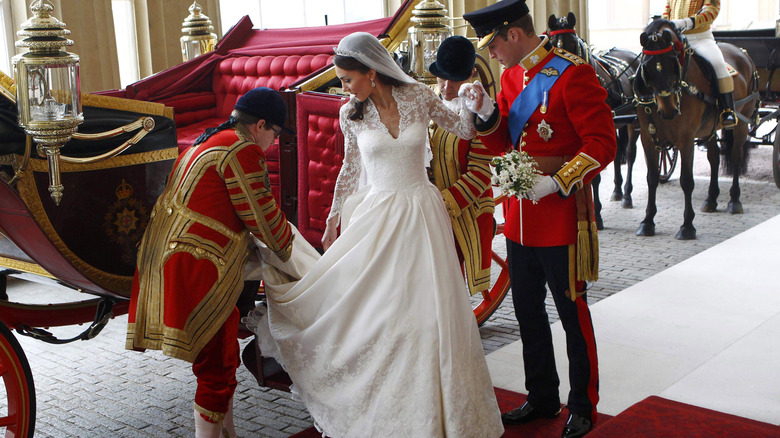 Anwar Hussein/Getty Images
The entire world watched, again, as another royal couple got married. This time, it was Kate Middleton and Prince William, and their nuptials were a celebrated affair that seriously looked like a scene out of "Cinderella." Of course, Kate stunned in her gorgeous wedding dress, and we have all the details about the amazing creation. 
As noted by Brides, the dress was designed by Sarah Burton for Alexander McQueen. The dress was adorned with Victorian lace and featured a deep V neckline and gorgeous sleeves. The body of the dress extended into a nine-foot long train, and the veil completed the fairytale look. Of the dress, Buckingham Palace said, "Miss Middleton chose British brand Alexander McQueen for the beauty of its craftsmanship and its respect for traditional workmanship and the technical construction of clothing." Highlighting the "artistic vision" she was working toward, the palace highlighted Kate's valuing of mixing old and new on her big day. 
As noted by Town & Country, Kate wore the Cartier Halo tiara on the big day, and just looked stunning. The entire ensemble cost a rich $434,000 which, yes, is worth more than the average home in the United States.
Sarah Ferguson's wedding dress cost quite literally thousands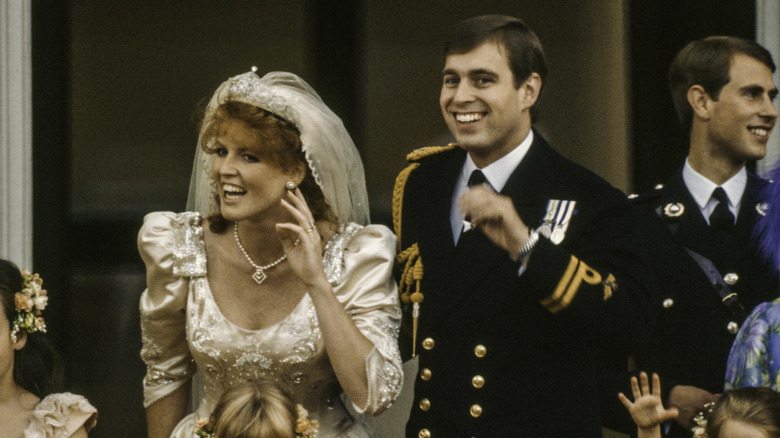 Derek Hudson/Getty Images
Another royal wedding dress that stole the hearts of soon-to-be brides everywhere was Sarah Ferguson's gown. The Duchess of York looked stunning in her fitted-bodice, silk gown when she married Prince Andrew in 1986, and the detailing of the dress made it that much more memorable. As noted by Brides, the gown featured different symbols throughout its design, including waves and anchors to pay homage to Andrew's Naval career. The train of the dress also included beaded letters "A" and "S" for Andrew and Sarah, respectively. 
As noted by Good Housekeeping, there was a bit of apprehension surrounding Sarah's dress, as "fashion experts" had been known to criticize her body and "lack of clothes sense" (which, we'd like to note, is ridiculous. Wedding dresses are supposed to fit the body, not the other way around). But the dress choice, designed by Lindka Cierach, was celebrated as a "triumph" and just about two hours after the wedding, dresses of the same silhouette were seen in bridal boutique windows. The gorgeous dress, paired with Sarah's flower crown and stunning red locks, cost a ripe $45,000.
Kate Middleton has repurposed this gorgeous ball gown a number of times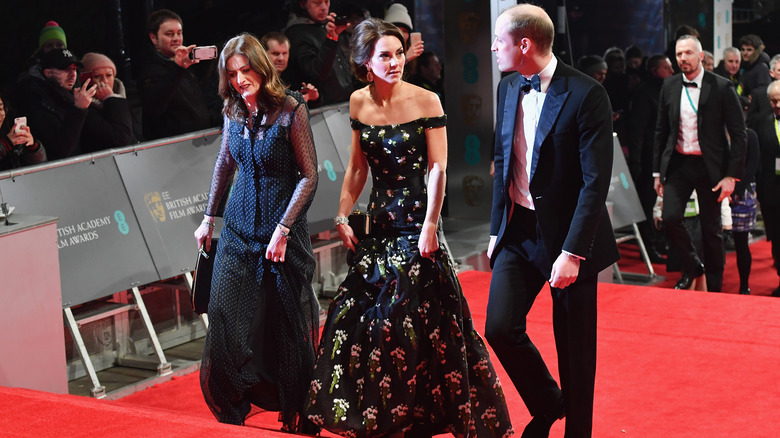 Gareth Cattermole/Getty Images
We love to see a recycled look, and Kate Middleton is all about repurposing some of her gorgeous clothes for a variety of occasions. Namely, this expensive, stunning ball gown from designer Alexander McQueen seems to be a favorite of hers, and she has altered the dress over time to fit the setting. As noted by Harper's Bazaar, the dress in question is a black dress, adorned with a floral pattern and silk detailing. When Kate was first spotted in the dress, it featured an off-the-shoulder neckline with thin straps (and technically, off-the-shoulder anything is strictly a no-no when it comes to royal protocol). 
Perhaps someone said something to her, or maybe she just wanted to switch it up, because Kate had little cap sleeves added to the same dress. The slight alteration was just enough to make a difference and, of course, she looked stunning either way. When she wore the dress to the BAFTA Awards in 2017, she paired it with an Alexander McQueen clutch, a soft up-do, and beautiful drop-down earrings. It's no wonder she's worn the dress a few times — after all, it cost $10,605.
Meghan Markle's wedding dress cost a small fortune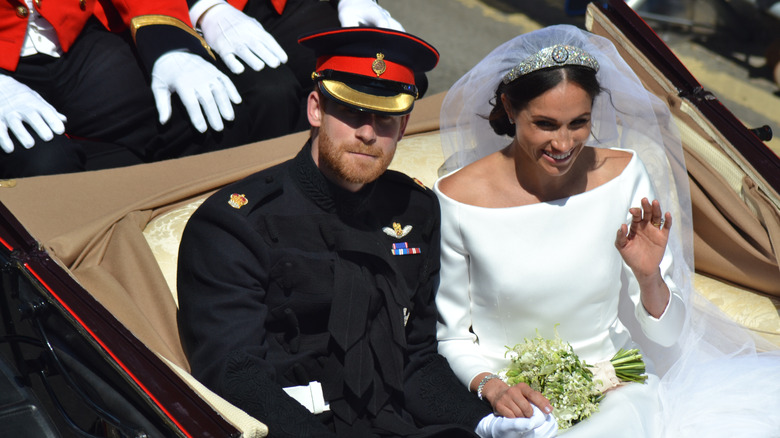 Shutterstock
Yes, we have another wedding dress price and, yes, we're aware that these prices are just absolutely ridiculous. But, it wouldn't be the most expensive list without adding in Meghan Markle's wedding dress, and, since she had two spectacular looks on the big day, we've included both. Let's start with her ceremony dress. As noted by Insider, the silk crepe dress with a boat-shaped neckline was designed by Clare Waight Keller for Givenchy. The stunning, simple dress was accompanied by soft makeup and a subtle bouquet. As reported by Brides, her veil was embroidered with flowers representing all the national florals of the 53 countries that make up the Commonwealth, and it took 3,900 hours to complete.
Meghan simply sparkled in the ensemble. The gown reportedly set Meghan back $135,000. And honestly, it was worth it because she looked stunning. When we get married, we'll be looking for a replica dress; that's for sure.
For the reception and remainder of the celebratory day, Meghan changed into a stunning halter dress by Stella McCartney — and if you ask us, her second dress gave her first a run for its money.
This cocktail dress worn by Princess Eugenie cost more than most people pay for rent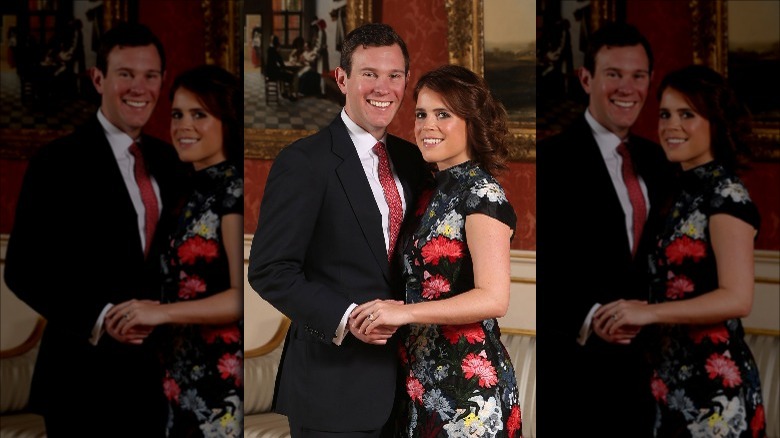 Wpa Pool/Getty Images
While Kate Middleton has been spotted in the same pieces from time to time, so has her cousin-in-law, Princess Eugenie. Eugenie has been in the headlines about her fashion choices for years but, when it came to the outfit she chose to announce her engagement, she made what we think is a phenomenal choice. 
As reported by CheatSheet, Eugenie chose a floral cocktail dress from designer Erdem for the occasion. What made it ten times better is that she went to her own wardrobe to pick out the outfit — the dress was one she already owned and, in fact, she wore it during an interview with Harper's Bazaar back in 2016. Given that the dress set her back $5,175, she probably wanted to get more than one wear out of it (when writing that, we realize that we've been wearing the same oversized T-shirt that cost us $5 from Goodwill since 2014). 
For her engagement announcement, Eugenie paired the Erdem dress with a pair of black heels from designer Jimmy Choo, and wore her hair in loose curls pinned to the side. Of course, her gorgeous engagement ring was on full display, too.
This outfit that Kate Middleton wore while abroad cost a pretty penny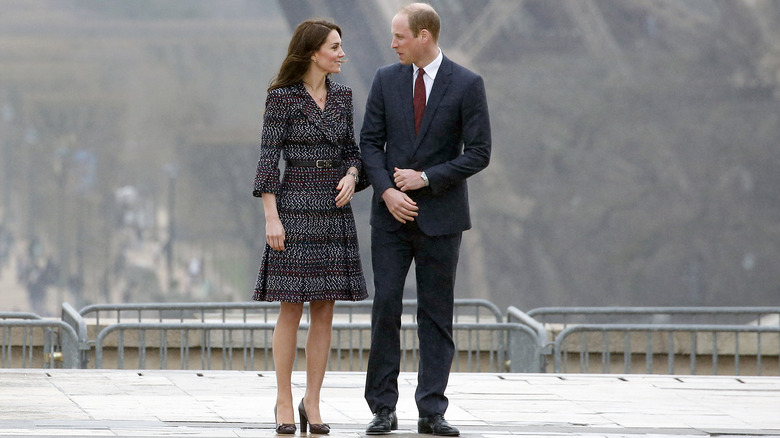 Chesnot/Getty Images
If there's one lady who really knows how to make a fashion impression, it's Kate Middleton. If this list has proven anything, it's that Kate has impeccable taste and truly knows how to dress herself. She looks polished on all occasions and, while on a trip to Paris, she looked so tasteful in a stunning Chanel ensemble. 
As noted by Marie Claire, Kate and Prince William were on a two-day trip in Paris shortly after Britain voted to leave the European Union. While visiting the Musée d'Orsay and the Eiffel Tower, Kate opted for a tweed dress from famed designer label Chanel, and paired the look with loose curls, kitten heels, and her silver watch. Marie Claire pointed out that the dress appeared to be a custom piece, based off of Chanel's 2017 collection. Of course, the dress was completed by a belt around the waist with the iconic interlocked Cs, and she topped it off with a small burgundy bag. 
It was noted that Kate often pays homage to the country in which she's visiting through her clothing choices, so dressing in Chanel in France was a good choice. Oh, and it set her back $10,000.
Meghan Markle's controversial Trooping the Colour outfit cost a ton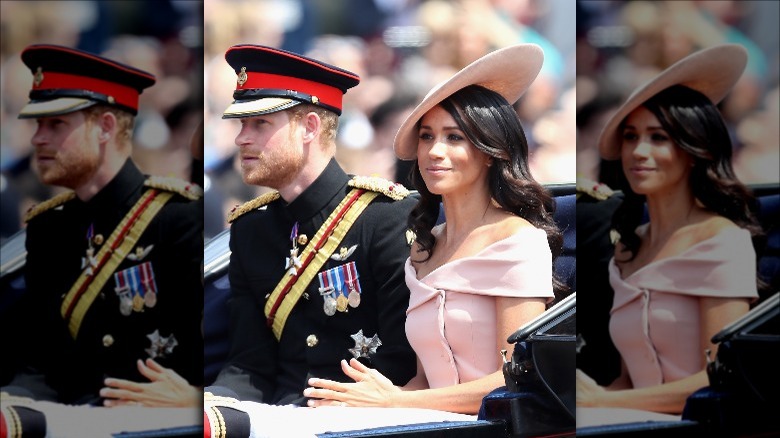 Chris Jackson/Getty Images
To round out the most expensive outfits worn by members of the royal family, we're focusing on a stunning ensemble chosen by Meghan Markle for the Trooping the Colour. Trooping the Colour is an annual celebration held to mark the birthday of the British sovereign and, as it sounds, it's full of pomp and circumstance. It dates back to the 17th century, and is pretty much as royal and formal as it gets. 
For the annual event in 2018, Meghan chose a gorgeous blush-pink Carolina Herrera ensemble. She made the appearance with Prince Harry shortly after they got married, and she looked as stunning as she did daring. Because, while the designer option simply looked beautiful to the rest of us, to royal spectators, it was incredibly scandalous. Showing bare shoulders is technically against royal protocol, so Meghan's Carolina Herrera choice was bold and unexpected. And expensive. As noted by Vanity Fair, the designer look cost $4,000.