The Real Reason Tiffany Haddish Turned Down An Audition For Get Out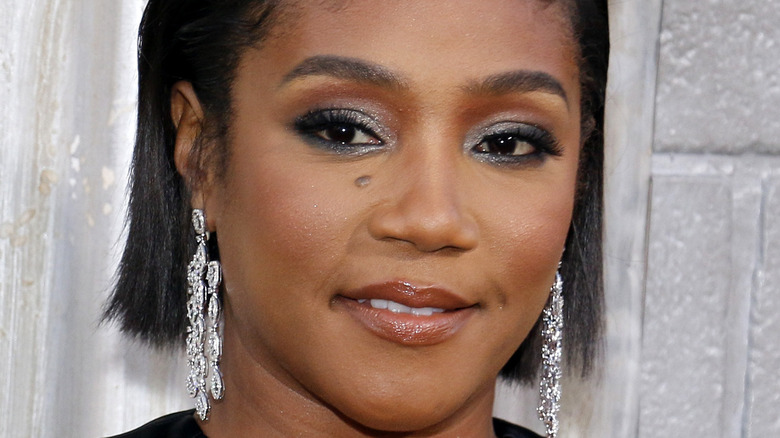 Shutterstock
Since starring in the 2016 comedy "Girls Trip," breakout star Tiffany Haddish has taken Hollywood by storm (via The Atlantic). Her performance as the hilarious Dina drew widespread praise from fans and critics alike. The Washington Post wrote, "Haddish just about runs away with the movie. Her portrayal of the fast-talking, histrionic loose cannon steals nearly every scene." Her comedic talents have helped her land parts in Kevin Hart's 'Night School," the buddy comedy "Like A Boss," and the Tracy Morgan series "The Last O.G." (via IMDb).
At this point in her career, the 41-year-old receives many offers for upcoming films and television series (via CheatSheet). Though many of these projects are very high-profile, Haddish is very selective about which roles she takes. The "Nobody's Fool" star said, " feel like sometimes my representation tries to get me to go outside my lane, and if it is against my morals — and I do have some, I know I'm a little wild, but I do have standards — then somebody might get fired." While it's respectable for an actress to only work on productions that she feels passionate about, her decision to turn down a role in Jordan Peele's "Get Out" is a bit shocking.
Tiffany Haddish doesn't want to work on horror films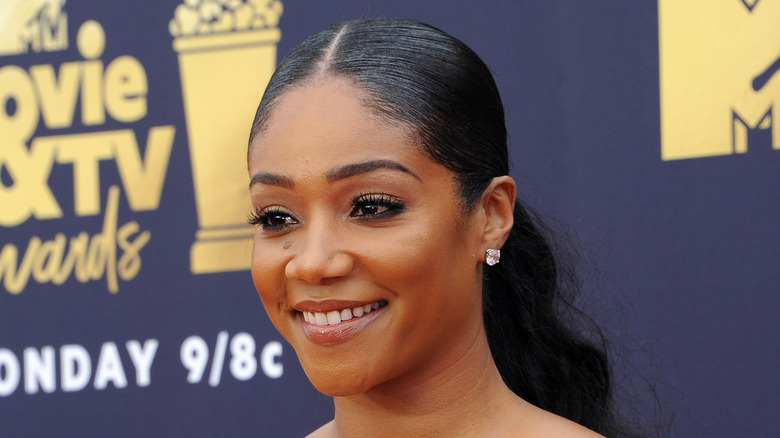 Shutterstock
During an appearance on "Late Night With Seth Meyers," Tiffany Haddish revealed that she could have had a part in the Academy Award-winning thriller "Get Out" (via Entertainment Online). She explained that she had the opportunity to audition for Jordan Peele's film but refused because she didn't want to work a horror movie. Haddish explained, "He let me read it and asked me to audition, [and] I was like 'Aw, man. Look, I don't do scary movies, dog. I don't do that. You know, that's demonized kind of stuff. I don't let that in my house.'"
She also added that she's heard about past horror movie sets being cursed and didn't want to risk coming into contact with any supernatural entities. Haddish concluded, "I don't want to get no curses. People already curse me out enough as it is." 
Despite expressing her reservations about horror films, reports about the upcoming "Haunted Mansion" reboot suggest the comedian may have changed her tune. According to Hollywood Reporter, Haddish is in talks to star in the Disney original, alongside "Get Out"'s LaKeith Stanfield. While her involvement with the film has yet to be confirmed, it would be a shame if the star doesn't take the part.