Why Long Island Medium's New TV Special Has The Internet Talking
Gary Gershoff/Getty Images
Theresa Caputo, known as the "Long Island Medium," had made a career for herself in a particularly controversial way — but to her, she's simply using her "gift."
The self-proclaimed "psychic" meets with clients in order to help them make contact with loved ones who have passed. On her show, "Long Island Medium," the cameras follow Caputo as she navigates attempting to live a normal life with her family while simultaneously balancing her alleged ability to speak to the dead (via TLC). Responses to the show have been incredibly mixed throughout its 14 seasons on TLC. While some viewers believe the show to be nothing short of a miracle through Caputo's ability to bridge the gap between life and death, others find her work to be exploitative and borderline criminal (via Bustle).
Caputo has recently announced that she has a brand new project coming out that centers around the September 11 terror attacks — but unfortunately for the medium, it won't be doing any favors at keeping the haters and skeptics at bay.
'Shame on her,' said one Instagram user over the medium's new venture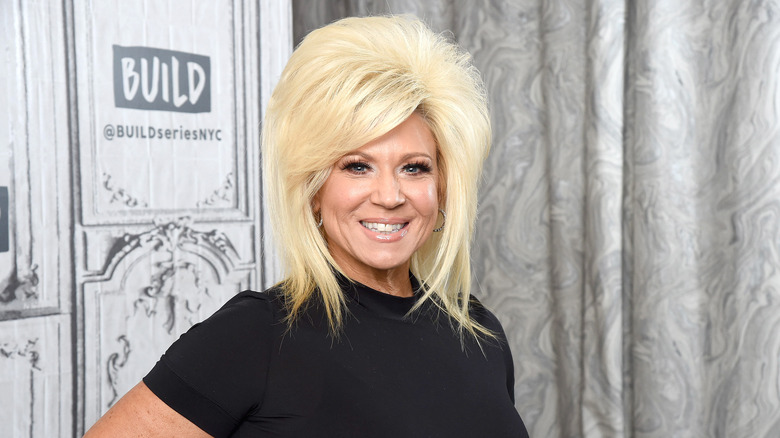 Gary Gershoff/Getty Images
The 20th anniversary of the 9/11 attacks on the United States is coming up this year, in September 2021, and in order to commemorate it, Theresa Caputo decided to release a special that will center around the significant day (via People). The special, called "Long Island Medium: In Memory of 9/11," will follow Caputo as she meets with guests and help them connect with loved ones they lost at the hand of the terrorist attack. Per the New York Post, some of her guests include a woman who lost her fire captain brother, a mother whose two daughters died inside the Pentagon, and Marcy Borders, daughter of the "Dust Lady," a woman who became one of the faces of 9/11 due to her internationally famous photo amongst the dusty aftermath of the attacks.
Despite Caputo's alleged good intentions, many people are horrified at the notion of communicating with victims of 9/11. On TLC's Instagram account, where they released the episode promo, the comment section is absolutely inundated with hate regarding the episode. One person left a scathing comment, writing, "Once again exploiting these poor desperate family members lying to them into making them believe she can speak to the dead like COME ON PEOPLE!" An additional user added, "What a con utterly shameful." Yet another Instagram user shared the same sentiments, writing, "Shame on her for exploiting their loss as her show."
You can watch the episode on September 9, 2021 at 10:00 pm on TLC and stream it on Discovery+.