What The Bachelorette's Greg Grippo Does For A Living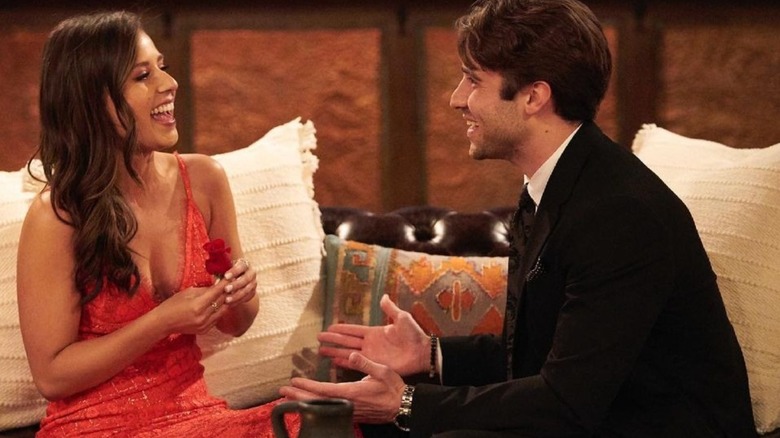 Bravo
Greg Grippo's time on "The Bachelorette" came to a dramatic end after his attempts to force Katie Thurston to confess her love for him backfired completely, leading to accusations of gaslighting and to Grippo ditching the show, and Thurston, in a petulant rage. 
As People notes, the former couple had an explosive reunion during the "After the Final Rose" special, during which Thurston accused Grippo of taking part in the show under false pretenses, asserting, "I feel like you were looking for the perfect opportunity to escape because you were never ready for an engagement."
One of the biggest sticking points for the "Bachelorette" lead involved swirling allegations about Grippo being a wannabe actor who was looking to get his 15 minutes of fame and propel his career rather than fall in love. Newly-engaged Thurston explained, "I am very happy, but that doesn't take away the anger that I had watching this back and seeing the way you treated me, using me to get the experience [and] the exposure — dare I say the acting practice — at my expense." She made it clear there's no issue with him being an actor, but Grippo should've been upfront about it. 
Greg's profession is something of a mystery
Greg Grippo's profession came under intense speculation following accusations the "Bachelorette" contestant only took part in the show to promote his fledgling acting career. As Marie Claire notes, officially, Grippo is in marketing. He's currently an account manager at national marketing staffing agency, Mondo. Prior to that, he was employed by health and wellness company, Melaleuca. 
However, according to The Sun, Grippo is either lying about his actual career or trying to cover up his aspirations, since the reality star allegedly deleted all evidence of wanting to be an actor from social media prior to appearing on the show — including how he attended the prestigious William Esper school as recently as 2019. According to an insider, "His goal was always, always, always fame. He's been trying to get on 'The Bachelorette' literally for years." 
Likewise, another source, whose friend reportedly dated Grippo previously, alleged to entertainment site Deux Moi, via Distractify, "This sweet shy boy act is exactly that: an act. He really is actually an actor." This is something The Sun's source also brought up; while Katie Thurston herself confronted Grippo about it on "ATFR," admitting she doesn't feel like she knows the real him because, "what I've been hearing is that Greg's not this shy guy act that he was doing on the show, [but] he's actually this very confident, cocky boy from Jersey," (via People). Could Grippo really be that good of an actor, though?