The Truth About Irina Shayk's Dating History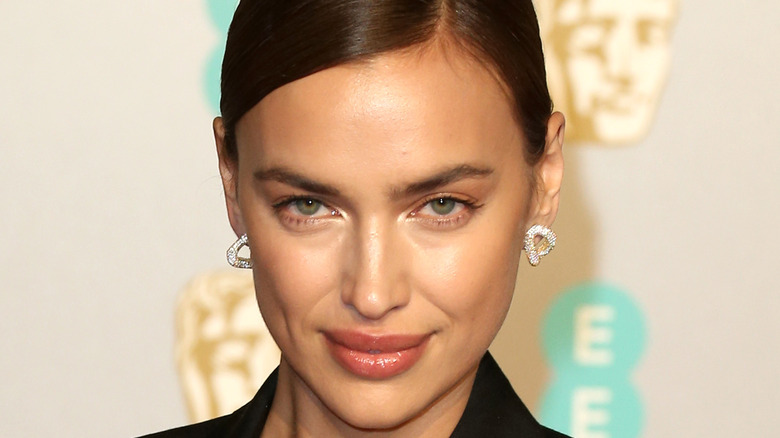 Shutterstock
Supermodel Irina Shayk is making headlines for her recent connection to rap superstar Kanye West. Following the "Good Life" singer's shocking split from reality star Kim Kardashian in February 2021, West stepped out in France with the Victoria's Secret star (via Glamour). The pair were celebrating West's 44th birthday, and reports began circulating that they were an item. According to a June 2021 report by E!, the two have known each other for years through the fashion industry but recently connected through their mutual friend group.
At the time, a source said, "Kanye and Irina connected recently when they were both in New York City. They met up one night and had chemistry and hit it off. It's very casual and they have only been in touch for about a month."
While West seemed to have found his next muse, a source close to Shayk revealed that the 35-year-old was hesitant to move forward with the relationship (via Us Weekly). "She wants to remain friends and keep communication open, but she's pulling back a bit," the source said. "Irina does like Kanye, but isn't ready for so many public appearances together all over the [world] for the coming months." 
Though Shayk appears to be cooling things down with West, the Russian beauty has had her fair share of fiery romances.
Irina Shayk was engaged early in her career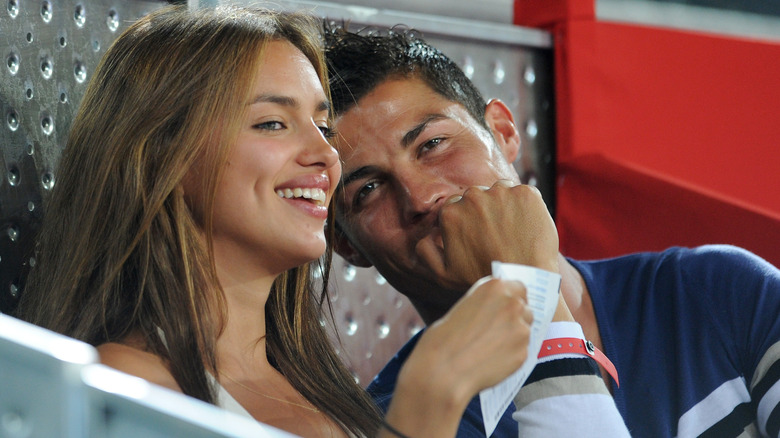 Jasper Juinen/Getty Images
Irina Shayk has dated a few other noteworthy men. Early on in her career, she connected with prominent Italian businessman Valerio Morabito (via Page Six). The pair dated for a while and were even engaged. However, Shayk and Morabito ultimately called it quits because of the supermodel's growing fame. 
In 2007, Shayk started seeing Linkin Park drummer Rob Bourdon. The pair dated for roughly two years and have remained private about their love affair. Following the split, Shayk briefly dated Brazilian model Arthur Sales in 2009.
Shayk began dating soccer star Cristiano Ronaldo in 2010 after meeting him on the set of an Armani Exchange ad (via RepublicWorld.com). The couple allegedly became engaged on Valentine's Day 2011 but ultimately ended their relationship in 2015 instead of tying the knot. While the superstars seemed like they would go the distance, they reportedly broke up because Shayk couldn't get along with Ronaldo's mother. While Shayk must have been feeling down after the split, she was fortunate to find her next long-term partner pretty quickly (via Elle).
Irina Shayk and Bradley Cooper were inseparable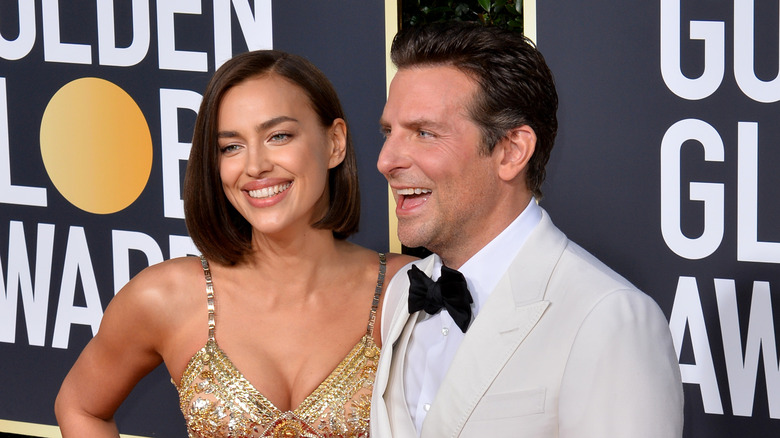 Shutterstock
Irina Shayk was first photographed with her long-term boyfriend Bradley Cooper in April 2015 at a performance of "Finding Neverland" on Broadway (via Elle). A month later, they attended the Met Gala together and were later spotted kissing at an after-party. 
In November 2016, the pair announced that they were expecting their first child; a few months later, baby Lea De Seine Shayk Cooper joined the world. For the next few years, Shayk and Cooper spent their days traveling the globe, making memories with Lea and stealing the spotlight at film premieres, award shows, and the hottest Hollywood events.
Despite reports that the young parents were in it for the long haul to best support Lea, in June 2019, The Sun reported that Shayk moved out of the family home. People confirmed the following day that the stars officially put an end to their four-year romance. 
Though the couple is no longer romantically linked, they remain part of each other's lives and have mastered the art of co-parenting. In an interview with Elle UK, Shayk called Cooper "an amazing dad" and added, "When I'm with my daughter, I'm 100% a mother, and when she's with her dad, he's 100% her dad. Co-parenting is parenting." With Shayk so focused on raising her daughter and "concentrating on [her] life and my friends," the model may take a while before she settles down with someone new.