The Truth About Trisha Yearwood's Ex-Husband Christopher Latham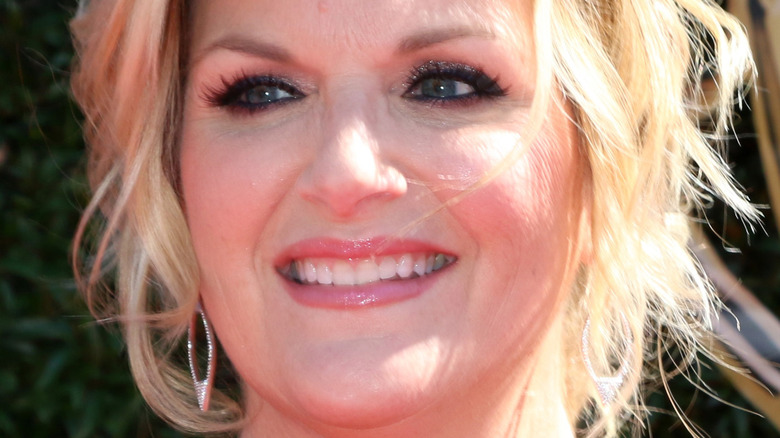 Shutterstock
Hold on to your cowboy hats Trisha Yearwood fans, because the singer and cooking show host was married before Garth Brooks! Indeed, the woman the country star calls his "Queen" was actually wed twice before saying "I do" to Brooks (via Southern Living).
The year was 1987, and a young Yearwood would marry music producer Christopher Latham (via Heavy). The union didn't last long, with Distractify noting the couple split in 1991. According to PBS, this was right around the time the singer's first song, "She's in Love With the Boy" came out and made her a star.
So who is Latham? Well, according to Glamour Path, he first met his future wife in high school and the couple then went on to Belmont College together, where they got hitched. While Yearwood was working as a tour guide at the Country Music Hall of Fame, Latham worked as a sound producer.
Meanwhile, Yearwood began singing, explaining about her early career, "I worked cheap. I sang on pitch and I knew the song when I got there."
Trisha Yearwood paid the price for fame by sacrificing her relationship
Tim Mosenfelder/Getty Images
As AmoMama notes, Yearwood doesn't talk about Latham or their relationship often. But she has said, "I was always the person in relationships when things got difficult; I was really happy to just bail. I was good at that" (via Yahoo!). Indeed, the singer was also married to bassist Robert Reynolds before she ended up with Brooks, whom she met while recording a demo the same year she married Latham (via Good Housekeeping and Heavy).
What is known about Latham is that since his low-profile divorce from Yearwood, he has worked as a sound mixer for short movies such as "Adventure" and "Native Time," according to Glamour Path. The outlet also reported that his net worth is about $200,000. Ahem, is it worth pointing out that his ex wife is worth $400 million according to Celebrity Net Worth? Probably not.
In any case, it seems Yearwood prioritized her rise to fame over her first marriage, with the star saying previously, "My career has always been more important than my ­personal life. Failed personal ­relationships were part of the price I paid for stardom."