The Truth About Trisha Yearwood's Ex-Husband Bobby Reynolds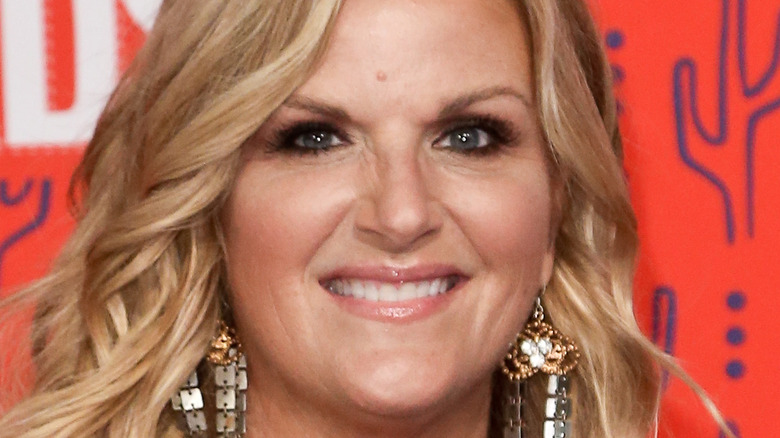 Shutterstock
Before one of country's greatest love stories unfolded between Trisha Yearwood and Garth Brooks, the songstress was married to another musician. Throughout the mid-to-late '90s, Robert "Bobby" Reynolds (bassist for the Mavericks) had taken over Yearwood's heart after proposing to the singer in 1995. Reynolds took to one knee following a performance at Buck Owens' Crystal Palace in Bakersfield, to an audience of 7,000 people (via NU Country TV).
This theme of sharing their love on stage would continue with their wedding in 1994, when the couple tied the knot on Nashville's historic Ryman Auditorium (via Heavy), which just so happened to be where the Grand Ole Opry country show used to take place.
Their love story ultimately came to an end in 1999, after they filed for divorce under "irreconcilable differences" (via the Associated Press). It's unclear whether the pair remained friends after the split, but Reynolds did go on to continue his career in the country sphere. However, his story became marred in tragedy.
Bobby says he's "built to survive" following an addition to opioids
The oldest of seven children, Robert "Bobby" Reynolds had a hectic childhood. Following his parents divorce, Reynolds fell into music to channel his emotions. After playing on the Miami club circuit, he founded The Mavericks in 1990 and signed to MCA Records (via People).
While Reynolds has kept relatively quiet about how he felt following his divorce from Yearwood, he didn't fare so well a decade or so after their split. Between 2007 and 2014, the musician was dealing with an opioid addiction that led to his departure from The Mavericks in 2014 (via Rolling Stone). A year later, his wife at the time Angie Crabtree Reynolds died after a 12-year battle with cancer.
"I feel built to survive, but at the same time this addiction challenged even that," he told the website Entertainment or Die. "My optimism comes from my faith, my belief that this has some greater meaning." Reynolds briefly hints that he "survived" something in his childhood and that this experience led him to develop a strong sense of positivity – something that was "partly used as a survival tool."
The musician concluded, "I wouldn't change a thing for fear of changing everything. I want to encourage others to reclaim their lives, I want to inspire, and I'm here now to be a voice for healing."