This Real-Life Celebrity Couple Almost Starred In The Wedding Planner
There's nothing better than an early '00s rom-com, especially when Matthew McConaughey is involved. Before stealing Kate Hudson's heart in "How To Lose a Guy in 10 Days," McConaughey starred opposite Jennifer Lopez in "The Wedding Planner" in 2001.
As his first foray into the romantic comedy sphere, McConaughey played Steve Edison, a pediatrician who rescues wedding planner Mary Fiore (Lopez) after getting her shoe stuck in a manhole cover. More last-minute rescues ensue throughout the duration of the film, as well as a will-they-won't-they plot between them before they eventually become a couple.
The chemistry between McConaughey and Lopez throughout "The Wedding Planner" is palpable, but they weren't the studio's first choice. Minnie Driver was actually scouted for the role of Mary at the beginning, after her performance in "Good Will Hunting," as director Adam Shankman revealed to Yahoo Entertainment. "[The studio] was trying to get into a more of a commercial market," he said. And as for McConaughey's role, that nearly went to Brendan Fraser.
Sarah Michelle Gellar and Freddie Prinze Jr. also may have missed out on The Wedding Planner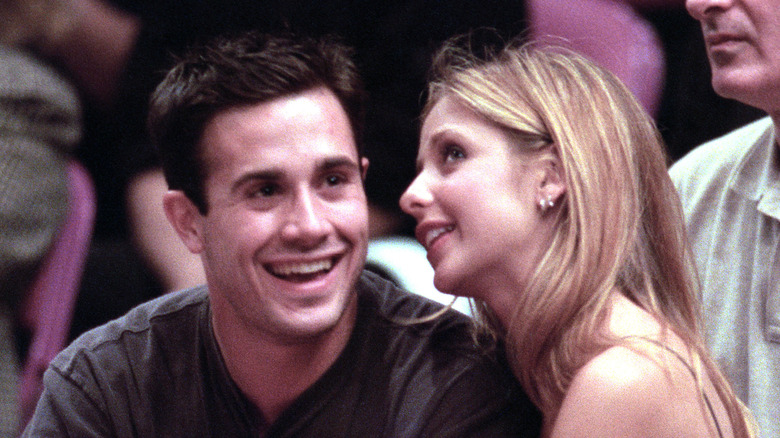 Kmazur/Getty Images
When it became apparent that Driver was unobtainable, other options were pursued including Jennifer Love Hewitt. There was even a moment where real-life Hollywood couple Sarah Michelle Gellar and Freddie Prinze Jr. were reportedly considered for the roles; they started to officially dating in 2000 (via People).
After meeting on set of the 1997 horror "I Know What You Did Last Summer," Gellar and Prinze Jr. became really close friends before they ever went on a date. "She knew what kind of guy I was," Prinze Jr. told E!, going on to explain that they already knew each other's personalities and flaws before transforming their friendship into a relationship. "We ended up being the perfect balance," the actor continued, "and there was a solid foundation built and it's probably the main reason why we've always been cool and groovy."
Even though they didn't get the chance to explore their actual relationship as a fictional couple with "The Wedding Planner," Geller and Prinze Jr. did one better by playing the iconic cartoon couple Fred and Daphne in the live-action "Scooby-Doo" franchise instead (via YouTube).