Here's The Adorable Way That Brian And Mika Kleinschmidt Met - Exclusive
Brian and Mika Kleinschmidt are one of the newest husband-and-wife duos to hit HGTV with chemistry, humor, and backgrounds in real estate. Their show, "100 Day Dream Home," follows the couple as they work with clients to build the perfect house from the ground up in 100 days or less. And spoiler alert: They always manage the challenge with flying colors. The duo couldn't possibly be better suited to take on this work, as Brian supplies the background in development, while Mika brings the real estate know-how (via HGTV). The show's two seasons have been wildly popular, with Season 2 bringing in nearly 24 million total viewers (via Deadline). Eager fans can expect a 3rd season of the show, though an official release date has yet to be announced.
The List sat down with Brian and Mika for an exclusive interview where they dished all about the previous seasons of the show, offered some vital tips on owning a home, and, perhaps most notably, shared the insanely cute way that they first met.
Brian and Mika have been friends ever since high school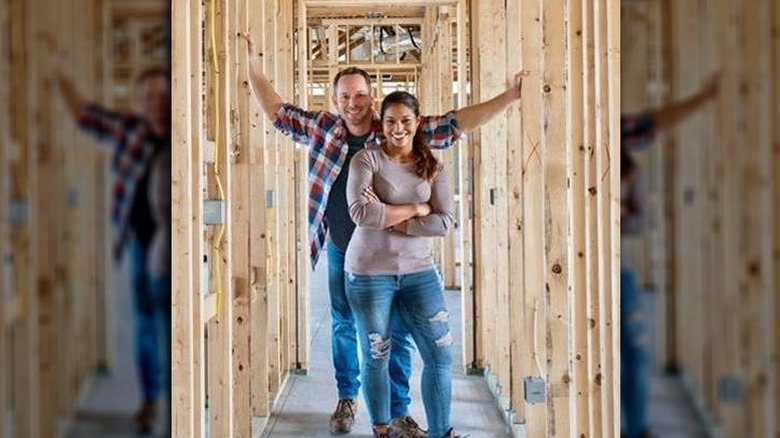 Brian and Mika Kleinschmidt
Brian and Mika Kleinschmidt's chemistry is so palpable, you'd think they've known each other forever — which is actually exactly the case. Believe it or not, according to HollywoodMask, the Kleinschmidts met at Riverview High School but didn't start dating until years later when they met up again as adults. And if you ask Brian, he was instantly smitten when he met Mika in a girl's chorus class that he was accidentally assigned to.
"It was love at first sight for me, but it took a little bit longer to convince her," he said in our interview, gushing, "Gosh, yeah. I was gaga over her, I could not even talk around her in high school. I was crazy for her." But did Mika feel the same way back? Did she even know that Brian felt that way?
"I mean, honestly, no. I don't think it was, like, really a thing. Because he always jokes. The thing with Brian and you'll notice it in the show, everything is a joke. And so I kind of just didn't really take it seriously," she recalled. Mika most certainly missed the signs that Brian left her, and even turned him down when he would ask to spend time together. "I invited her to lunch every day and she would say, 'I'd rather sit alone.'" Mika explained the reason for this was because she saw school as a space to "get grades and be done." But she asserts that she's nothing like that anymore.
Mika and Brian believe they're still similar to how they were as teens
So have the Kleinschmidts changed since their high school days? Mika says that her first impression of Brian was that he was super funny, and that he hasn't changed much in that way. "You were a funny guy," Mika recalled, explaining that since she was a "military brat," she was constantly changing schools and didn't know her fellow classmates very well. "[Brian] was just kind of like Mr. Popular, making everybody laugh, look at me, look at me. And I was so the opposite. I sat by myself at lunch," she said.
As for Brian, he says that Mika hasn't changed much either, as she still helps him in the same ways that she used to. "Even in high school, she used to type my papers, because I didn't know how to type. And to this day, she still does all the paperwork," he joked.
But more than growing individually, Mika asserts that she and Brian grew as a couple. "I think that what changes is you just grow together. Obviously we were friends in high school, we had some classes together, so it wasn't like that there wasn't a friendship that developed," Mika explained. "It's just about timing. You've to go through your journeys in life and sometimes figure out who you are before you can actually have a substantial relationship."
You can watch full episodes of "100 Day Dream Home" on HGTV and stream Seasons 1 and 2 on discovery+.