The Meaning Behind Jada Pinkett Smith's Tattoos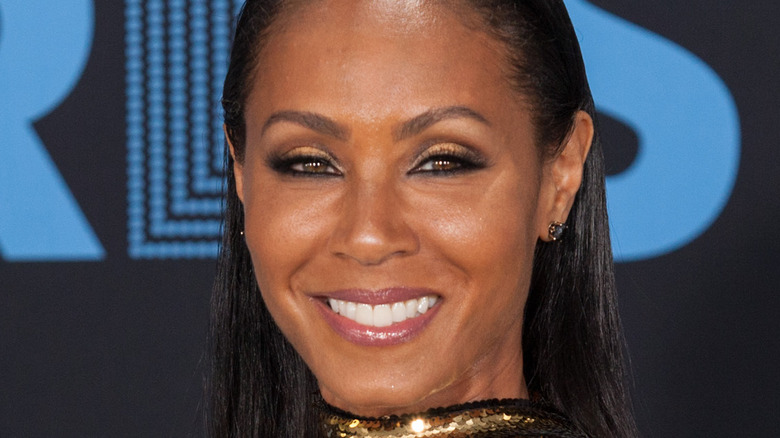 Shutterstock
Jada Pinkett Smith is officially the coolest mom in Hollywood. Fresh off shaving her head in an effort to combat ongoing hair loss, the "Matrix" star is beginning a stunning tattoo sleeve on her arm. At this rate, she might even give daughter Willow a run for her money on the cool factor. 
As Allure reports, Pinkett Smith has been coping with hair loss for the past few years and frequently covered her head with a turban in an effort to hide the devastating effects. Just last month, inspired by her daughter's ever-changing and free-flowing look, the proud mom took control of the situation and buzzed her hair completely. 
"Willow made me do it because it was time to let go BUT ...my 50's are bout to be Divinely lit with this shed," Pinkett Smith wrote on Instagram at the time, alongside a shot of her and Willow looking totally stunning with their matching bald heads. To be fair, the prolific actress has proven over her decades in the industry that she can rock essentially any look, from pixie cuts to lengthy weaves. But the buzzed head was a major change regardless, and representative of Pinkett Smith's openness with fans. Her tattoos are just as impressive.
Jada is starting her sleeve and it's already beautiful
Earlier this year, during an episode of "Red Table Talk," Jada Pinkett Smith got matching tattoos with her co-hosts, daughter Willow and mother Adrienne Banfield Norris, of lotus flowers on their forearms. Celebrity artist Dr. Woo did the honors, with Pinkett Smith enthusing in a subsequent Instagram post, "Thank you @dr_woo for your patience and generosity of your craft and spirit." 
She added, "Now I want a sleeve!!!!" The super-feminine design shows the flower in three different stages of blooming, with Willow explaining on the show, "The lotus represents spiritual enlightenment, and we hear this saying, like, 'Through the mud grows the lotus.'" She noted the design captures where all three women are in their different stages in life, too.
It was Pinkett Smith's first tattoo, alongside her mother, but evidently, it got the actress's juices flowing since she's now started a sleeve on her arm in earnest. The "Magic Mike XXL" star took to Instagram to share a photograph of her brand-new ink, admitting, "I always said I would get a sleeve at 60 but tomorrow is not promised. Soooo ... I'm starting to build my sleeve now." 
Pinkett Smith explained the design honors "the divine feminine journey within and without." The delicate new piece sits comfortably alongside her lotus flowers, suggesting the actress and mother is aiming for an ultra-feminine sleeve overall, but we'll just have to wait and see what she adds next.