Everyone Henry Cavill Has Dated In The Past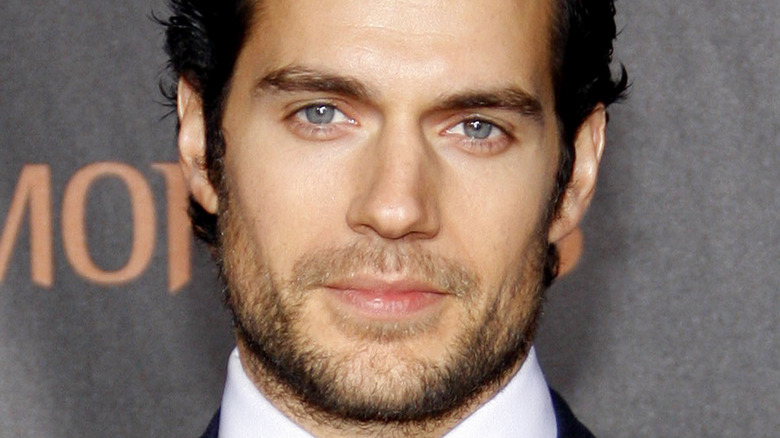 Shutterstock
Superman has Lois Lane and on "The Witcher," Geralt of Rivia has a connection with Yennefer. But in real life, to whom has actor Henry Cavill been romantically linked? According to The Sun, he dated Susie Redmond in 2007, and he even went to the premiere of "Stardust" with her. Her IMDb shows that she has worked as a hairstylist on shows such as "The Tudors," "Vikings," and "Penny Dreadful." Netflixlife also reported that Cavill was with Katie Hurst in 2009.
Next up, he was with Ellen Whitaker between 2009 and 2011. Cavill proposed to this English show-jumping rider, though the engagement was broken off, and the two ended their relationship. Many know Gina Carano as Cara Dune from "The Mandalorian," and she was involved in an on-again, off-again relationship with Cavill from 2012 to 2014. They even adopted a puppy together in January 2014! After that, as stated by Netflixlife.com, he was with Marisa Gonzalo from 2014 to 2015.
Perhaps the biggest name on this list of Cavill's exes is Kaley Cuoco, but they were only "dated" for 10 days. Yes, he dated this actress in 2013, and though she starred in the popular comedy show "The Big Bang Theory," she was not used to having such a high-profile relationship. For less than a year, between 2015 and 2016, Cavill was romantically linked to a college student named Tara King, and after that, he was with Lucy Cork, between 2017 and 2018, after working with this stuntwoman on "Mission Impossible 6."
Some may be sad to hear who Henry is currently dating
In April of this year, Henry Cavill shared a photo of him playing chess with Natalie Viscuso, who was formerly on "My Super Sweet 16." In his caption, he called this vice president of television and digital studios at Hollywood's Legendary Entertainment his "beautiful and brilliant love."
On May 15, he shared another picture of her on Instagram, along with his thoughts on the "speculation" surrounding his "private life and professional partnerships."
"To you out there who are expressing your disdain and showing your displeasure through a surprising variety of ways, it's time to stop," he wrote. "I know it can be fun to speculate, to gossip, and to dive into our own personal echo chambers on the internet, but your 'passion' is misplaced, and it causes harm to the people I care about most." Cavill wrapped up by saying that he is "very happy in love, and in life" and that he'd "be enormously grateful if you were happy with me."