Why You Should Be Using Argan Oil On Your Sunburn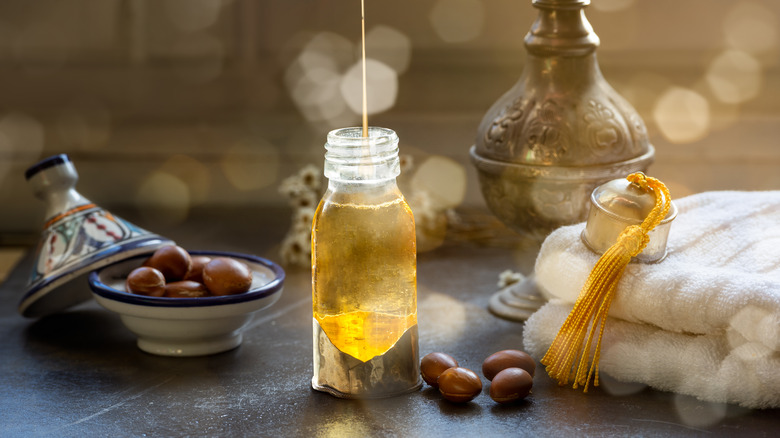 Luisa Puccini/Shutterstock
Oils have become a one-stop-shop as of late. Between your hair, face and nails, various types of oil help to soothe, defend and moisturize all over your body. After a summer outside, you may have felt the burn a time or two, reaching for the aloe when your skin gets torched. But, if you have Argan oil in your bathroom closet, you may already have a powerful antidote to your discomfort.
Mindbodygreen names Argan oil as an ingredient that fights the damaging side effects of sunburn and notes that many cultures used it as a type of sun block. Like many oils, Argan oil is loaded with antioxidants that protect against free radical damage — and the sun! Indeed, a study showed that a thin layer of the substance fought off hyperpigmentation and UV damage. Furthermore, anytime a product boasts anti-inflammatory effects, it usually helps repair the skin. Such is the case with Argan oil; loaded with fatty acids, it even helped heal second-degree burns in animals.
When it comes to a bad sunburn, Argan oil's protective properties can help soothe the skin even as it begins to peel. Between Argan oil and aloe vera, you can't go wrong with this post-sun serum.
Argan oil works well with most skin types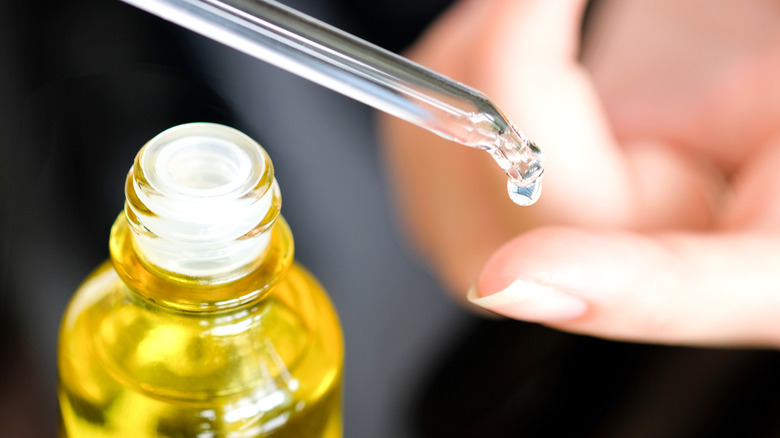 Seasontime/Shutterstock
Even if it's your face that got the brunt of the burn, applying Argan oil can be very helpful in easing the pain. According to Marie Claire, this oil falls directly in the middle of the spectrum between heavier options like coconut oil and lightweight moisturizers such as castor oil. Hydrating without clogging pores, Argan oil contains high amounts of powerful natural fats such as Vitamin E and linoleic acids that protect and moisturize your cells. "It's essentially nature's protective, nourishing superfood for your skin," Josie Maran of Josie Maran Cosmetics tells the outlet.
To best use this oil, apply it to slightly damp skin. Since oil technically locks moisture in, you'll want to apply it directly after you wash your face. The outlet explains that Argan oil's lightweight composition will leave you with a dewy glow rather than a face full of oil. To find one that works for you, Mindbodygreen suggests finding a product that's 100% Argan oil without any additives. Gently pat onto your skin and let it sit before you put your moisturizer on.
When it comes to sun damage, it's important to note that it's best not to slather it on a fresh burn. The outlet recommends waiting until the area is cool to the touch before using Argan oil to soothe the cells.
If you use the oil to counteract your sunburn, you may end up keeping it around afterward when you notice its skincare benefits.