Top 5 Makeup Setting Sprays With SPF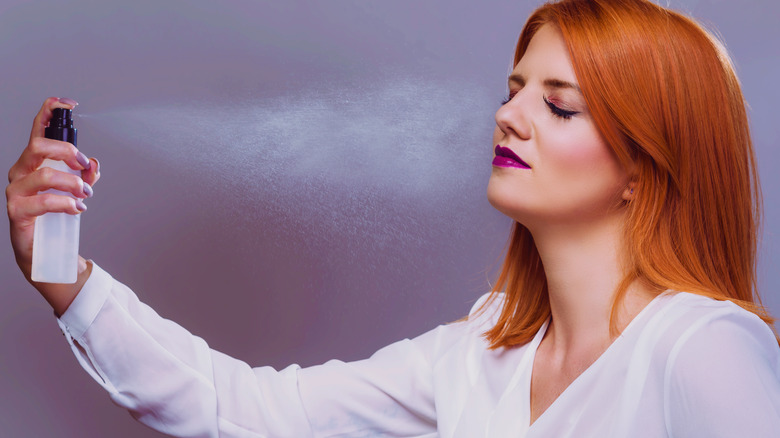 Shutterstock
As summer is starting to wind down, spending as much time as possible by the pool is a must. And that's why making sure to wear a generous amount of sunscreen is also a must. It is important to note though that wearing sunscreen once in the morning is not enough. According to John Hopkins Medicine, it's crucial to reapply sunscreen every two hours. 
If you are swimming or sweating from the heat, you may have to be even more diligent in making sure to reapply sunscreen. Now if you like to wear makeup, there's that age-old conundrum of figuring out how to reapply sunscreen without ruining your look. Luckily, there's plenty of setting sprays that have SPF in them that can be misted over your face, while keeping your makeup intact (via Marie Claire). So you no longer have to choose between getting a sunburn or ruining your foundation.
Affordable SPF setting sprays that won't break your bank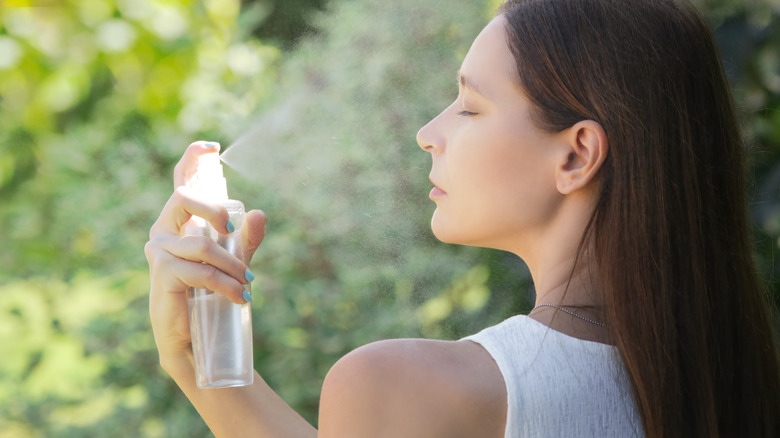 Shutterstock
If you're looking for affordable skincare, you can't go wrong with Neutrogena. The Neutrogena Ultra Sheer Face Mist Sunscreen is oil-free, doesn't leave a white cast, and comes with SPF 55 (per Marie Claire). So you can keep re-applying this lightweight mist on your face throughout the day, and not have to worry about your makeup breaking down. According to InStyle, the product has even gone viral on TikTok for its water-resistant properties. 
Pixi Sun Mist is another affordable option that will refresh your skin if you're out under the hot sun. The SPF 30 formula also contains aloe and chamomile, which help soothe inflamed skin. Speaking of the summer sun, Sun Bum Daily Sunscreen Face Mist is especially recommended by Marie Claire as a cooling mist. The fine, cool SPF 45 mist refreshes the skin with lactobacillus, as well as banana, coconut, and algae extracts (via Sun Bum).
SPF setting sprays available at Sephora and Ulta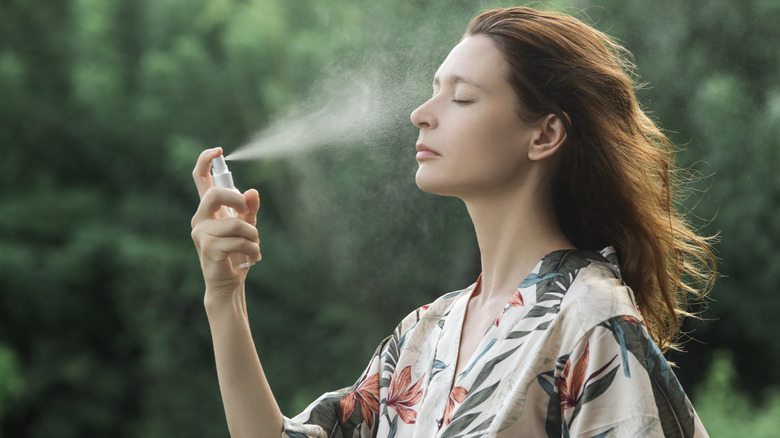 Shutterstock
Another "cool" SPF setting spray that is a must have for the summer is the Coola Makeup Setting Spray Organic Sunscreen SPF 30. According to Marie Claire, the formula sets down to a matte finish that feels weightless on the skin, and works well on sensitive skin. So not only will this spray keep your face protected from the sun, but it will keep your makeup looking fresh all day long. 
For those who want major sun protection in their makeup setting spray, Kate Somerville SPF 50 Soft Focus Makeup Setting Spray will also protect your skin with a whopping SPF 50-level protection, while mattifying your face and blurring your pores for a soft-focus look. It's basically like a primer in your setting spray. So whether it's a mist that will soothe your skin from sun exposure, or a spray that will absorb excess oil from the heat, there's several SPF setting spray products out there that will give you a flawless, fresh face during these long summer days.