Inside Mary Trump And Meghan McCain's Feud
Mary Trump, the niece of former president Donald Trump, took the world by storm when she published a book about her famous family member. According to The New York Times, Mary's book, "Too Much and Never Enough," focuses on her uncle's need for power, as well as the overwhelming corruption that resides within the Trump family as a whole. She penned her thoughts on the 2016 election in the book, writing, "It felt as though 62,979,636 voters had chosen to turn this country into a macro version of my malignantly dysfunctional family." 
Mary has not been afraid to speak out against her own family members. Due to this, she has become both a hero to liberal causes and the enemy of her uncle's conservative supporting base, per The Daily Beast. Unafraid to ruffle feathers along the way, Mary has made several high-profile enemies since writing her book. One of her most infamous feuds is between herself and another woman with a political family, Meghan McCain.
The Trumps v.s. the McCains is a feud that goes way back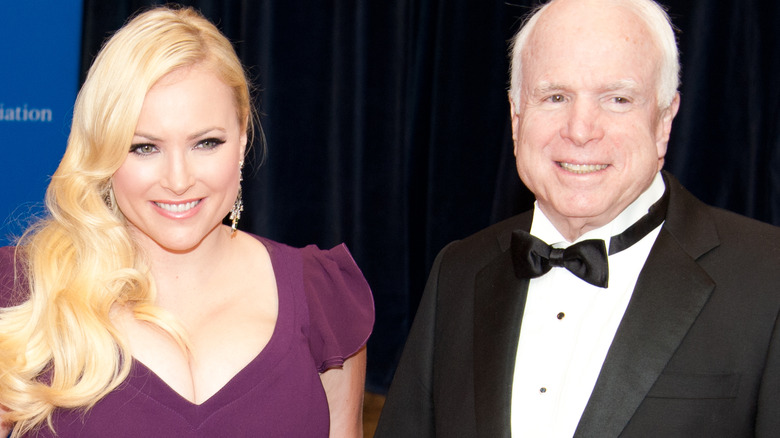 Rena Schild/Shutterstock
Meghan McCain has never been afraid to initiate a fight. According to the New York Daily News, she's participated in several yelling matches with her (now former) "The View" co-hosts. Some of the show's most explosive moments find her at the center of them, so it's no surprise that she has been unafraid to let Mary Trump know how she really feels about her.
Meghan and the Trump family have a feud that goes back to the former president calling her now-deceased father, John McCain, a loser, amongst other demeaning names (per Forbes). This was a low blow and Meghan vowed from that point on that there is no such thing as a good member of the Trump family, according to USA Today.
While Donald Trump's niece has been outspoken about her disdain for her celebrity uncle, Meghan still wanted nothing to do with her. It seems as though there were hard feelings all around.
Mary Trump called Meghan McCain a coward
When Meghan McCain swore off the entire Trump family due to Donald Trump's comments about her father, she meant it. When Mary Trump was a guest on "The View" to talk about her new book, McCain was noticeably absent from the table, per USA Today. While McCain prepared to leave "The View" for good, she chose to step out of the show's interview with Mary before her official exit date. Mary had a lot to say about it. "It's a shame that your colleague didn't have the courage to come on and have this conversation with me," she told McCain's co-hosts Whoopi Goldberg, Joy Behar, Sara Haines, and Sunny Hostin.
This feud goes back further than this stint on "The View," however. Last year, McCain was bothered by Mary's book. "At the end of the day, you get a really great paycheck out of it, but I don't think it's that legitimate," McCain told Mary. "What do you say to people like me who think this is just a great way for you to get a paycheck right now?" McCain questioned, further accusing the author of cashing in on her family's name.
It doesn't seem they've worked this out. Mary said, "I think she's a coward. And she's afraid of people who are not only willing but able to call her out," when asked about McCain, per The Daily Beast.