What Kylie Jenner Looks Like Underneath All That Makeup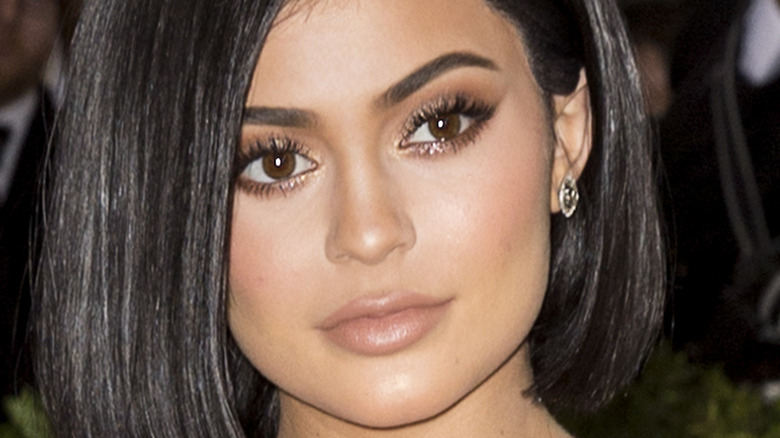 Ovidiu Hrubaru/Shutterstock
The youngest of the Kardashian-Jenner clad isn't exactly known for the bare-faced, natural look. In fact, it appears Kylie Jenner likes to have a full (and we do mean full) face of makeup when out in the public eye. Can we really blame her? This is the famous beauty mogul who created an entire beauty empire, founded her own cosmetics company, and then sold 51% of it to earn a cool $600 million (via Forbes).
Yes, makeup and Kylie clearly have a win-win relationship. And it seems as if the self-made billionaire has a rude boy to thank for her cosmetics empire. When asked by Andy Cohen during the "Keeping Up With the Kardashians" series finale reunion if her insecurities around her lips influenced her decision to start a company, the reality TV star responded. "For sure. I think my love for makeup started with my insecurity with my lips," she recalled, adding, "I had really small lips, and I didn't ever think about it until I had one of my first kisses and a guy said to me, 'Oh my God, you're such a good kisser, but you have such small lips,' or something like that." "From then on," she continued, "I felt unkissable."
Fortunately, it seems like Kylie is more self-confident today — so much so that she's gone bare-faced on social media before.
Who knew Kylie Jenner had freckles?
Insecurities over one's physical appearance are hard to handle at times, and we're happy Kylie Jenner figured out a way to make a few dollars stemming from her own. (Of course, we're seriously curious as to what that rude potential suitor is thinking now.) But now that Kylie seems much more comfortable within herself, we need to know: What does she look like when her lips aren't heavily lined? What is behind all that heavy foundation and Snapchat filters?
We found some evidence that the makeup mogul can sport the au naturel look and look seriously smashing while doing it. As it turns out, the creative overseer of Kylie Cosmetics has, wait for it... freckles. The photo we unearthed of this fresh-faced beauty (see above) reveals the reality star has a smattering of cute freckles, clear skin, and perfectly arched eyebrows.
Kylie makes no secret that she likes a heavy hand on the makeup brushes. "I can't walk out of my house without my lipstick!" the reality star has admitted, per Bustle). While the mother of Stormi clearly loves makeup — and definitely knows how to sell it — we're just as excited to catch a glimpse of a bare-faced Kylie Jenner when we get a chance.