Meet Leona Kimes, The Former Nanny Who Brought Allegations Against Ex-Pastor Carl Lentz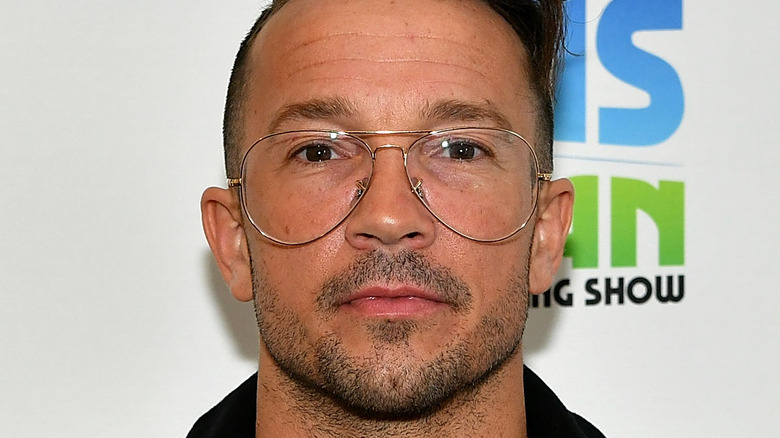 Slaven Vlasic/Getty Images
Hillsong was arguably the biggest church group for several years. The church group was so popular that even Justin Bieber was baptized by Carl Lentz, the lead pastor for the New York City branch at the time (per USA Today). Lentz rose to fame quickly. After Brian and Bobbie Houston founded Hillsong in Australia in the 1980s, the self-proclaimed contemporary church recruited celebrities and as a result, the pastors also became famous. The church's reputation began to go downhill back in November 2020 when the public learned Lentz had cheated on his wife, per the New York Post. He was fired, but that seemed to be the least of his concerns as more scandals continued to come out.
Lentz was accused of sexually abusing his nanny, a woman named Leona Kimes, according to NBC News. She worked for the Lentz family and Hillsong NYC for years and lodged accusations against the famous pastor.
Leona Kimes said she felt controlled by Carl Lentz
Leona Kimes and her husband moved from Australia to New York City about a decade ago to help open the NYC branch of the Hillsong Church, per NBC News. During that time, she took a job working as a nanny for the Lentz family. She accused Carl Lentz of manipulation, control, bullying, abuse of power, and sexual abuse during her time as an employee. She claims that the abuse started out with things like changing her schedule without asking her so she'd be working from 7 am. to 11 p.m., eventually alleging that it escalated to him inappropriately looking at her body while she was swimming with his wife and kids at their home.
Kimes wrote on Medium, "While he never had intercourse with me and never kissed me, I was physically violated by his unwanted and repeated sexual touching of my intimate areas. ... I froze. Every time, I froze."
It got worse over time
Leona Kimes continued to state that at one point, Carl Lentz took a photo of her without her knowledge, cropped it, filtered it, and sent her this odd text, "Sheesh girl looking good," which she wrote in her Medium post made her uncomfortable. This control and abuse went on for years, Kimes claims.
Eventually, word of Lentz's affair with a NYC-based jewelry designer named Rainin Karim came to light, and Kimes was fired from the family. She wrote, "When his wife sat me down, she told me that I should repent and dismissed me from all of my duties in the house. I'd been fired from their family, but not from their staff. I felt like it was my fault, leaving me full of shame. I wasn't given another role, and thought we could resolve it, though I wasn't sure how. I just knew we were all going to keep quiet."
After losing her job with the family, she has come forward and shared her story. According to NBC News, Hillsong as a whole supports Kimes. The Houstons shared this statement after Kimes came forward, "We have respected Leona's privacy and her deeply personal story. She has now decided to share her experience so that she and her husband can continue moving forward as a family," they said. "It will be a long process and they have our full concern and pastoral support."