The Truth About Jeffree Star's New Makeup Collection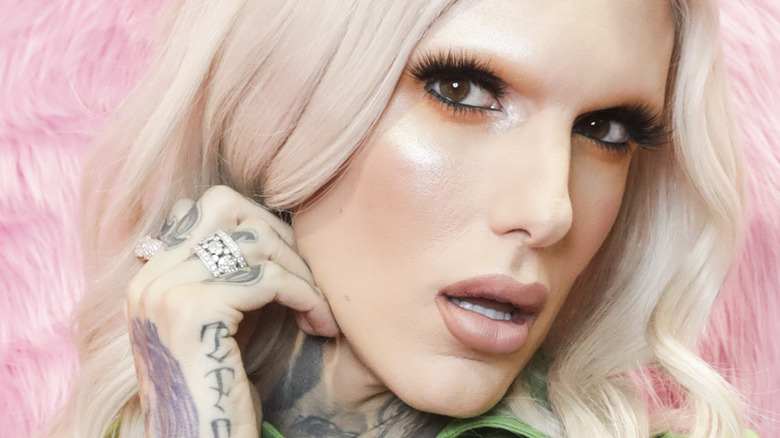 Rosdiana Ciaravolo/Getty Images
Renowned for his bold aesthetic, glamorous lifestyle, and a never-ending supply of controversy, Jeffree Star is a key player in the beauty industry. The 35-year-old introduced himself on MySpace and pursued a music career that led to a collaboration with Nicki Minaj (via Paper). However, he pivoted to YouTube and had no problem winning over viewers with thorough makeup reviews and innovative beauty tutorials. 
Star's channel took off and amassed more than 16 million subscribers and 2.5 billion views (via YouTube). The ultimate beauty guru also has his own makeup line. Jeffree Star Cosmetics launched in 2014 and has truly taken off since then (via Seventeen). Like Star himself, the brand is bold, colorful, and expertly packaged. Makeup lovers and fans generally wait with bated breath for hints at what to expect in the lead-up to a product release. That was very much the case when Star introduced his most recent drop — the Pink Religion collection — at the end of July. 
As the title implies, Pink Religion is an homage to Star's favorite color, pink. The collection includes a variety of products and was introduced with a glossy reveal video on YouTube. Pink Religion's crown jewel is its namesake palette, but that's just the first taste of a beguiling makeup drop.
Pink Religion is a celebration of Jeffree Star's favorite color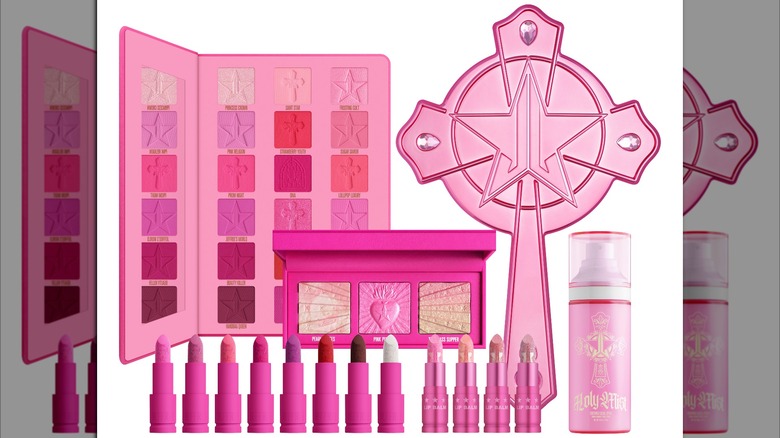 Jeffree Star Cosmetics
Jeffree Star's Pink Religion eyeshadow palette features 18 shades and is shaped like a bible. While the majority of its shadows are — as the title implies — varying tones of pink, there are some exceptions to the rule. The guru mixed in subtle pops of purple and even a dash of orange to spice things up a bit. The Orgy palette from 2020 only included matte shades, so buyers needed to pick up a secondary palette for coordinating shimmers (via Insider). On the other hand, Pink Religion boasts three shimmery pinks and 15 colorful, matte shadows.
That's not all, though. The Pink Religion collection also has the first-ever trio of Star's Extreme Front highlighter formula: the Sacred Glass highlight palette. There's an expansion on his Velvet Trap lipstick line with eight new options, such as a daring white shade called God's Gift. Other notable products include a star cross hand mirror and a vibrant backpack. Don't forget about two products that are new to the Jeffree Star Cosmetics brand: glitzy lip balms and a face mist called Holy Mist. 
Basically, the collection offers a little something for anyone in love with Star's formulas and the color pink. The collection appeared on Star's website July 30 (via Instagram) and is still available at the time of publishing. Is the fact that it is still available a bad thing, though?
Jeffree Star's Pink Religion collection hasn't sold out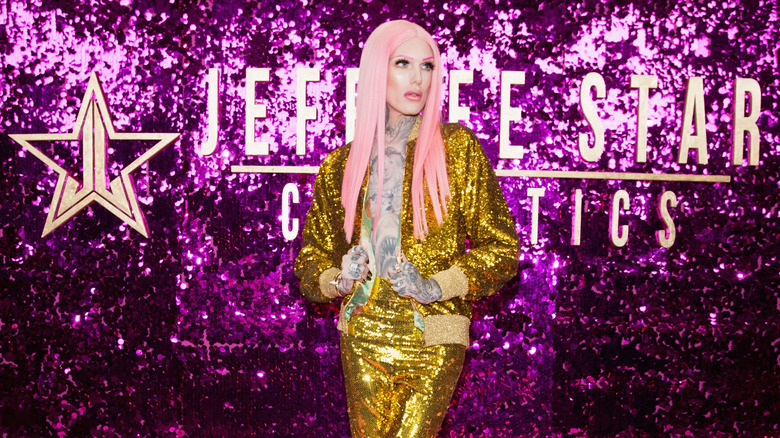 Tara Ziemba/Getty Images
Items from Jeffree Star's 2019 Jawbreaker collection started selling out within five minutes of launching (via Twitter). Hordes of buyers famously crashed Shopify when his Shane Dawson-assisted Conspiracy collection arrived later that year. His website burned through 1 million eyeshadow palettes in 30 minutes on release day, according to Tubefilter. Meanwhile, the Cremated collection's palette sold out in under 20 minutes in 2020.
However, Insider noted that several of the brand's recent releases have not sold out, Pink Religion included. Star bragged on Twitter that the Sacred Glass palette was "almost" out of stock July 30, but it is still available to purchase on the Jeffree Star Cosmetics website at the time of publication. Only one item in the new collection — a hot pink, faux crocodile skin backpack — is unavailable at the moment. 
Meanwhile, Star has promoted buy-one-get-one deals on palettes this year (via Twitter). Is that a sign the brand is in trouble? Insider speculated that Star's controversial past may be impacting his makeup line, but it's currently hard to tell. After all, his controversially titled F*** Proof Mascara sold out the day it dropped (via Twitter).
Either way, Forbes estimated the brand moves roughly $100 million in product annually, and Jeffree Star himself has a staggering estimated net worth of $200 million. So, it's safe to say that neither are in terrible shape even if Pink Religion never sells out.