Melissa Joan Hart Shares A Scary Health Update After Contracting Covid-19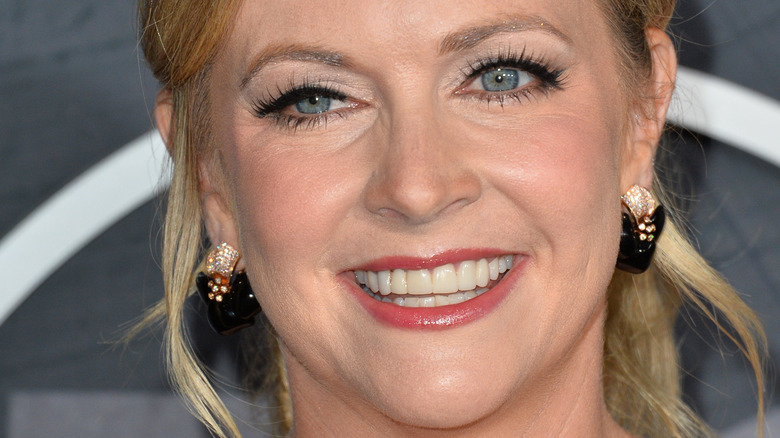 Featureflash Photo Agency/Shutterstock
Melissa Joan Hart is the latest public figure to share her experience with a breakthrough Covid-19 infection. As many people now know, a breakthrough infection happens when a fully-vaccinated person gets a positive Covid-19 test result (via CDC). Earlier this summer, E! News' Catt Sadler battled a breakthrough case (via CNN). Then, in August, HGTV star Genevieve Gorder opened up about her scary brush with the disease (via People).
On Thursday, Hart took to her Instagram to post a video update about her health with fans, captioning the clip, "Im [sic] not posting this to be political or gain pity, I just want to share my journey. This isn't up for debate, it's just how I feel today on my page."
The star of "Clarissa Explains It All" went on to detail that she had tested positive for Covid (via People and IMDb). She detailed her symptoms, saying, "It's weighing on my chest. It's hard to breathe." The star added about how she may have gotten infected, "One of my kids, I think, has it so far. I'm praying that the other ones are okay."
Melissa Joan Hart says she got "lazy" about protecting herself and her family
In her Instagram video, the "Sabrina the Teenage Witch" star, who shared three sons, Tucker, age 8, Braydon, age 13, and Mason, age 15, with her husband, Mark Wilkerson, opined, "I think as a country we got a little lazy and I'm really mad that my kids didn't have to wear a mask at school. I'm pretty sure where this came from" (via People).
Hart, who clearly felt unwell, shared that Wilkerson and her other boys — it's unclear if anyone else in the family is vaccinated — were fine so far. She also said at first her family took precautions to stay safe, and added Tucker, who was not the one who got infected, was wearing a mask to school because he was used to it from last year (via The Hollywood Reporter).
Close to breaking into tears, the actress concluded her video by saying, "I'm just scared and sad, and disappointed in myself and some of our leaders. I just wish I'd done better, so I'm asking you guys to do better. Protect your families. Protect your kids."