The Origins Of The Weeknd Super Bowl Meme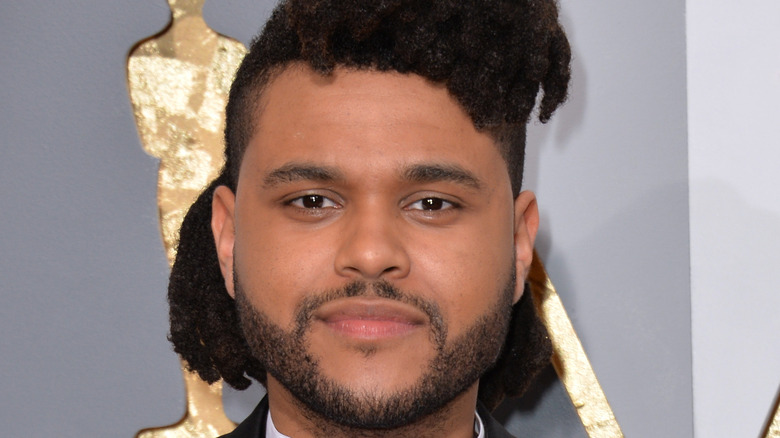 Featureflash Photo Agency/Shutterstock
Canadian superstar The Weeknd followed in the illustrious footsteps of Lady Gaga and Beyonce when he took on the 2021 Super Bowl half-time show. As BBC noted at the time, the 12-minute set, performed in front of 25,000 socially distanced fans at Florida's Raymond James Stadium, found The Weekend, real name Abel Tesfaye, making the most of his bizarre surroundings "with a gimmick-free show that put the emphasis on his songs," including hit tracks like "Can't Feel My Face." 
The Weeknd performed against an impressive, futuristic background, continuing his "After Hours" character's story. Backed up at one point by a group of creepy, red-eyed automatons, the Grammy-winning R&B musician proved that every penny of the $7 million he'd spent — of his own money, no less — on the performance was totally worth it. However, although The Weeknd impressed with his half-time show, there was one moment that fans thought was ideal for aping, and it quickly became a meme. 
The Weeknd's visit to the hall of mirrors captured Twitter's attention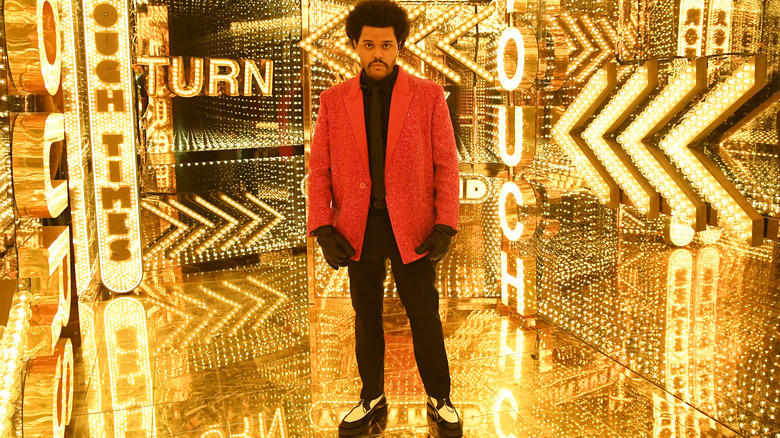 Kevin Mazur/Getty Images
At one point during The Weeknd's Super Bowl half-time performance, he grabbed the camera, turned it on himself, and entered a strange gold-plated hall of mirrors. As NME notes, the area was built underneath the stadium's stands specifically so The Weeknd could roam around in it and, eventually, perform his hit single "Can't Feel My Face." He appeared to be filming himself throughout, as the singer kept the camera close to his face while spinning and moving around the area erratically, causing the camera to shake. 
Naturally, footage of the moment soon captured Twitter's attention, with users utilizing it to joke, for instance, "Me, drunk, FaceTiming my best friends," and "My friends looking for me after I black out and run away from them." 
According to Know Your Meme, it became a thing almost immediately as, within just a couple minutes of the show beginning, user @RyanShocket posted what would become the first viral meme based off it, hilariously writing, "what my pizza rolls see from inside the microwave," alongside a couple screen-grabs from the performance. The tweet received more than 17,300 retweets and a whopping 129,700 likes within the first 14 hours alone. Just a few minutes later, a couple other users shared clips from the show alongside funny quips, as the meme evolved into something greater. 
As CBS News notes, The Weeknd's bizarrely captivating performance inspired many memes, but none quite caught fire like this one.