The Weeknd Didn't Make As Much As You Think For The Halftime Show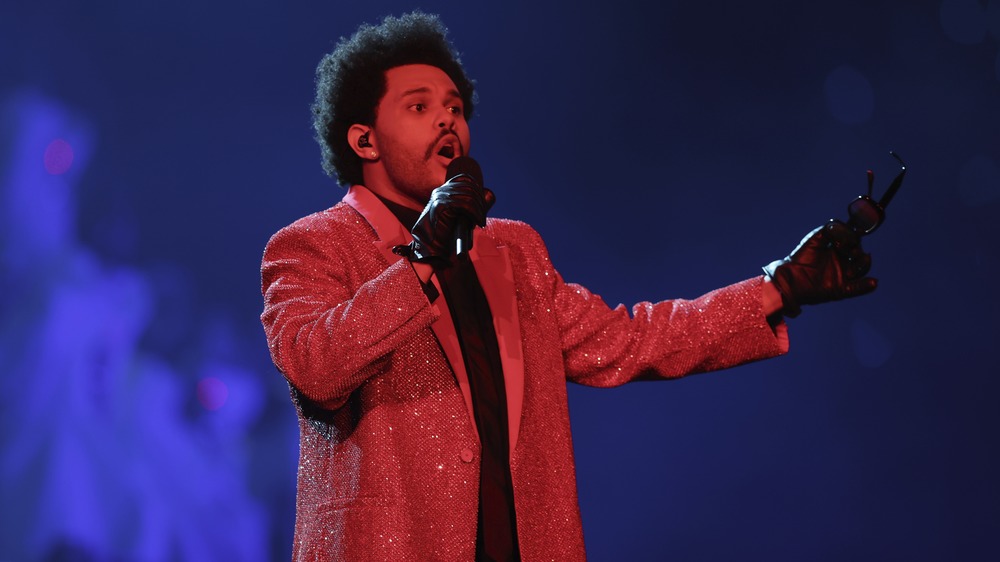 Pool/Getty Images
Well, another Super Bowl halftime show is in the books (or rather, the video archives), and as usual, there were some who thought it was the greatest thing since, well, last year's show and others who felt that it didn't measure up to the glories of halftime shows gone by (and it's true, no wardrobe malfunctions were in evidence). The Weeknd did manage to surprise and delight one rather small subset of Super Bowl watchers: Gen X former goths who thought they were having some kind of flashback/auditory hallucination when they heard a Siouxsie and the Banshees song performed at a halftime show (per this tweet by Esquire editor Dave Holmes).
One thing you can definitely say about The Weeknd's show, however, was that it was the most socially distanced performance, like, ever. While last year's performance saw special guests galore including J Balvin, Bad Bunny, and J Lo's kids, this year The Weeknd carried the entire show himself. Well, him and his heavily-masked backup dancers. Even if you weren't impressed by The Weeknd's performance, or his commitment to following COVID safety protocols, you've got to admit it was worth every penny he was paid for it and then some, since, in fact, he did not earn one single cent. In fact, it is to be noted that he actually shelled out plenty of his own coin to make the show come off like he wanted it to.
The Weeknd wasn't the only Super Bowl entertainer to perform without pay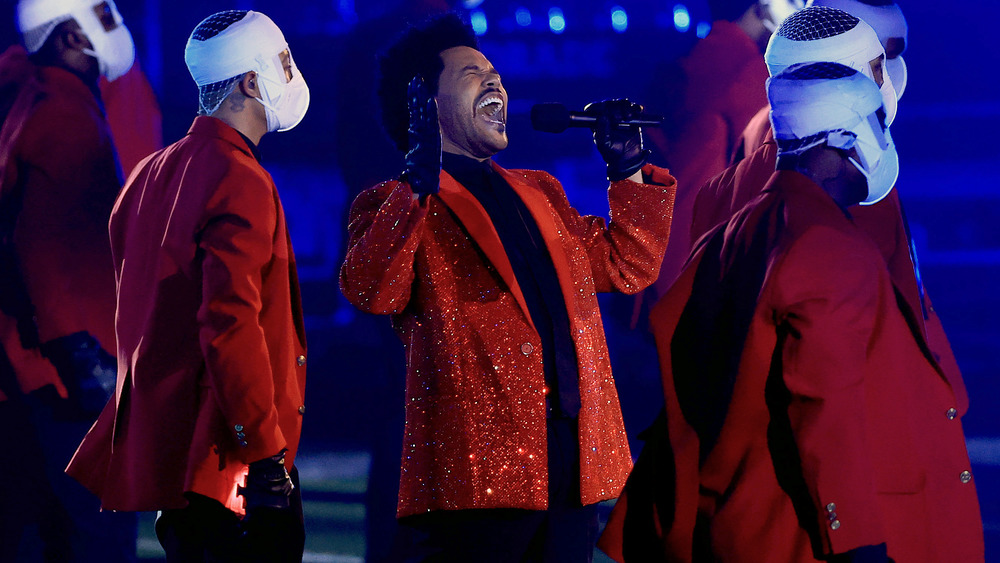 Mike Ehrmann/Getty Images
According to Esquire (the publication edited by '80's post-punk fan Holmes), the NFL or a sponsor such as Pepsi usually covers all costs of putting on the halftime show, which can include performers' travel expenses. The price tag can be astronomical — last year's J. Lo/Shakira spectacle ran to $13 million. Travel's probably not chicken feed, either, since stars and their extensive entourages aren't staying at Motel 6. The one thing the NFL and sponsors don't cut checks for, though, is the performers' time on stage.
So why do these mega-stars agree to perform for free? Is it because they're all such football fans? Actually, it's because they do get something important out of the deal besides free tickets to the game. No matter how famous you are, there's always a bunch of people out there who have no idea who you are or at least may be unfamiliar with your work (e.g., those former goth kids who never knew The Weeknd sampled "Happy House" on "House of Balloons," a song Medium says came out in 2011). Free halftime performance = exposure = $$.
The revenue boost isn't guaranteed, but it's still a gamble worth taking. Justin Timberlake's 2018 performance saw his sales go up 534 percent, while Lady Gaga's 2017 show led to a 1000 percent increase. Whether The Weeknd makes bank is yet to be seen, but at least he likely gained a few more fans.