Why The Weeknd's Halftime Performance Had People Looking Away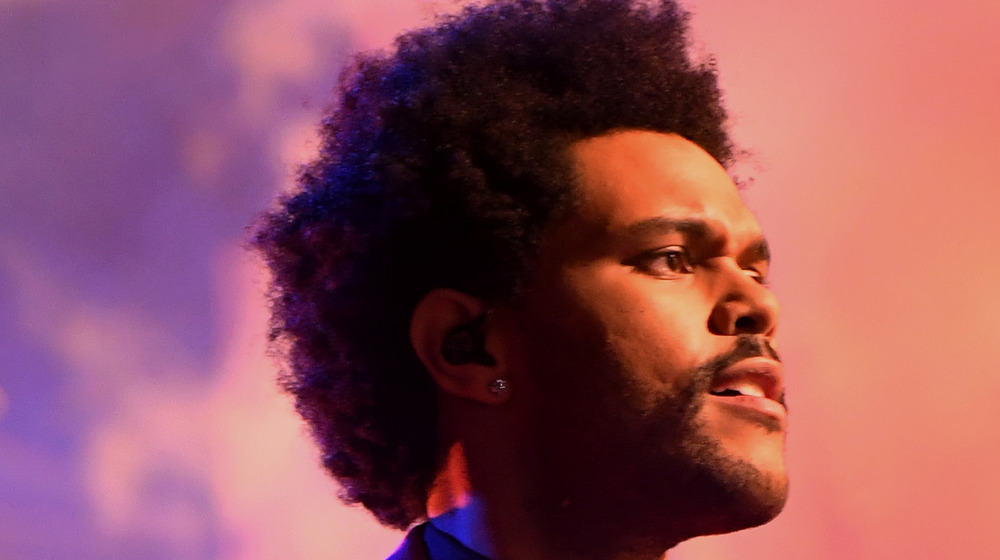 Kevin Mazur/Getty Images
It's common to wish you were really at the big game when the Super Bowl is playing. At halftime, we all miss the energy of the crowd along with the sights, sounds, and smells of the event. In order to make up for this, many of us invested in great home viewing setups including large screen TVs and projectors. Unfortunately, The Weeknd, also known as Abel Makkonen Tesfaye, made many viewers regret that immersive experience (via YouTube).
The Grammy-winning rhythm and blues singer (via Biography) carried a powerful solo performance that included moments of melody, Handmaid's Tale-esque red-and-white dancers, and a truly dizzying yellow-gold-light room. Note to advertisers, anti-nausea or motion sickness commercials would have been a welcome halftime addition.
As one watcher described, "I loved the halftime show! My only critique is I got a bit dizzy in the gold room... but other than that, good stuff!" Other fans felt similarly. One noted, "The 'Can't Feel My Face' camera made me super dizzy. But other than that, I really enjoyed The Weeknd's performance. I turned it into a sing-along in my house, though, since I'm a fan so that made it more fun for me. I also liked the use of the set!"
And while the performance critiques were generally positive, the strong feelings about the videography quickly became a hot topic on social media.
The dizzying effect from the filming and the lights was likely intentional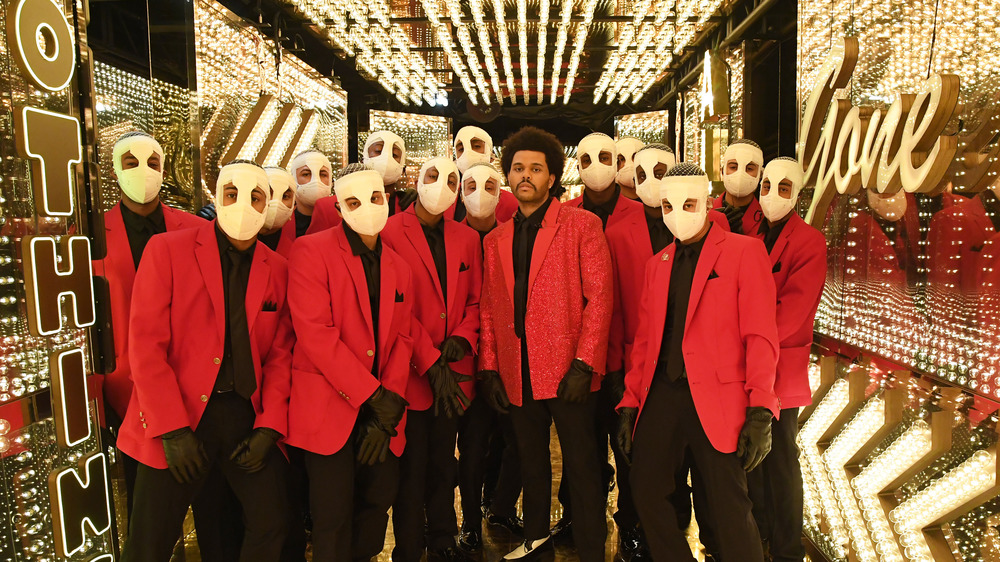 Kevin Mazur/Getty Images
Although The Weeknd gave fans some of his entire portfolio of hits during the halftime show including "I Can't Feel My Face," the theme of the evening held true to his vision for his After Hours album. A depiction of his hard partying alter ego, who is highly reminiscent of a host of the Hunter S. Thompson characters from Fear and Loathing in Las Vegas — specifically the '90s movie version. This character has been overindulging his way through the last year with both substances and women, and by "Blinding Lights" it finally caught up with him.
The reason the filming made you feel dizzy and uncomfortable was likely intentional because that is how the character is feeling. In an interview with Esquire from August of 2020, the 30-year-old artist explained, "'Blinding Lights' [is about] how you want to see someone at night, and you're intoxicated, and you're driving to this person and you're just blinded by streetlights." He goes on, "But nothing could stop you from trying to go see that person, because you're so lonely. I don't want to ever promote drunk driving, but that's what the dark undertone is."
Bandaged and bloody, much like his appearance at the AMAs, the dancers reflected what the Weeknd described in a recent interview with Variety, as, the "heightened levels of danger and absurdity as [The Character's] tale goes on." It also serves as a commentary on Hollywood. The Weeknd explained to the outlet, "The significance of the entire head bandages is reflecting on the absurd culture of Hollywood celebrity and people manipulating themselves for superficial reasons to please and be validated."
The Weeknd gives us a dizzying performance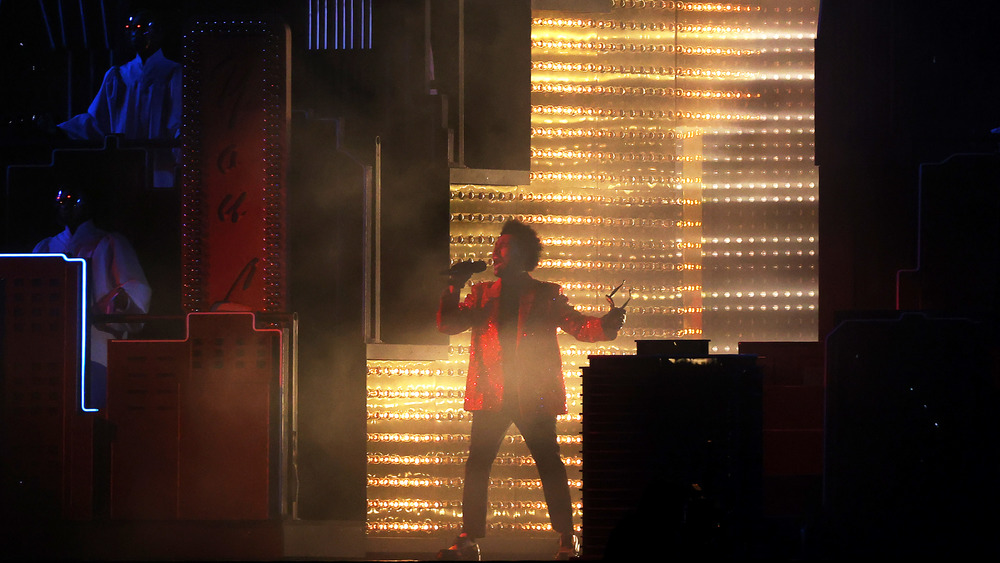 Kevin C. Cox/Getty Images
A combination of creative camera work and just a whole lotta lights, it feels like the visuals for Super Bowl LV's halftime show were a miss across the board. It's probably not the best idea when viewers feel forced to look away. Says one watcher, "Like I like the weeknd but not this. Scary. Terrifying. Dizzy. I don't know how I'm supposed to sleep tonight. Scary glowing red eyed men will be haunting me. Followed by being stuck in a maze. Followed by horrifying masked men in red." It's still unclear if the masks allude to an "Under His Eye" vibe or more of a Money Heist cohesion, but the imagery clearly missed its mark for many.
Another user noted the bonuses to sobriety while watching this year's show, "That selfie cam is making me very dizzy and I haven't had a drink. I feel for those who have been at the bar for a few hours."
But with any kind of art, there were fans, too. One of the minority who enjoyed the experience thought it was kinda fun, "I liked it! #Halftime #SuperBowl #TheWeeknd The bright lights room part kind of made me dizzy Smiling face with open mouth and tightly-closed eyes but reminded me of a funhouse at CNE Smiling face with open mouth and tightly-closed eyes and towards the end a bit of a pandemic thriller scene but overall." As for us, we'll be taking a weekend break from The Weeknd for the rest of the evening.