What Scarlett Johansson Really Looks Like Under All That Makeup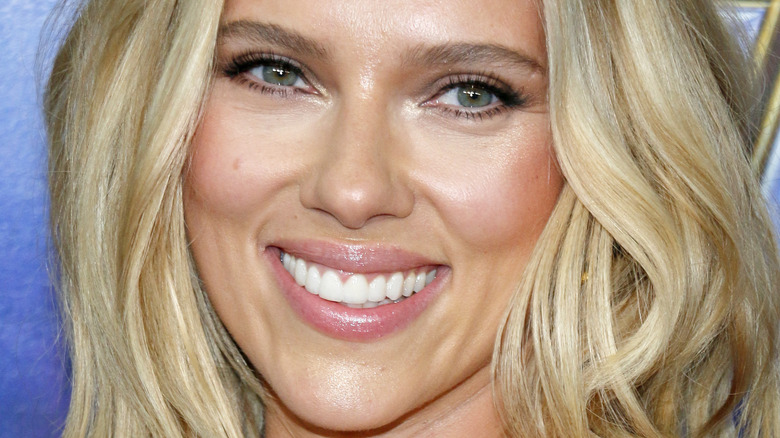 Tinseltown/Shutterstock
As an A-list Hollywood actress, Scarlett Johansson is rarely seen without a full face of makeup. That said, in her personal life, the mom of two prefers to keep her routine simple, telling Vogue in 2014, "I never really had a crazy beauty routine. I'm not one that goes out to spas and gets treatments" (via People). Still, the star admitted she is a big fan of a red lip and some mascara.
Indeed, we are used to Johansson's pillowy lips being painted for the red carpet, paired with dramatic lashes and flawlessly-applied foundation. "Sometimes it's nice just to be minimal and be fresh, and other times you can wear a red dress and red lipstick and it looks great," the "Lost in Translation" star told Elle in 2014. But, Johansson added, "I always carry a red lipstick. You never know when you'll need it."
This movie star may have her fav product in her pocket, but photos of the star not wearing makeup prove she really doesn't need that red lipstick to look beautiful.
Scarlett Johansson has a few tricks up her sleeve for looking amazing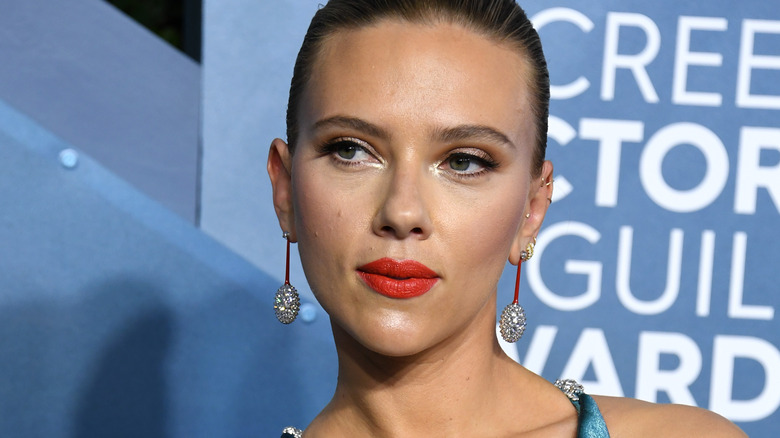 Jon Kopaloff/Getty Images
Styles at Life published images of Johansson not wearing a shred of concealer or lipstick and it's pretty clear she has gorgeous skin and stunning features even without a makeup artist in sight.
Commenting about the star sans products on Reddit, many fans were highly complimentary, with one joking, "The makeup industry hates her." "Beautiful anyway," noted another person, while someone else said, "This is really refreshing." Finally, another fan of the no-filter Johansson said, "She's actually adorable without makeup."
So what is the star's secret, other than keeping red lipstick on hand for emergencies? Perhaps a focus on skincare is the key. Consider that as Allure reported in June of 2021, Johansson is launching her own line. "I created this brand to elevate clean, essential skin care," the 35-year-old told the outlet, adding, "This will be a brand for everyone who wants their skin to look its best with minimal effort."
Judging from how great she looks under her makeup, we are sold!