Cheaper Alternatives To Drunk Elephant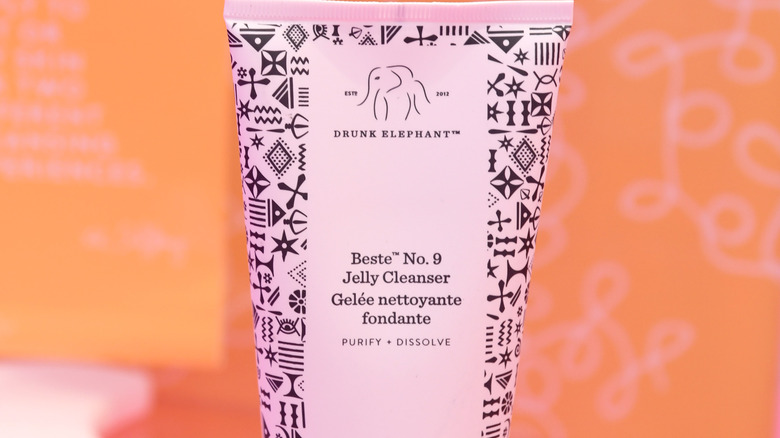 Craig Barritt/Getty Images
We may receive a commission on purchases made from links.
Skincare products can be expensive. The price is especially steep if you are purchasing from some of the biggest brands on the market. Drunk Elephant is one of the brands that quickly rose to popularity. According to Fashion Monitor, not only are the products of good quality, but the hype around the brand spread quickly on social media. The brand has a cult following, but what if we told you there are similar products on the shelves of your favorite beauty supply store that don't come with such a hefty price tag?
According to Sephora, Drunk Elephant products range in price from $16 for a miniature bottle of their cleanser to $134 for their T.L.C. Framboos Glycolic Resurfacing Night Serum. While these products have rave reviews from fans, it's not realistic for all skincare lovers to fork over hundreds of dollars for products. Thankfully, there are alternatives out there that can give you results without maxing out your credit cards.
Some of the best dupes come from the drugstore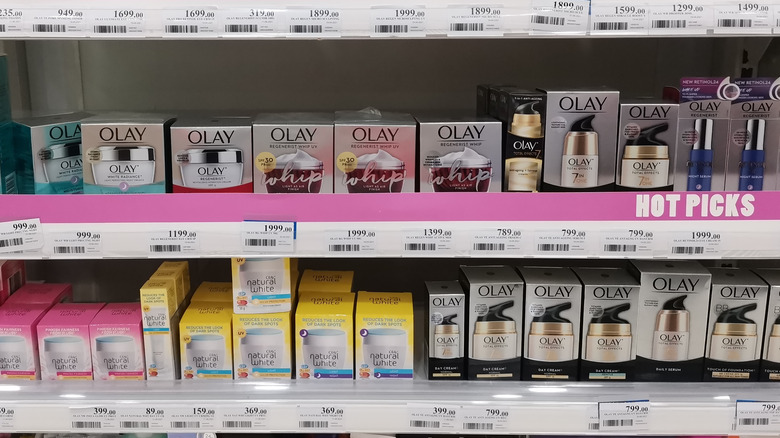 Margaret DC/Shutterstock
One of Drunk Elephant's most popular products is their Protini Polypeptide Moisturizer, according to the bestselling category on the Sephora website. If you want to buy yourself a travel-sized tub of the moisturizer, you can expect to spend $22. If you're seeking a full-size container, plan to fork over $68 to the Sephora sales associate ringing you up. It is a bit unrealistic to imagine spending that much money on a product used so often. Per Bustle, a sufficient dupe for the pricey moisturizer can be found at your local drugstore: Olay Regenerist Whip Moisturizer. The consistency of the Olay product is similar to the Drunk Elephant one and also contains amino peptides that help boost your skin's collagen production. Plus, this moisturizer is only $24 on Amazon.
Thinking of spending $74 on the Drunk Elephant A-Passioni Retinol Cream? Try the RoC Retinol Correxion Deep Wrinkle Night Cream instead. For only $17, you'll be using the same drugstore product Kim Kardashian swears by (via Allure). 
Other Drunk Elephant dupes can be found online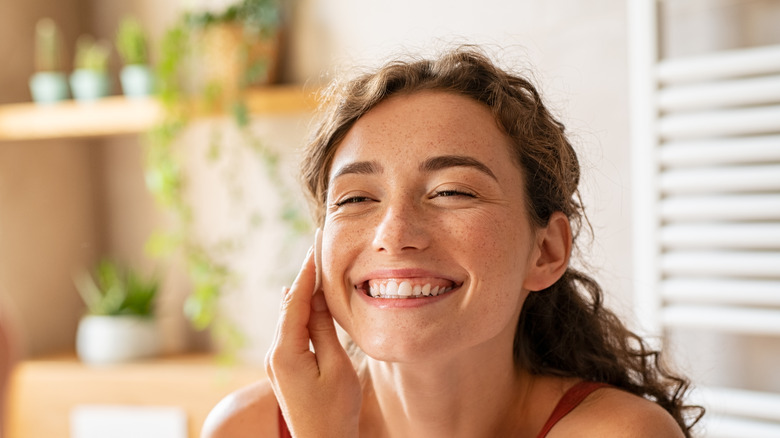 Rido/Shutterstock
One of Drunk Elephant's most expensive products is the T.L.C. Framboos Glycolic Resurfacing Night Serum. A tube of this product will cost you $90 for a single ounce, and $134 for 1.7 ounces. If you want to try out a similar product without going into debt, there's hope for you. Paula's Choice makes a liquid exfoliant that will bring you the desired effects without breaking the bank. While it isn't a serum like the Drunk Elephant product is, it'll give you the same results. It will help clear out your pores and prevent future breakouts for just $30, according to Bustle.
Finally, you can snag a dupe for one of the original Drunk Elephant products. The Virgin Marula Antioxidant Face Oil has been a staple in the product line from day one. It actually inspired the name due to the idea that elephants fall drunk from the marula fruit. A 1-ounce bottle of their oil costs $40, while the Acure Marula Oil has a price tag of $14!