Everything You Need To Know Before Traveling During The Pandemic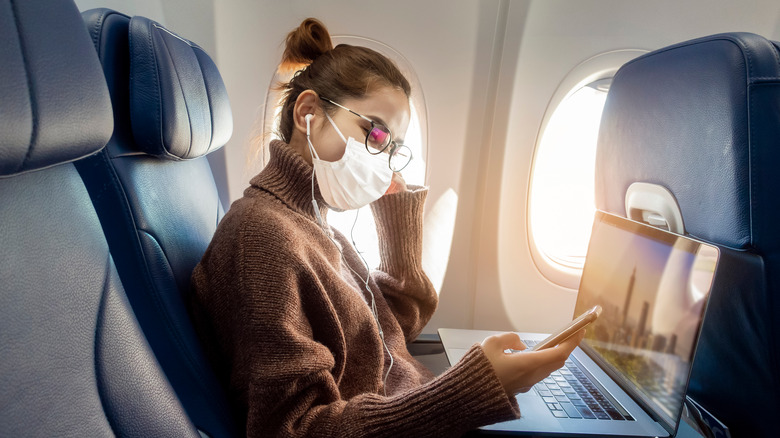 Thanakorn P/Shutterstock
In the past few months, the rising number of COVID-19 cases has been blamed on the Delta variant of the virus, which data suggests is more infectious than the original coronavirus strain. According to the Centers for Disease Control and Prevention, as of July 27, the seven-day moving average of COVID-19 cases has reached over 60,000 in the United States, as compared to the 12,000 cases that were reported as a seven-day moving average in late June. 
Now that many state and local governments have begun altering mandates to curb the number of cases in their particular areas, you might be wondering about the state of your future travel plans in the United States and beyond. Per the Centers for Disease Control and Prevention, domestic travel within the United States is permitted. Along with following state and local COVID-19 mandates, those traveling in the United States on a plane, bus, train, or another form of public transportation must wear a mask that covers their nose and mouth. 
Though it is not required for domestic travel, those traveling to the United States from other countries must show proof of a negative COVID-19 test, according to United. While most countries simply require proof of a negative COVID-19 test upon entry, a growing number of countries are beginning to require (or will require at some point in the future) proof of full vaccination for entry to waive the mandatory quarantine period, per Forbes. COVID-19 travel protocols for nearly every country in the world can be found on the Centers for Disease Control and Prevention's website.
How to stay safe while traveling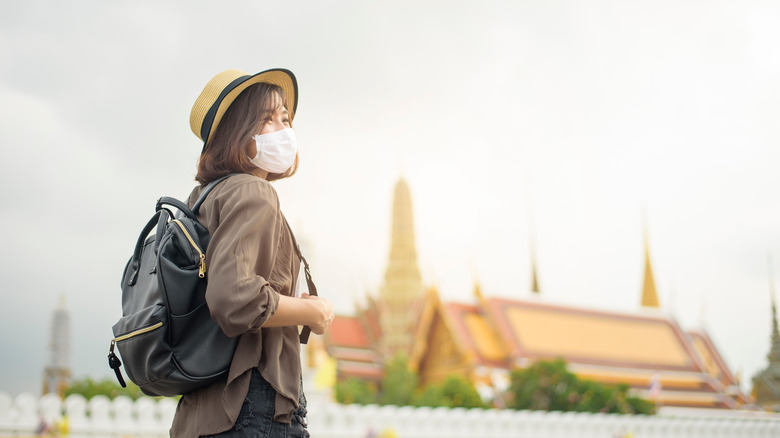 Thanakorn P/Shutterstock
Prior to making your travel plans, the Mayo Clinic suggests getting vaccinated. In order to benefit from the vaccine, you should wait two weeks until after you've received the second dose of the vaccine if the particular vaccine you've received is given in two doses. 
Additionally, you should assess your health and the health of those you're traveling and living with in order to judge whether or not your travels might put yourself or those around you at risk of severe illness if contracting COVID-19. It's also prudent to research the local, state, and federal guidelines that exist to discover what you should do after returning home from your travels.
While you're traveling, certain countries or cities within the United States might require masks and social distancing while dining, shopping, or occupying public spaces. As critical care physician Joseph Khabbaza, M.D., told the Cleveland Clinic, wearing masks, maintaining distance, and keeping your hands sanitized can provide a bit of safety and peace of mind while traveling anywhere. "As long as we apply our everyday precautions to our travels, the risks can be minimized significantly," Dr. Khabbaza told the Cleveland Clinic. "We can do this by maintaining distance and wearing a mask around those who are outside of our small circles, keeping our hands sanitized and not touching our eyes, nose, or mouth if our hands are not clean. Being in environments where mask compliance is strong is also important in minimizing risk and keeping occurrences of COVID-19 transmission low."