Buckingham Palace Just Did This For The First Time In Nearly Two Years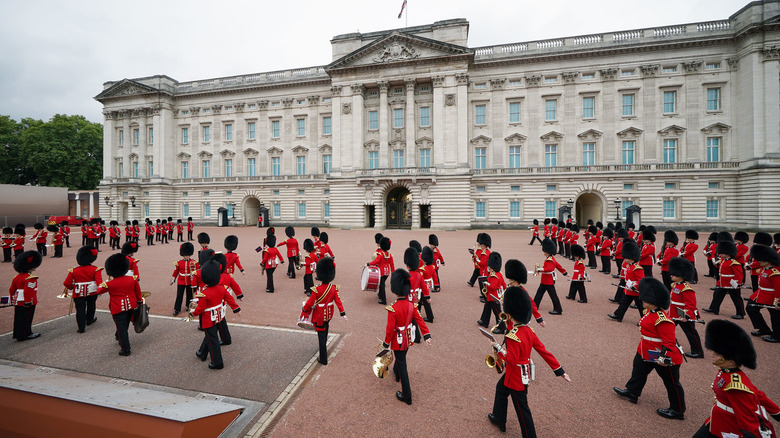 Wpa Pool/Getty Images
Tourists from all over the world come to see the changing of the guard at the legendary royal residence, Buckingham Palace. Now, after a 17-month hiatus, the guards are back out in the front of the estate doing their traditional routine. According to People, the palace suspended the activity in March of 2020 along with similar traditions at Windsor Castle, St. James' Palace and the Tower of London in efforts to limit the crowds.
The outlet reports that the 1st Battalion Coldstream Guards marched outside the palace in their tall fur hats and red jackets alongside a band that played triumphant tunes. A nod towards the British Olympic team that recently competed in the Tokyo 2020 games, the songs included the Spandau Ballet's "Gold", Whitney Houston's "One Moment In Time" and The Olympic Theme from "Chariots of Fire".
A celebratory atmosphere surrounded the ceremony as many rejoiced in the soldiers' triumphant return. Over the last 17 months, the guards changed without any ceremonial traditions. The outlet notes that the temporary "Administrative Guard Mount" involved a simple changing of the guard without official rituals or music. But, today's changing of the guard signals a new era in which each of the historic ceremonies take place at Buckingham Palace, the Tower of London and St. James' Palace.
Buckingham Palace opened to visitors this summer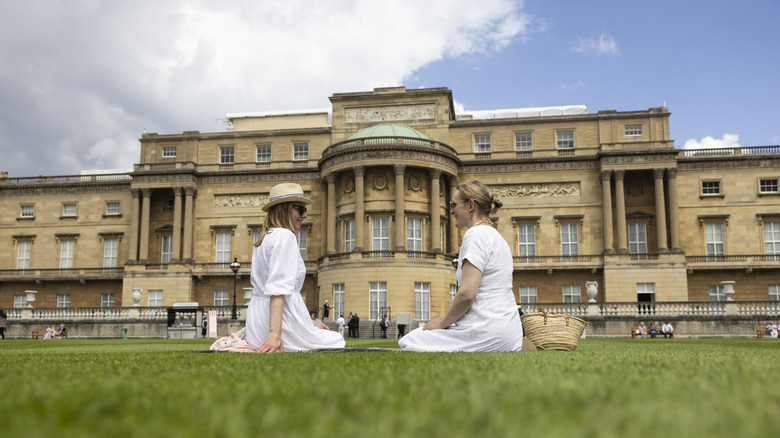 Dan Kitwood/Getty Images
In addition to bringing back the historic changing-of-the-guard tradition, Buckingham Palace also opened up to visitors this summer. Town and Country reports that visitors are allowed on the grounds between July and September of this year and can take self-guided tours of the palace for the first time ever. The Royal Collection Trust explained the opportunity, noting, "Visitors will be free to explore a route through the garden that encompasses the 156-metre Herbaceous Border, plane trees planted by and named after Queen Victoria and Prince Albert and views of the island and its beehives across the 3.5-acre lake."
Guests can also opt for guided tours around the palace and the gardens as well. The outlet reports that the tours include glimpses of state rooms such as the Green Drawing Room, the Music Room, the White Drawing Room and the Blue Drawing Room. However, visitors shouldn't expect any surprises from the Queen; she's spent the majority of the pandemic at her home, Windsor Castle.
As of late, many official ceremonies have been toned down or kept to a minimum to avoid gathering crowds of people. Slowly but surely, age-old traditions are returning to the monarchy and the public can continue to bear witness to them.