The Truth About Eric Stonestreet's Love Life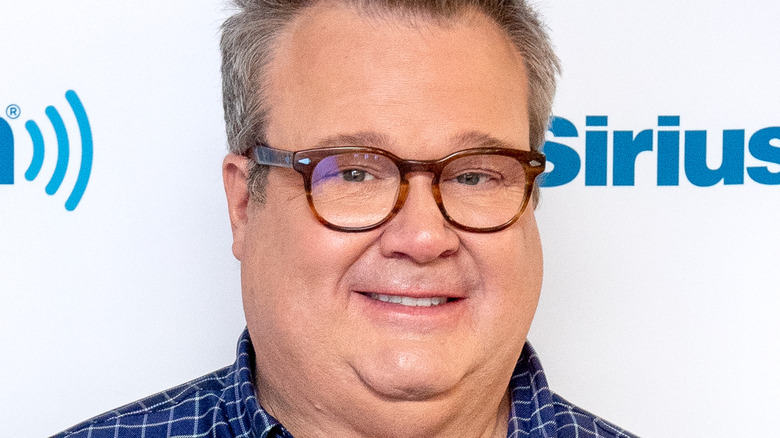 Roy Rochlin/Getty Images
"Modern Family" fans will know Eric Stonestreet as the lovably melodramatic Cam, whose soulmate is the sarcastic, far less excitable Mitch (played by Jesse Tyler Ferguson). Although the actor is straight, Stonestreet took playing a gay character — and a gay parent, no less — very seriously. "Probably my favorite thing about playing Cam is obviously the opportunity to make people laugh. ... And a close second, if not right there with it, is the idea that Jesse and I are both getting to have cultural impact with marriage equality and what it is to be a gay person and have the struggle of how to come out or when to come out. ... That's been a real honor," he enthused to Parade. 
In particular, shooting Mitch and Cam's hugely emotional wedding was a major moment for everybody involved, but particularly the principal actors. Stonestreet admitted both he and Ferguson were crying by the time they were actually shooting the scene, explaining it meant as much to them playing those roles as it did to everybody watching at home, who'd followed the lovable couple through all their trials and tribulations. 
As it happens, however, the "Modern Family" star is set to replicate that feeling in real life, as Stonestreet will soon be walking down the aisle with his own longtime partner. Suffice to say, there definitely won't be a dry eye in the house on his actual wedding day, either.
The 'Modern Family' star is engaged
Beloved TV star Eric Stonestreet took to Instagram to announce he's engaged to partner Lindsay Schweitzer, quipping, "She said, 'She'd have her people call my people,'" alongside several characteristically goofy shots of the couple showing off her stunning ring together. People confirms that the couple has been happily dating for over five years, with the actor first linked to the pediatric nurse back in 2017. They reportedly met at a charity event in Kansas City a year prior. Celebrity friends like Zachary Levi, Michael Bublé, and Will Sasso — who hilariously played Cam's nemesis, Señor Kaplan, on "Modern Family" — rushed to offer their congratulations to the happy couple in the comments. 
Stonestreet and Schweitzer are a terrific match. During a 2017 appearance on Ellen DeGeneres' eponymous talk show, the host argued it was lucky that Stonestreet had found himself a nurse to date since the Emmy winner is a well-known hypochondriac. Acknowledging how handy it was, Stonestreet revealed, "I'm a big baby, too. She calms me — she calms my nerves. I'm a very high-strung person." An insider also previously confirmed the two were very happy together and were glad to have met each other. 
Stonestreet frequently shares sweet shots of the two of them on Instagram, often jokingly suggesting that the real beauty is him. However, at their wedding, all eyes will likely be on the blushing bride.