How To Pair Chunky Boots With Dresses For The Hottest Fall Look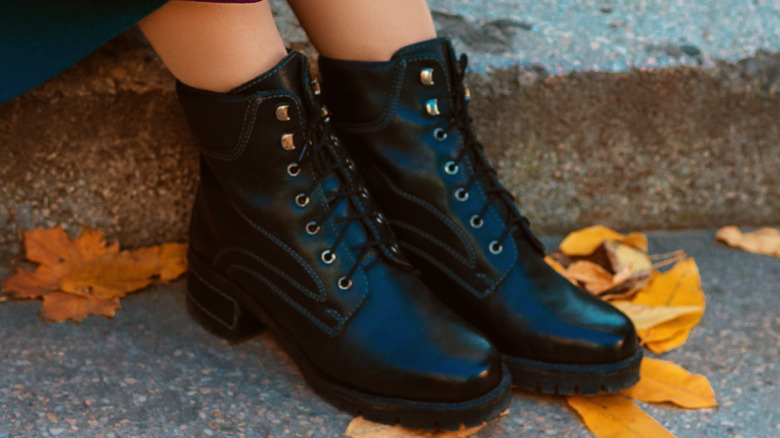 Victoria Chudinova/Shutterstock
Even when the weather outside cools, you can still look hot, and there are some simple fashion choices that can take your fashion game to the next level this autumn. Some dress styles were perfect for this summer, and some have been staples all of 2021. Some dresses have even been going viral on TikTok. What's important to know is that the trend of the dress itself may not be as important as how you accessorize it. Any of these dresses — or any you have from previous years — will be perfect this fall if styled right.
This year, dresses and boots will be a match made in heaven. Naturally, you want diversity in your boot collection, but one style of boot stands above the rest this year. "Come fall and winter, you can never have too many pairs of boots. From riding boots to lug sole boots, we don't discriminate, but right now, chunky boots are all the rage," the Editorialist explained. They further explained that chunky boots are perfect because they can go well with anything from a floral dress to a sophisticated blazer. Moreover, top designers are even utilizing chunky boots on runways. It's the Year of the Chunky Boot, and we're happy to see it getting the love it deserves.
One style of dress may be perfect for chunky boots, but which is it?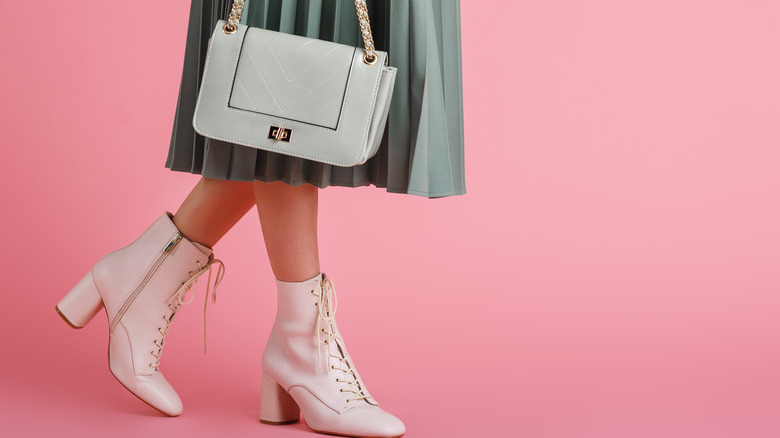 Victoria Chudinova/Shutterstock
The chunky boot is a remnant of 2020, when it was one of the year's biggest fashion trends (via Who What Wear). Now, it remains a closet staple in 2021, and for good reason. "This shoe trend is surprisingly versatile, but if you want to get specific, the best types of dresses to choose are casual mini dresses, sweater and knit dresses, and relaxed-fitting midi dresses," Who What Wear explained.
To best pair dresses with chunky boots, you have a few options. You can shimmy into a minimalist dress that will allow the chunky boot to do the speaking, or you could try a shirtdress. The latter will create an attitude around your outfit that you won't get with a traditional dress. Chunky boots can also be so nonchalant that they pair perfectly with a dress that's topped with a sweater. This look can be cutesy or grunge — or simultaneously both!
Moreover, if you're chilly and don't want to wear a sweater, the perfect combination for you is chunky boots with a dress and a jacket (via Lulus). The right jacket can really elevate a dress, and with chunky boots, the outfit can become nothing short of chic. For example, Lulus recommended a plaid jacket over a little black dress or a tailored coat over a sweater dress.
Overall, mini dresses appear to be the biggest recommendation, per Who What Wear. This is likely because mini dresses show off your legs, which will counteract the chunky boot's ability to make your legs look shorter or stubbier. These two together keep your proportions in tact nicely, but at the end of the day, these boots are going to look good with any dress you've got.