The Dress Styles You Need For The Summer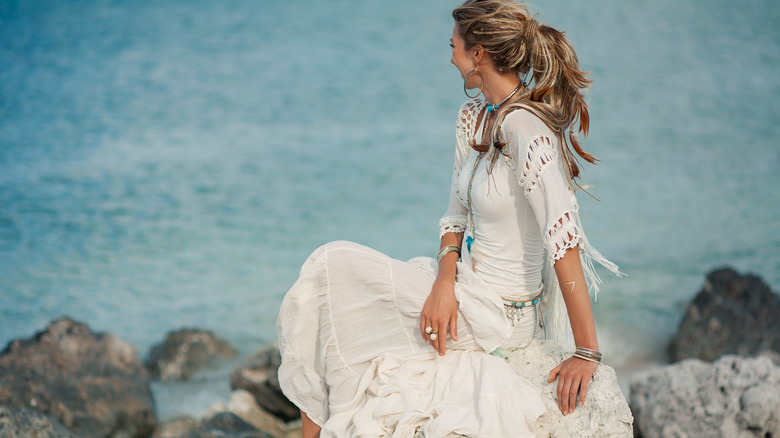 Shutterstock
So far, 2021 has been a trend-setting year with flared jeans and go-go boots making a comeback, and this summer is no different. Many trendy dress styles this summer are nods to previous decades, which is why it's an exciting time to shop for a new summer dress wardrobe. Trying to find a trendy dress when your closet is still full of last year's loungewear may feel difficult, but you're bound to find the perfect dress (or dresses) with so many trendy options this season. 
Because the days are longer this time of year, dresses that you can wear during the day for a picnic, and dress up later for a house party at night are especially popular. According to Sourcing Journal, nostalgia has also shaped several dress trends this summer, which are inspired by 70's. That's why longer dresses with flowing silhouettes are taking over our Instagram feeds. But if you're overwhelmed at the mere thought of dress-shopping, keep reading to see all the hottest dress styles that are guaranteed to give you a "hot girl summer" look. 
Summer 2021 dresses feature figure-flattering designs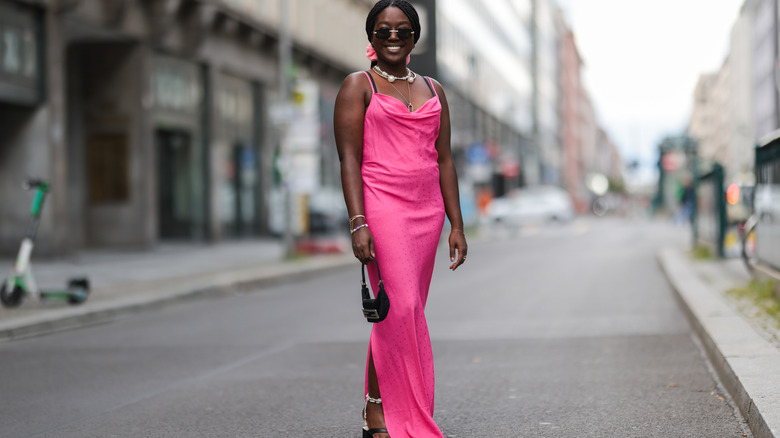 Jeremy Moeller/Getty Images
Prairie dresses, which are long flowy dresses in solid colors, or with softer floral prints, have become popular (via Parade). It's a part of the "cottagecore" trend that emphasizes romantic dresses in lightweight fabrics (via Refinery29). Speaking of lightweight fabrics, linen dresses are especially great for the summer, per Today. Today also recommends shirt-dresses in bright colors, which can easily be dressed up or down.
Silk and satin slip dresses are also having a major moment right now, per Harper Bazaar. According to Harper Bazaar, the slip dress is figure-flattering because of the 1930s-style bias-cut fabric that drapes over your curves. Slip dresses can be worn by themselves, or paired with a blazer or cardigan. Town and Country recommends wearing a knit crewneck t-shirt underneath a slip dress for a more casual daytime look. Slip dresses in summer colors like mandarin orange, ivory, or fuchsia are especially trendy, per Harper Bazaar. 
StyleBlueprint reports that tiered dresses are the most popular dress style for the summer. This style of dress has an A-line cut that complements all body shapes and sizes, and can be worn during the day or night. For a more fitted take, smocked dresses are a flattering and comfortable option that give major "Bridgerton" vibes (via Refinery29). Smocked dresses are gathered and fitted in the torso region, per Byrdie.
Embracing your skin is in this summer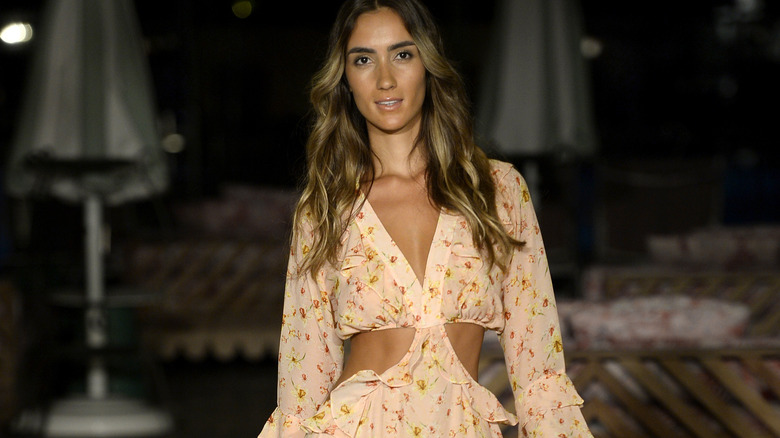 Fernanda Calfat/Getty Images
Dresses in bold solid colors, or large, vibrant floral prints will especially make a statement this summer. Divya Mathur, chief merchant at INTERMIX, told Refinery29, "Dressing like you are on vacation (even if you are still sweating it out in the city) is a must. This is the season for wanderlust prints." Mathur added that dresses with cutouts are particularly trendy this summer (via Refinery29). 
If you prefer dresses that are more form-fitting, then fear not. Mini bodycon dresses have made a comeback this summer, especially now that lockdowns have been lifted and people are going out more (via Refinery29). Celenie Seidel, a senior womenswear editor at Farfetch, told Refinery29, "After endless months of being stuck indoors shrouded in comfortable layers, the re-emergence from lockdown brings with it a certain boldness, and a willingness to test drive more daring pieces than we may have before. The mini bodycon dress will be a star of the summer." 
So whether you like a sensuous slip dress or a romantic prairie dress, there's bound to be an on-trend dress that suits your style this summer.